NautiCloud, 2 Ubiquiti Bullets = high power WiFi contender?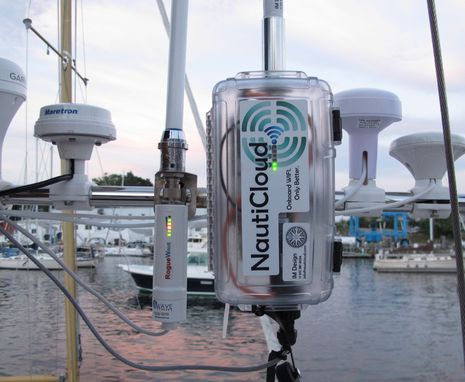 Getting online with WiFi is a big deal for many cruising boats these days and, since the best technologies are somewhat hard to understand and choose among, it's always a lively subject on Panbo. Normally I'd hesitate to write about the new NautiCloud system because it's still partially in development, but it's already a good illustration of what's possible in high performance marine WiFi and ties together some of our previous conversations on the subject. It also includes some good ideas that all the developers in this niche should consider (I think)…
First of all, the NautiCloud is based on the Ubiquity Bullet M2 high power WiFi radio that has arguably become the king of marine WiFi. We discussed the Bullet at length in 2010 when I tested the Rogue Wave system that's still mounted on Gizmo's fly bridge rail in the photo above. The beauty of the Bullet is that the radio fits directly to a marine antenna using Ethernet for both data and power, and thus avoiding any coax cable that might cause signal loss (high frequency WiFi and coax do not mix well). As laid out in that entry and its many comments, all sorts of marine WiFi systems are based on the Bullet now (and I later learned that the super high tech America's Cup race management, umpiring, and broadcasting systems are also highly reliant on Bullets).
The problem with the Bullet, at least for users without IT experience, is that the regular Ubiquity software needed to set it up as a network device on your boat and pick onshore hotspots is fairly complex. What Rogue Wave did was to write its own Bullet software (screen here) that does just what a cruiser needs without flipping through numerous windows and unneeded options. Now well into my third season using the Rogue nearly daily, I still think that the faster, easier software is worth the system's extra cost (complete Rogue Wave kits are $350 at Land and Sea Wifi, though I'd consider the new $450 Pro model that's better weatherproofed and can mount on standard marine antenna bases). But my system got a little more complicated when I realized how nice it was to cable the Rogue directly to an onboard WiFi router so that all the PCs, pads, smartphones, etc. on Gizmo can share the Rogue's onshore connection without fuss. We discussed this concept when I compared the Rogue to the WirieAP last season. The latter combines a USB-based high power WiFi radio with an onboard WiFi router all in one rail-mounted Pelican case so you just need a 12v cable to set up the equivalent of Gizmo's separate router and Rogue. However, in my testing it did not get Bullet performance and its software is not Rogue easy…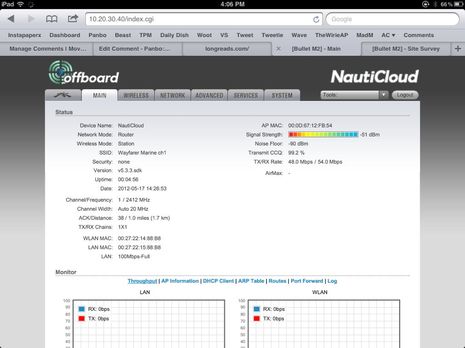 Now consider the NautiCloud, a WirieAP-like Pelican case system with two Ubiquity Bullets inside. The best of both worlds? Just plug it into a 12v cigarette lighter socket, either Ram Mount the case and antenna to a rail or haul it up a halyard, and you'll have an onboard hotspot ready to find and use an onshore hotspot. In ports like Camden and Rockland I've seen over fifty hotspots via NautiCloud including some free ones as well as very strong connections to high speed paid services like redZone, and I've sometimes been able to get online from remote anchorages just like I can with the Rogue Wave. (The high-power performance is virtually the same, which makes sense as they are both Bullets.)
The software I used with the NautiCloud is not Rogue easy but it is an improved version of Ubiquity's standard AirOS. Note, for instance, how Nauticloud developer Charlie Van Dusen has coined wonderfully simple terms for the two different radios: onboard and offboard. Moreover, he gave each one a very easy to remember IP address, as you can see at the tops of these screen shots. If you've never used an Ethernet WiFi radio (or programmed an Ethernet router), it's nice that you don't need to install any software but it's sometimes not easy to get your web browser to see the device's setup pages. I can usually get to the Rogue using "wavewifi.com" (especially if I use Internet Explorer or Safari) but sometimes I need its IP equivalent. My old brain can't seem to remember "192.168.89.1″ for more than a few minutes, but 10.20.30.40 and 10.20.30.41 are easy. NautiCloud's IP addresses are a small detail, no doubt, but what a smart one!
Van Dusen has also programmed NauticCloud so that it will search for and connect to the strongest open WiFi hotspot on its own, but as slick as that sounds, it often doesn't get you what you want. For instance, in the "offboard" screen above Wayfarer Marine does have the best un-encrypted WiFi signal in Camden Harbor, but when you try to open a web page you'll first find a Wayfarer page asking for a customer code. This is typical for commercial WiFi but the NautiCloud software can't detect the code gateway. It is neat, though, when you arrive somewhere and realize that the NautiCloud has already found you an truly open hotspot.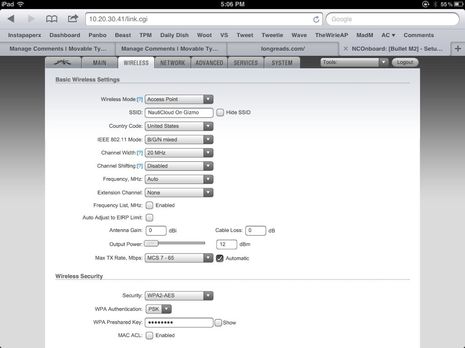 In the screen above I've used the NautiCloud's "onboard" setup pages to change the name of Gizmo's hotspot and also to turn down the onboard Bullet's power level as I learned that too much power can actually slow down Internet speeds if your pad or PC is too close. Those are the sort of occasional tasks that the underlying Ubiquity software handles well, but I'm glad to report that NautiCloud will eventually have alternate apps that simplify the hotspot search process like Rogue does. So far Van Dusen has only written the Windows phone app you can see below, and while I wasn't able to test it, I like what I see. It appears that you can sort available spots by their "openess" and signal strength and then check a potential spot's actual Internet connectivity with just one tap.
I regularly use Safari on my iPad to search hotspots on the Rogue Wave, and that works well, but a dedicated app like this looks even easier. That's important for cruisers who have no knowledge of IT and the arrival of NautiCloud Apple and Android apps may justify its premium pricing. Another issue that Van Dusen is working on is the optional ability to attach onboard Ethernet cabled devices to the onboard WiFi router in the Pelican case. Not many boats need this yet, but I now have both a Fusion 650 stereo and a Simrad NSS system wired into the onboard router in Gizmo's cabin. Neither installation is complete yet, but the former should let me remote control the Fusion with phone and pad apps and the latter should broadcast NMEA 0183 data to my phone and pad apps. This ability can added to the NautiCloud fairly easily as Van Dusen already uses marine-grade Ethernet cable for the power. And when you're not cruising, you could still get an AC cable and take your NautiCloud on vacation with you, another plus for its all-in-one design.
So what do you think of this design and marine WiFi in general? I know that some coastal cruisers are just using cellular data these days, but at least up here WiFi is often a much faster alternative.