Navico GoFree Toolkit, developers invited!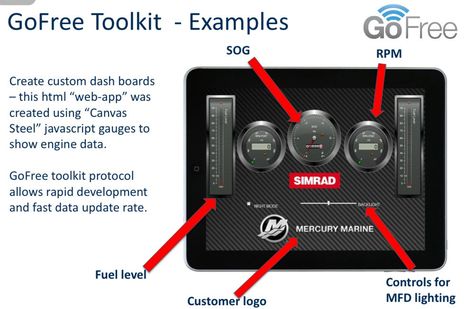 Now that we've had a look at Navico's WiFi1 router and the 0183 Link, let's examine the Toolkit that will purportedly give developers easy access to the higher level numeric data that's running around a boat's Simrad, Lowrance, or B&G systems. Of course that means NMEA 2000 info and it could lead to all sorts of interesting apps like that instrument screen prototype above. We're talking about 38 data groups ranging from GPS to Bait Well to Inverter with 303 data types already defined by Navico. I'll link to the list below and I think even non-programmers will get excited about what's possible…
For instance, if you check out the GoFree Tier 2 spec downloadable here, you'll see more than twenty Sailing Group data types as specific as Time-to-Layline and Boom Position that could lead to performance sailing apps that make the mock-up below look trivial…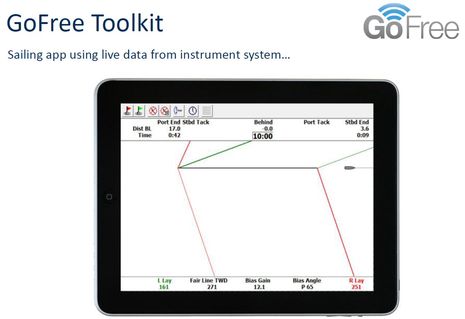 But won't developers have to purchase expensive NMEA 2000 documentation and possibly submit to some sort of NMEA approval process as we discussed (!) regarding the Chetco SeaSmart N2K gateway? Well, I'm happy to report that Chetco and NMEA have more than mended their differences and SeaSmart is evolving in great ways (like a free onshore server integration with onboard SeaSmart.net), but it almost seems like Navico is doing what Chetco couldn't get away with, as suggested in the slide below: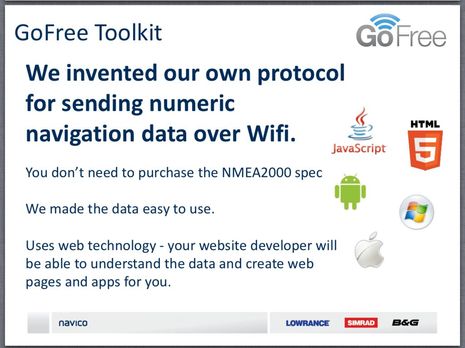 The significant difference — besides the fact that Navico has been a huge supporter of NMEA 2000 from its inception — is that GoFree is purportedly not a gateway because the data is being processed within an MFD rather than simply bridged from PGNs to Ethernet. The WiFi1 does not have an N2K port. Navico also tells me that it will be supporting NMEA's OneNet Ethernet standard when it materializes (in "late 2014") but at least in the meantime the GoFree team thinks it has come up with an excellent way to get the data out to the apps. Apparently a key element is the use of Websocket as the connection method. Now I don't know beans about programming, but I'm hoping that some developers will download the Tier 2 spec I mentioned and tell us how easy the Toolkit will or won't be to use…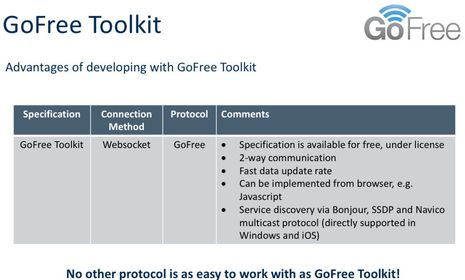 So now's the time to talk about the GoFree Tiers listed below, which have grown from three to five since first made public. It's great to see that the CAN-bus data discussed above will be "Free & Open" but I believe there is an NDA (the "license" above) involved in getting the complete spec, at least for now. It's also nice that some non-critical control functions — like the dimming slider seen in the top image — fall into this category, but it's also understandable that an "agreement" (and possible certification program) is needed if an app gets involved with critical stuff.
The new MPEG4 Video Tier 3 refers to the mirroring of certain Navico MFD screens, as discussed in the comments to the previous GoFree entry, and like the higher tiers it involves a negotiation. Navico wants to get paid if an app essentially duplicates what its own hardware can do, but is encouraging apps that will expand the usefulness, and pleasure, of a boat's Navico system. I don't know what that will mean for the concept of "free range radar" but at least it's encouraging to know that it's possible for third party apps to access raw Navico sonar and radar, even from a system that doesn't have the touch MFDs that support MPEG4 streaming. I do know that one of Navico's hopes is superyacht applications that use most all these tiers, for free but thus getting Simrad gear on bigger vessels…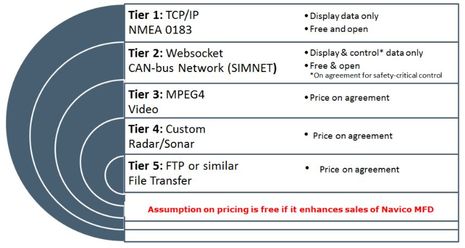 And finally there's Tier 5, file transfer, and one example of that is a weather app that could also share GRIB data with a B&G Zeus capable of displaying it nicely. Is your head spinning with possibilities yet? Has a major marine electronics ever reached out to third party developers so aggressively? (And by the way, Navico would like your feedback on all this.) Will the other majors follow suit?
Maybe I'll find out more at the Fort Lauderdale International Boatshow, which I fly to in the morning, having finally gotten Gizmo to her winter marina this afternoon (cutting it close ;-). One thing I learned in the last couple of intense Intracoastal Waterway days is that some of the apps Navico envisions have in fact already been developed for another system, Furuno's NavNet TZTouch…and they're cool. This MFD app concept is moving fast. More soon.