Navico WR10 Wireless Pilot Controller & BT-1 Bluetooth-to-N2K gateway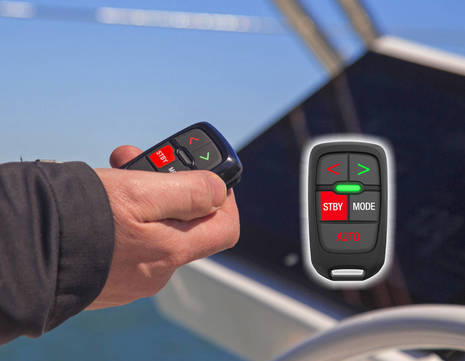 Last week Navico introduced a Wireless Pilot Controller that can be added to B&G, Simrad, and Lowrance autopilots that connect to their control heads (and/or MFD controls) via NMEA 2000. It can do more than the keys indicate — like tack a sailboat that's being steered in wind mode — and it will retail at $349 with a BT-1 Bluetooth Base Station. The WR10 remote will also be available by itself for $150 as four can work with one BT-1 at once, and eventually the remote may be able to work directly with the Bluetooth built into displays like the recently introduced Lowrance HDS Gen3 or the new Simrad Go7 / B&G Vulcan V7 twins…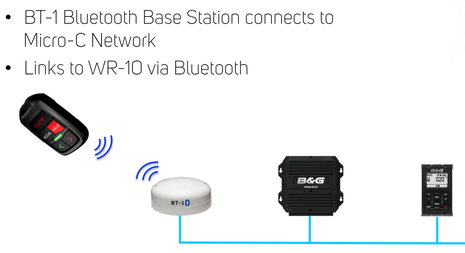 This diagram shows how the full kit works. Bluetooth reliability has improved immensely in recent years, in my experience, but the reliable range is still fairly limited — the Simrad WR10 page says up to 30 meters, but I'd guess that's in ideal conditions — and so some installs may need the BT-1 even if a somewhat distant Navico MFD has Bluetooth built in and direct mode is enabled. (I don't know why the Pilot Controller literature consistently refers to a Micro-C Network instead of a NMEA 2000 network — which uses Micro-C connectors as standard — but I have noticed that many recent products like the NSS evo2 and Zeus2 MFDs do not seem to be NMEA 2000 Certified. What's up with that, Navico?)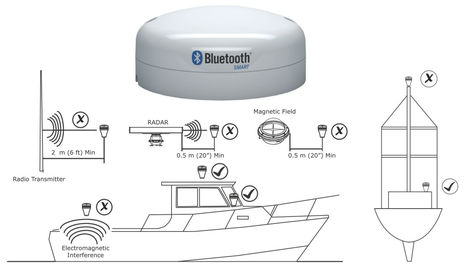 This image comes from the WR10/BT-1 Quick Reference Guide you can find at any of the three Navico brands, and it suggests that care should be taken about where the Bluetooth base station is placed in terms of interference (which I've noticed myself as a heavy user of Bluetooth audio streaming who sometimes gets too close to EMI). Note that the 1.6-inch diameter BT-1 case seems to be a miniature version of the case used for Navico's multi-brand GPS/Heading sensor — though thankfully without the different names — and can be similarly mounted either flush or on a pole base.

The Guide table above shows the key actions in various autopilot modes as well as how the WRT10's fair size red/green LED responds. I think it's great that you get a 1 second green light assuring you that a command has been accepted by the system along with various Red signals if there's a problem. But I suspect it will be long time before a user will see the low battery signal, as the purported power consumption is <100 mA at 12v and the source is two AAA batteries.
Incidentally, the BT-1 may be nearly the first device that can gateway Bluetooth messages onto a NMEA 2000 network — besides the ambitious but now discontinued Simrad WR20 Remote Commander — and I wonder what else could be done with a connection like this. Lowrance is already using its Gen 3 Bluetooth to run a PowerPole, and I've long wished that Raymarine would use its built-in MFD Bluetooth (now used for the RCU-3 remote) to create a bright waterproof touchscreen messaging interface to the deLorme inReach (I know deLorme is up for it, and now Navico's another possibility). What would you like your marine electronics to do with Bluetooth?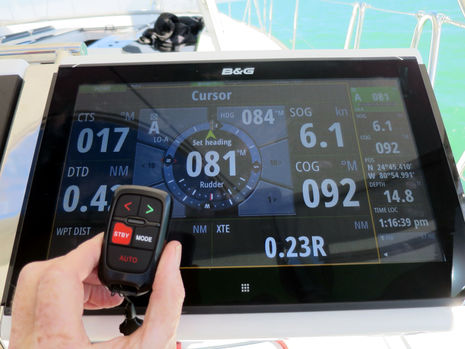 I got to see the WR10 remote in action during the Navico writers event in January and it seemed to work just fine. In retrospect, I don't know if it was using a BT-1 Base Station or a direct connection to the Vulcan V7 that was also being demonstrated, but that's also pilot control on the big B&G Zeus2 Glass Helm in the background above. That's how it is when ap control is distributed everywhere over N2K (as long as it's all the same brand), and it's great. I was also pleased to get the photo below. There's got to be a first one of anything, and apparently I saw WR10 #1 in Florida.