New Morning, Gulf Stream passed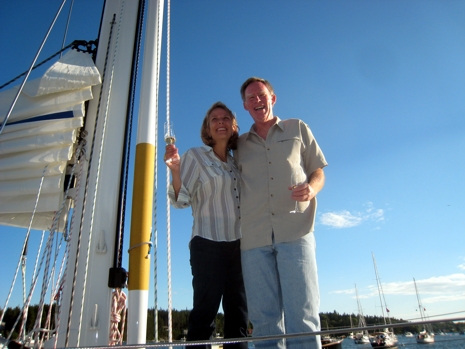 Here's Russ and Fay enjoying the christening of New Morning last August (as did I). They're now beyond the Gulf Stream en route to Bermuda. It would be nice if they posted a new entry on their blog (via Iridium/XGate, I think) and/or fired off a Spot OK message (which I get a copy of, and also gets plotted on their share page), but I'm confident that all is well.
New Morning has the most comfortable salon I've ever felt on a sailboat this size, and also perhaps the coolest nav station (better photos here). And we know Russ expended a lot of energy on systems. But the North Atlantic in November, even the deep blue part, can tire a crew out. No one knows that better than the 30 Vendée Globe single-handers who are right now headed out into a Bay of Biscay gale. Here's wishing all these boats safe passages.