New N2K doodads, easier cabling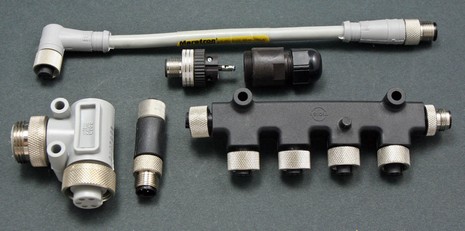 In addition to the tank/rudder adapters I tried, Maretron sent over some new cabling parts of interest. Let's check out the big picture, starting with the four way tee at lower right. It's quite like the Double T that Lowrance recently introduced—though obviously better made (metal threads!), and probably more expensive—and it's obviously useful in tight areas where you want to tee off numerous sensors and/or displays. To its left is a possibly more valuable inline terminator.

Every N2K backbone has to have a resistor at each end, and tee drops can only be about 16 feet maximum. Therefore a smart backbone design might start at the masthead or tuna tower, then snake down to the bow, and finally to the engine room. But up until now that meant that, say, a masthead N2K weather sensor had to have a nearby tee and terminator…awkward. Now you can just screw the "inline" between the sensor and backbone…done.
The new right angle connector at bottom left is the only part here belonging to the Mini size cabling system, as opposed to the much more common Micro size. It's big stuff, but note that on bigger boats it may make sense to use this as a backbone even if the tees are mostly converted down to Micro size (easily done). That's because the Mini size will carry twice the amperage—8 amps instead of 4 on each side of the power drop—and those figures are maximums. A properly designed N2K backbone is analyzed for potential voltage drops and max loads may be lowered as a result.
At top is a short right angle Micro cable, another useful part in tight installs, and finally I put in a field installable" Micro plug, which is not new but good to know about. I haven't tried one, but they look well made and I know the chief installer at Lyman Morse (Electra has a Maretron Weather Station and Display) likes them a lot. By the way, while all these parts are available from Maretron, they are manufactured by the connector specialists Molex and Brad Harrison (remember that the N2K cabling standard is also called DeviceNet and is used in other industries). And note that while Panbo may be all NMEA 2000 this week, the really big news will have to wait until the end of the month!
PS 10/4: Here's Maretron's price list; I think you'll find that the cabling prices are fairly similar to those of proprietary N2K and Ethernet cables from Raymarine, Garmin, and others. Another useful document is the Maretron N2K Designer's Guide downloadable at the top of this page.