New Year's wishes, of the marine electronics kind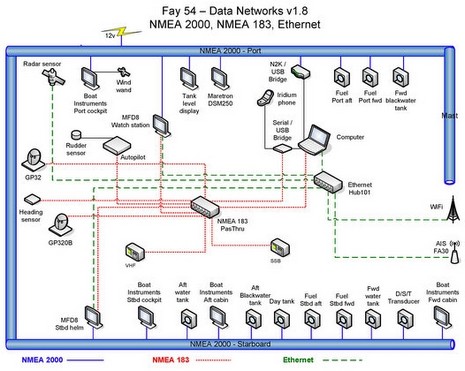 Aside from Panbo's able crew of regular commenters—some of whom I've gotten to know personally, and all of whom I appreciate—the sixty thousand plus unique monthly visitors here are a somewhat mysterious mishmash of marine electronics enthusiasts, product info searchers, and trades people. (Feel free to speak up your own self, and apologies in advance for the somewhat cranky comment system, which will be improved in 2009.) Actually I also personally know a lot of folks in the trade who read Panbo regularly, and have been told that several companies have a designated monitor tasked with passing along relevant entries and comments to management. How 2009/Web 2.0 cool is that? And it means that if you'd like to express your wishes for the marine electronics future, you will be heard. Russ Irwin, proprietor of the data mishmash above, gets the first word (and credit as instigator):
If I could send the manufacturer's one message in 2009, it would be "open up". Dump the proprietary cabling, proprietary interfaces, proprietary data formats, etc. Publish everything and encourage third party software developers to interact with the systems. The vendor who does this most aggressively will be richly rewarded by seeing all the peripheral applications that they can not address being solved by third parties, increasing demand for the systems vendor's core products. All of the manufacturers will be cutting R&D this year so they won't want to do this because a proper 3rd party program requires R&D resources and support which means they have to cut back internal product development even further. But those that do will find that the get a lot more bang for their R&D buck by leveraging third party developers."
I'll add my own wishes in the comments section, hopefully along with yours (?).