NMEA OneNet 2013, already ahead of the curve?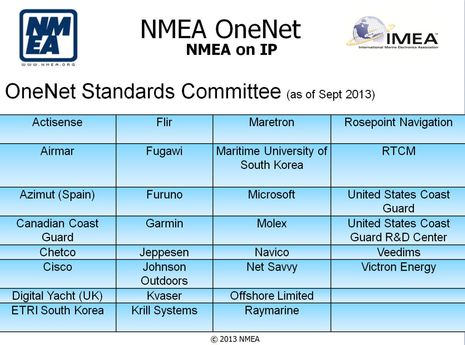 OneNet is the NMEA's ongoing effort to create a subset of Ethernet and Internet Protocol (IP) standards for marine electronics. It won't be fully released for two more years, but I liked what I heard (and could understand) in a September seminar delivered by NMEA Technical Director Steve Spitzer. When I first wrote about OneNet, for instance, some skeptical commenters could only envision it as a way for the major manufacturers to keep small developers out and profits up. But that seems paranoid when you consider the wide variety of organizations who are volunteering time and expertise to create OneNet…
The team working on OneNet ranges from numerous small companies up thru the Big Four (Furuno, Garmin, Navico and Raymarine) and on to IP giants like Cisco and Microsoft.  Also included are Coast Guard groups interested in general marine safety and the safe, efficient performance of their own fleets, as well as the forward-looking engineers I met at South Korea Maritime U. last June.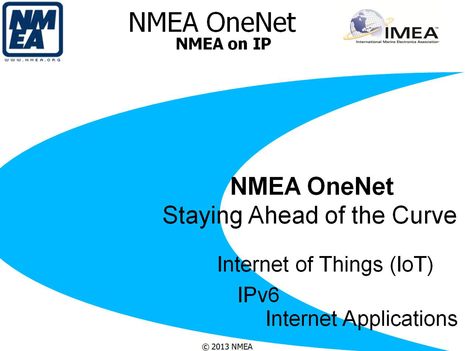 Spitzer began his presentation rather boldly, with first this slide suggesting that OneNet is "Staying Ahead of the Curve" and then another stating that "The World has finally caught up with the Marine Electronics Industry"!  He seemed to be grinning — at the skeptics? — as he said that, but I can't think of a similar technology niche that's trying to integrate its specialized data and environmental conditions into IP standards like this. You can download the OneNet slide show PDF at the NMEA.org (along with other 2013 Conference goodies), but I'll try to cover Spitzer's main points below.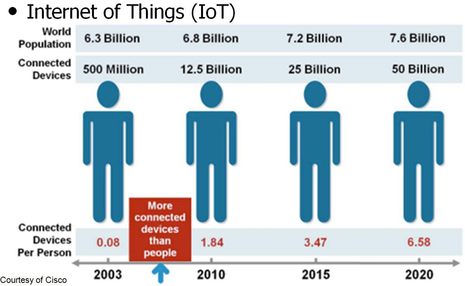 Steve spent a lot of time discussing the Internet of Things (IoT), which is sometimes alternately called the Industrial Internet or M2M (machine to machine). No matter what it's called, it's getting pretty obvious that all sorts of devices are going to get on the Internet one way or another — like 50 billion by 2020 in Cisco's estimate –and Spitzer also had some startling numbers like the brontobyte to describe what that will mean in terms of needed IP storage, unique addresses, etc.  All of which is vastly more complicated in the world of marine electronics where major systems must keep on working when not connected to the outside world, or with much reduced bandwidth…and in damp dynamic conditions.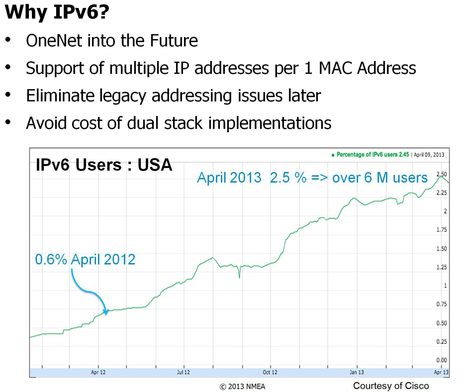 All the IoT talk seemed, at least in part, a justification for NMEA's decision to skip IPv4 altogether in favor of the rapidly emerging IPv6  protocol. I don't know much about the intricacies of IP, and Wikipedia claims there's only 2% Google IPv6 access right now, but Spitzer seemed to make a good case for how well IPv6 will work in the boat world. Plus, 2% is not actually a small number if it's four times more than the year before, which I guess is a reason why a OneNet standard that won't hit the docks until 2015 can still be "ahead of the curve."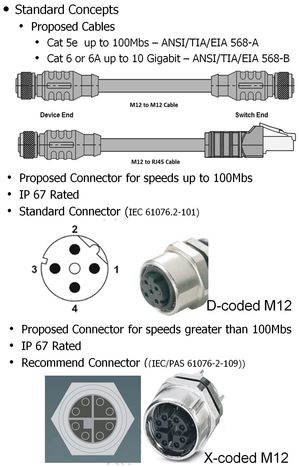 The proposed waterproof OneNet connectors and cables are a lot easier to understand, and they look good, I think. You can already find d-coded M12 Ethernet cable that will be standard for less-than-100Mbs OneNet. Like NMEA 2000 DeviceNet cables, they're not cheap, but also like N2K cables, they're both rugged and reusable, and there is a competitive marketplace. Plus, you can always adapt to regular RJ45 Ethernet cabling if you want. X-coded m12 Ethernet cabling is more exotic, and it's still only a OneNet "Recommend" mainly because the IEC hasn't yet elevated it higher, but committee member Molex makes x-code sound very capable. 
    While I think "recommend" does mean that a manufacturer could use a proprietary OneNet connector on their device, NMEA probably has time to come up with a "Standard" high-speed OneNet connector and besides, I doubt any manufacturers will make the same mistake some made with NMEA 2000.  Afterall, there's only two proprietary N2K cabling systems still in production – Raymarine's SeaTalkNG and Fusion Audio's – and I'm not sure either company is happy with the situation (though adapter cables can handle both). At any rate, isn't it nice to think of a future where you could buy, say, an IP navigation camera and have it plug'n'play with whatever OneNet gear you already have on board (and possibly older Ethernet gear that's been updated to OneNet)?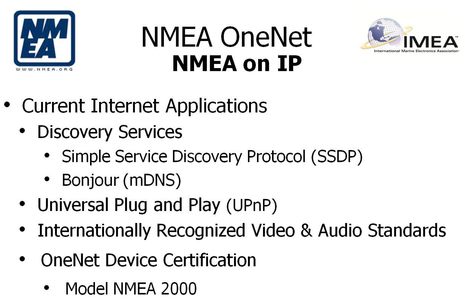 Of course there's more to plug'n'play than connector compatibility, but Steve Spitzer had good news on the software front as well. In fact, the committee is hopeful that OneNet will be the first, or one of the first, to support both leading "Discovery Services" at once.Thanks to sharp marine developers at Vesper Marine, zapfware, Navico, and PocketMariner, I've already experienced how nice and easy it is to connect iPad apps to boat hardware with Apple's Bonjour version of zero-configuration networking. Apparently, Microsoft and other non-Apple companies tend to use the Simple Service Discovery Protocol (SSDP) and/or Universal Plug'n'Play (UPnP) with similar results, and — blessed be! — NMEA wants OneNet to work with all the software ecologies.
OneNet's main goal, though, remains the safe passage of NMEA 2000 data messages and commands (aka PGN's) out to a boat's OneNet (Ethernet) system and beyond, plus moving data in the opposite direction. I think I'm already enjoying the "Internet of Things" when Gizmo's Siren Marine system sends me an email and text every morning reporting on temperature and battery states (that's how I know that the solar panels are trickle charging through white shrink wrap). What the heck will it be like when every OneNet device on our boats has its own Web page like the one proposed below?