ORCAdsc MOB alarm, the real deal?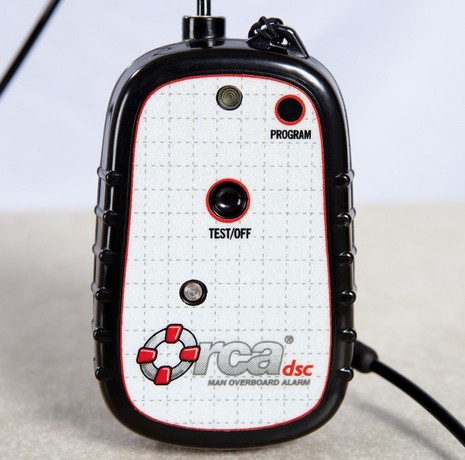 I believe you're looking at the first DSC-based MOB alarm available in the U.S. It's BriarTek's ORCAdsc, and it sells for $275 per alarm (a reasonable seeming price that got Lenny's attention). It automatically activates when submerged in salt water, and a regular DSC VHF radio is all you need to get alarmed onboard (which is what I've always liked about using DSC for MOB). The BriarTek site doesn't list this new product yet (coming soon), but you will learn how serious the company is about MOB electronics. The ORCAdsc materials I have here, including the manual, also suggest a carefully designed and built device, though it turns out that DSC MOB doesn't work exactly like I thought it would…

Apparently the RTCM 11901.0 standard for Maritime Survivor Locating Devices mandates that MSLDs can only alarm an associated vessel, not all vessels within VHF range. Hence, instead of just sending out a standard DSC Distress alarm, the ORCAdsc uses a pre-programmed BriarTek Group MMSI that you must program into your boat's VHF (not hard). You can also program your own Group MMSI into the alarm — which might make particular sense if, say, you're part of an offshore racing fleet — though it looks like a tedious process involving many taps of the magnetic antenna tip seen below on the sensor marked Program. That tip is also used to test the alarm or to turn it off.
The photo below (on which I overlaid the unit's backside) also indicates ORCAdsc's petite size (just 3.5-inches tall and 3 ounces light), and how it can be worn as a pendant, thus submerging the water sensors while keeping the antenna at least somewhat exposed to the air. The ORCAdsc also has a built-in strobe and a 121.5 mHz transmitter that can be honed in on by most any SAR vessel or aircraft (or your own boat if you have the needed direction finder). I don't know much about the recently discussed Navicom RT-650 MOB because it's not sold here, and the Mobilarm VPIRB, discussed here in 2008, never got to market here either, and is now hard to find on the Mobilarm site. Might the ORCAdsc be the real deal?