Panbo fun at the NMEA/RTCM Conference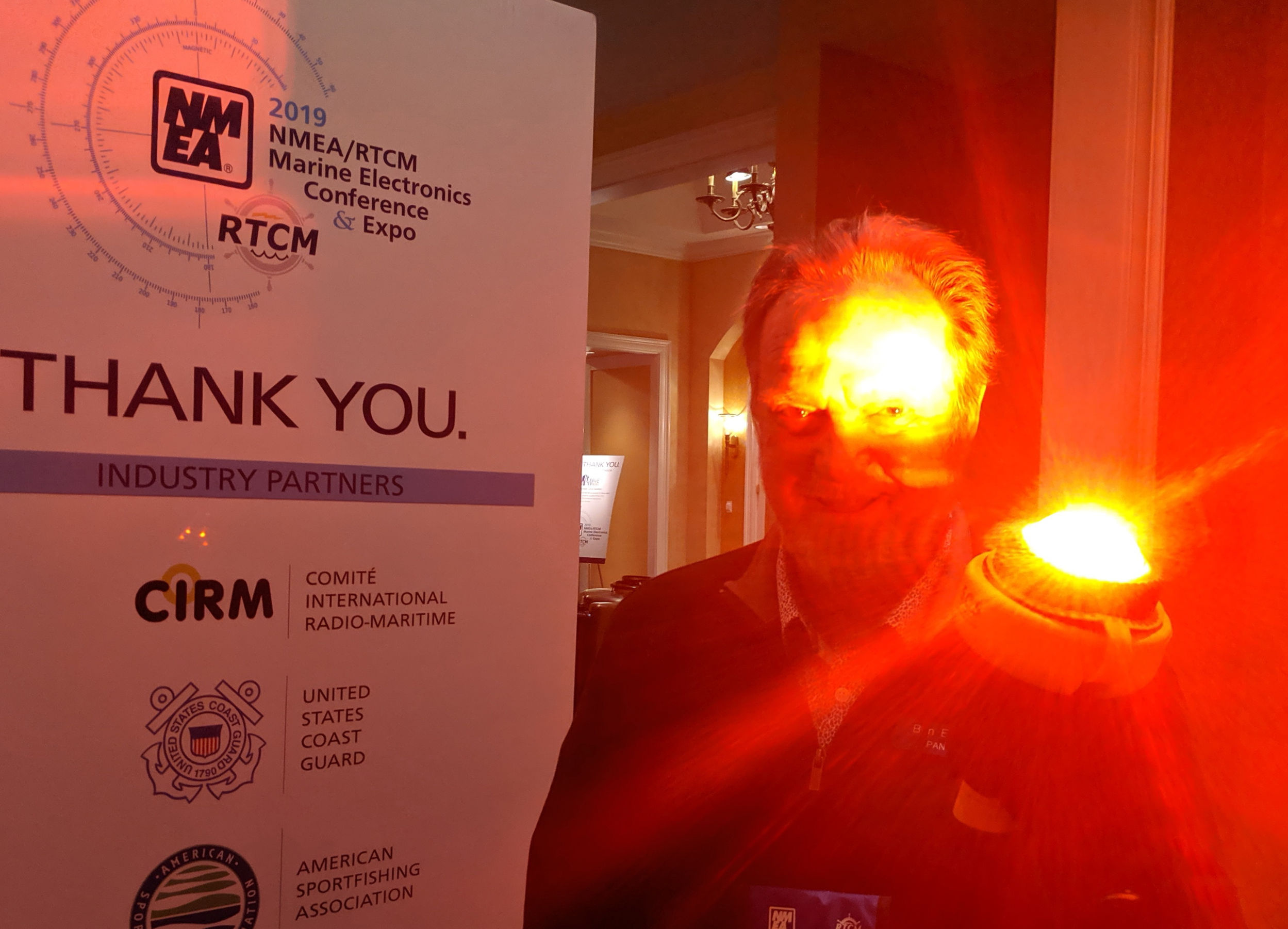 It may not be everyone's idea of a good time, but trying the first dual-color electronic Visual Distress Signal Device (eVDSD) is how a writer trying to cover the present and future of marine electronics gets his kicks. And it happened because the annual and always valuable NMEA Conference is now also the annual RTCM Conference, and also because Panbo covered the event with dual Bens.
Before discussing RTCM and why we plan to give its work more coverage, the specific eVDSD I'm holding is the recently announced Sirius Signal C-1002. Third-party testing has not yet completely confirmed that it meets the RTCM 13200.0 eVDSD standard, but there shouldn't be any problem with the requirement that a person can operate it with one hand in a 5mm neoprene glove. Heck, that's a righthanded guy easily switching it on/off with his left in the photo above.
Sirius Signal CEO Anthony Covelli and USCG staff engineer Martin Jackson delivered a joint presentation about the state of eVDSD regulations and technology to the gathered RTCM (Radio Technical Commission for Maritime Services) members, most of whom similarly represent either manufacturers of marine safety and radio devices or involved government agencies.
In fact, the new eVDSD standard was largely driven by USCG R&D, as well explained here (partly by Jackson). And while RTCM is U.S. centric, there are some foreign members and many U.S. members are also involved with international regulatory bodies like the IEC and IMO. That's why the RTCM eVDSD standard may eventually become an international distress signal standard, and another reason I relish their Conference as a view into the future of some marine electronics.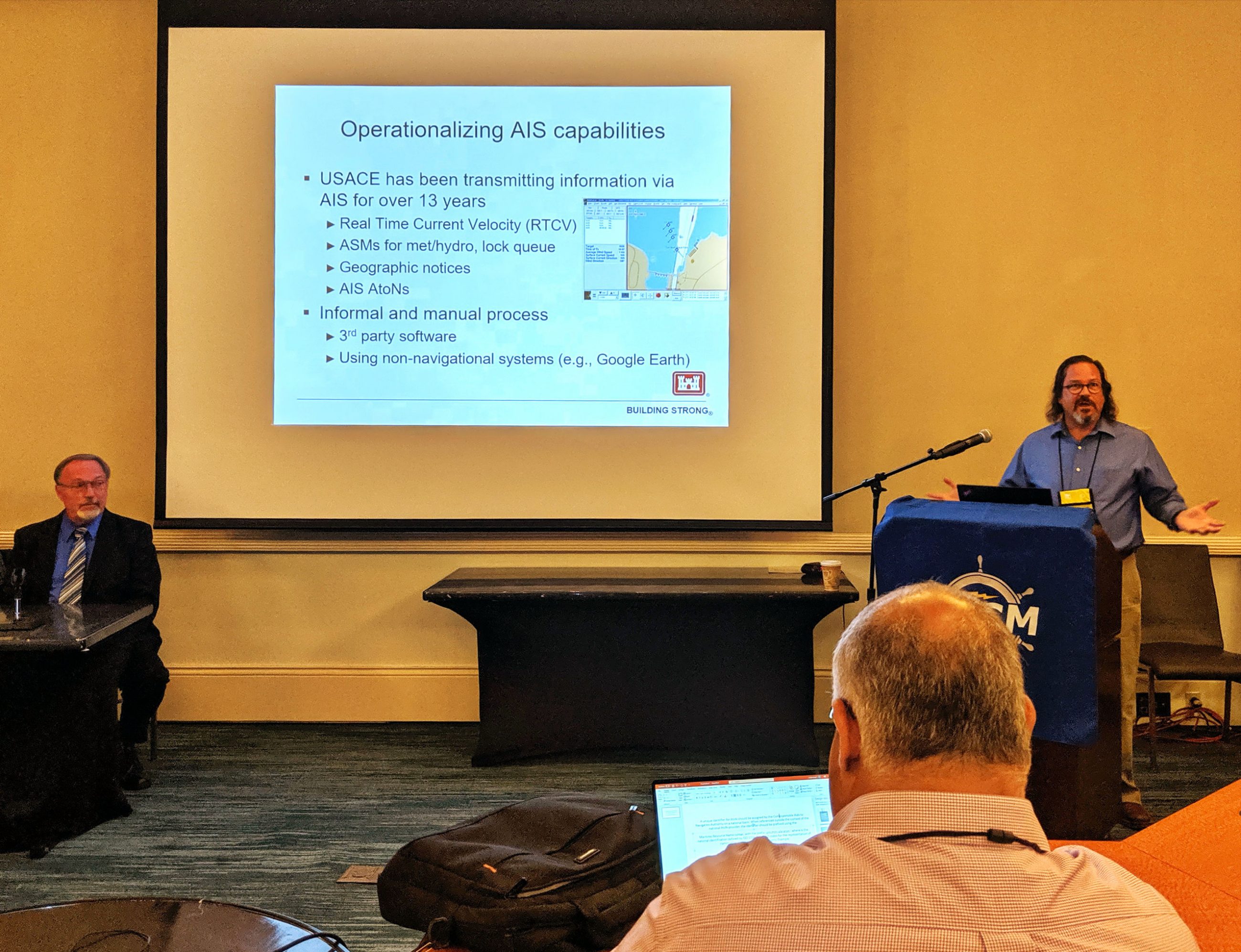 In this scene Brian Tetreault is explaining the many ways the U.S. Army Corp of Engineers has expanded the usefulness of AIS in the inland waterways by including local realtime information about hazards, currents, the status of locks, and more (often displayed on Rose Point ECS). And now they're using their experience to experiment with deep-sea AIS extensions that may well be of interest to international authorities, and eventually useful to bluewater boaters.
Brian was preceded by Mark Johnson, seated at left, who also spoke about how AIS can help with what he calls Ocean of Things (OoT) applications. Additionally, he discussed the extreme range AIS reception possible with systems like the SM1680 "Octopus" developed by his company Shine Micro. And let's note that Johnson was quite instrumental in creating the original Class B AIS standard and remains involved in similar processes.
Moreover, that large noggin in the foreground belongs to session moderator Jorge Arroyo, a USCG subject matter expert on AIS and eNavigation. So just this photo illustrates how much AIS horsepower was in the room, and it doesn't show the crowd of RTCM and NMEA members, plus interested guests, who were also in the amphitheater. When and if AIS evolves new features relevant to us, they surely will have been discussed here first.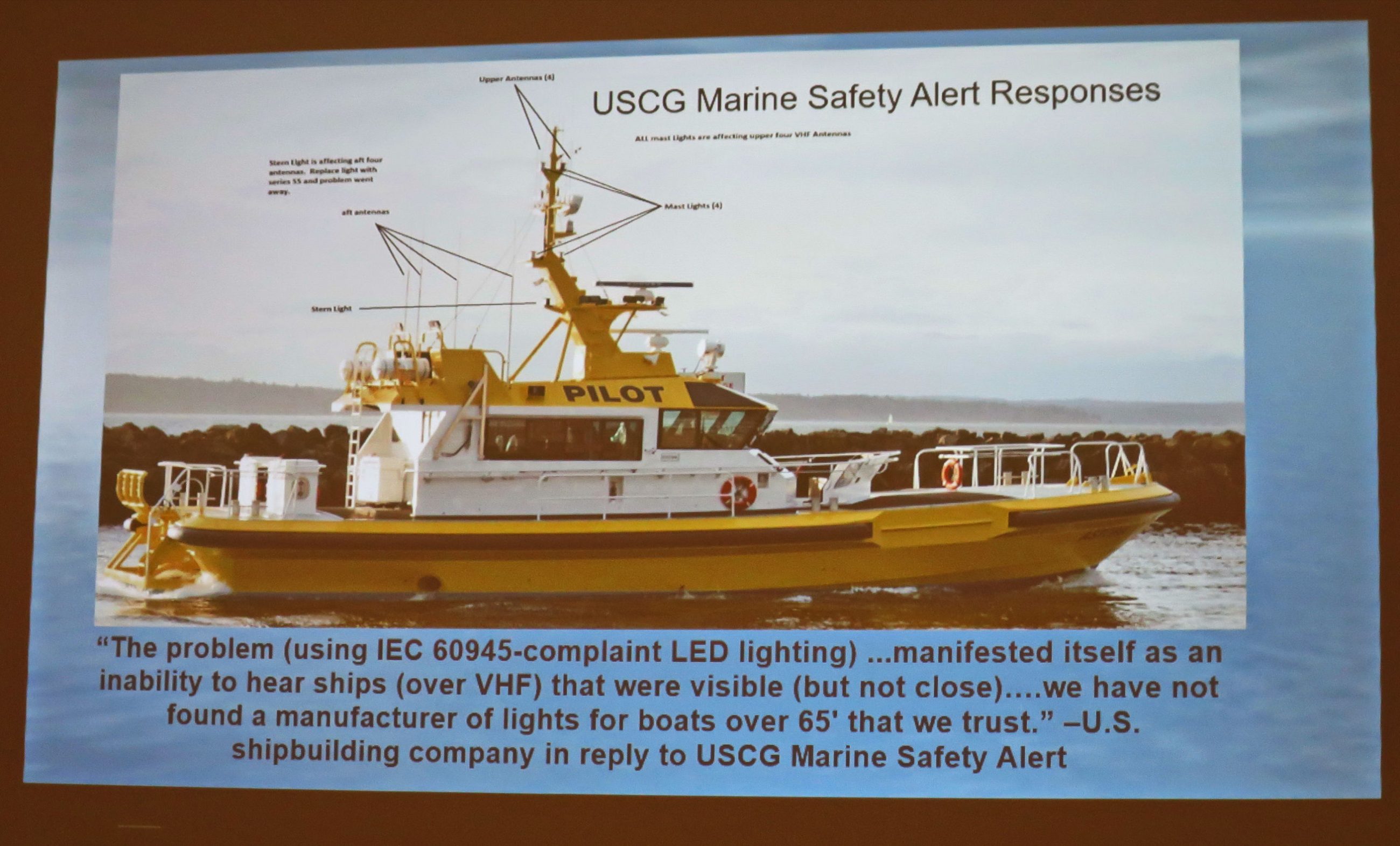 Creating international safety and communications standards, even regional ones, is a long and tedious process. But behind the thickets of acronyms and endless layers of consensus-building process are real can-do personalities. Learning this made me wonder about the phrase "faceless bureaucrats" — because I haven't met any in the maritime regulatory world.
Check out Joe Hersey's work biography, for instance. I first knew Hersey 20 years ago as the USCG guy who took extra care to keep the recreational marine world updated on various radio-related services, but I had no idea how many important safety initiatives he's been involved with. And I sense that recent concerns about LED nav lighting interference with VHF might not have gotten much attention without him.
You will find Hersey commenting on the Panbo entry about the USCG LED Safety Alert with its call for test results, an initiative he likely championed. At RTCM he presented the results of that testing, like the slide above, along with a deep explanation of why the current IEC 60945 and related CISPR EMC standards don't really cover boat environments.
Hersey already administrates the U.S. Technical Advisory Group (TAG) to IEC Technical Committee 80 on Maritime Radiocommunications and Navigation Equipment — and is the reason I'm "consumer advocate" to TAG80 — and now he's also chairman of RTCM's new Special Committee SC-137 on Electromagnetic Compatibility Requirements for Light Emitting Diode (LED) Devices and other Unintentional Emitters Located Near Shipboard Antennas.
OK, my head is spinning too, but SC137 is how a better marine LED light standard may get developed by the relatively small and focused RTCM and eventually incorporated by the massive global International Electrotechnical Commission, and Joe Hersey will likely deserve lots of credit though many similar experts will be involved.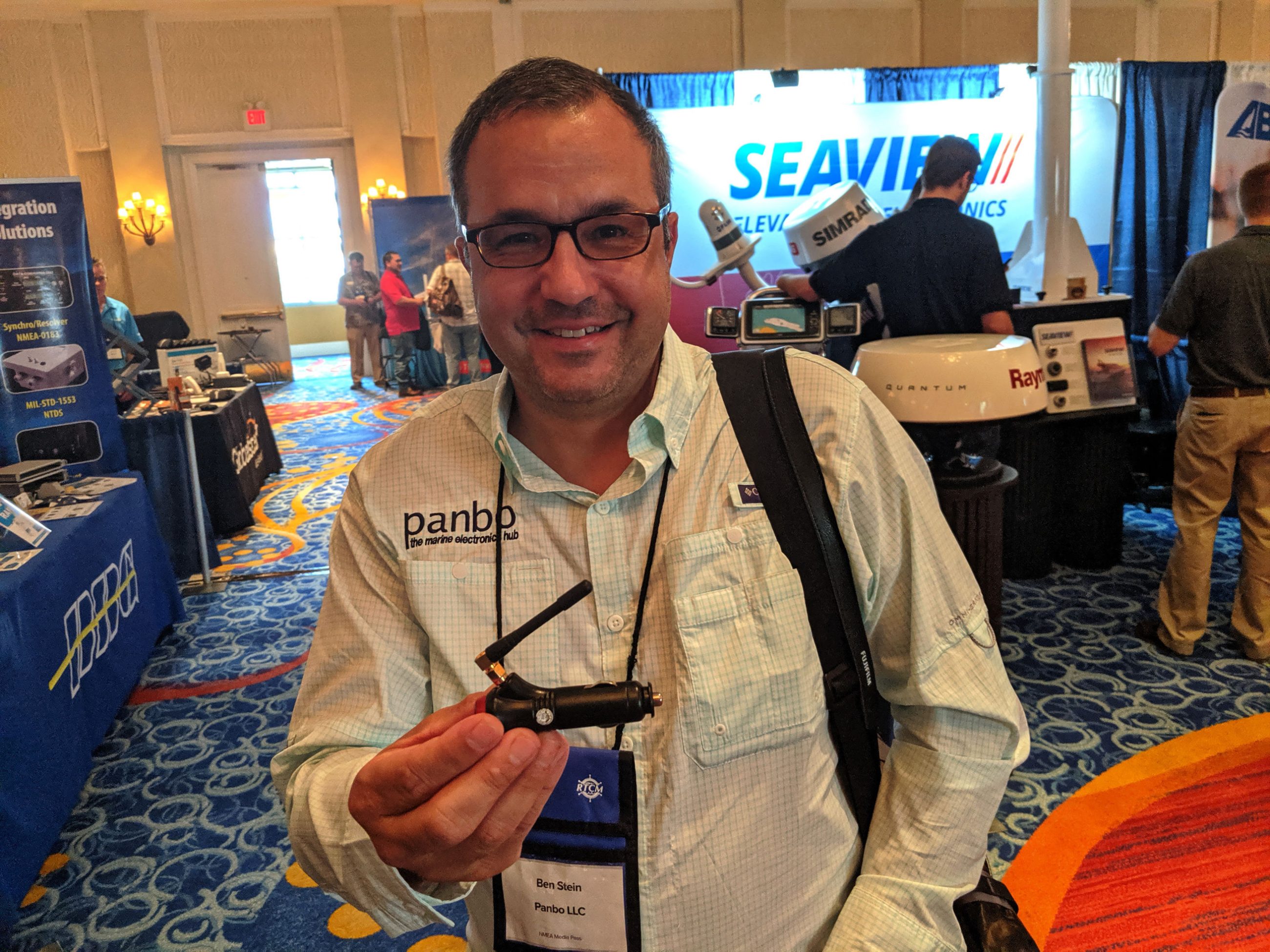 The NMEA/RTCM Conference is also an Expo, and even more interesting because the two organizations draw a wider field of vendors. Orilia, for instance, was showing off "Rugged PNT Sources" meant to protect ships from GNNS spoofing and jamming. And the ever-clever sales director Terry Crockett showed us a $15 jammer usually used by truck drivers to disappear off company tracking maps but also useful for illustrating the problem to prospective customers.
PNT (Position, Navigation and Timing) resilience is a complex and expensive technology that probably won't get down to recreational boats for quite a while. But if I'm offshore when GPS goes bonkers, I'll try to remember my old dead reckoning skills while looking for a well-equipped ship to follow.
Speaking of well-equipped, a 2019 NMEA/RTCM treat was touring the 154-foot USCG Sentinel-class fast response cutter Nathan Bruckenthal. Furuno navigation gear was everywhere on the bridge (excepting that Dell PC in comms corner) and it was interesting to learn that the smaller backup MFD and radar system will soon be replaced with Raymarine devices as the CG trains its personnel on SINS-2 (Scalable Integrated Navigation Systems gen 2), more detail here.
But what got lots of attention from this crowd was all those exposed cables.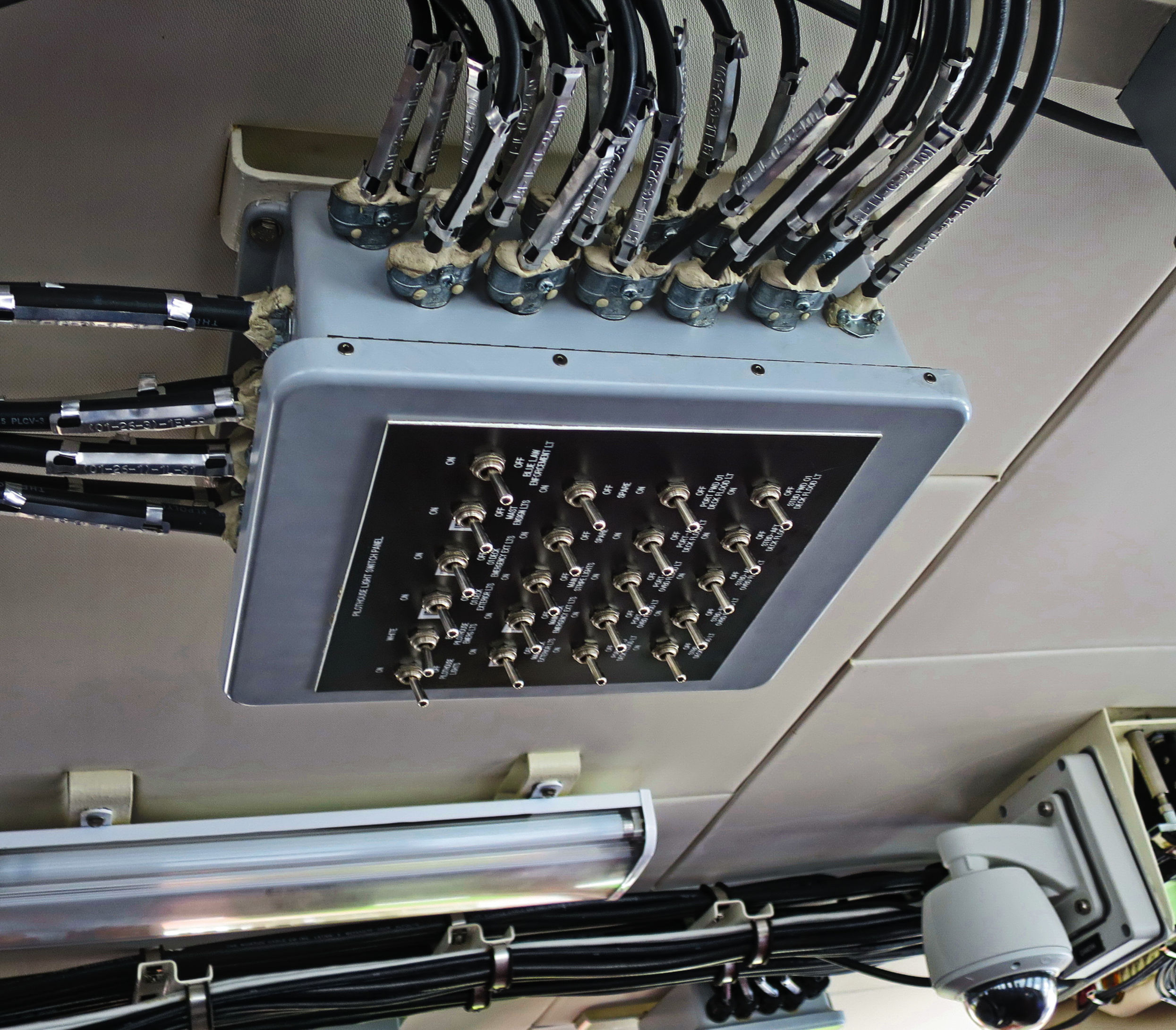 The electronics and switching cables were not only exposed and seriously secured throughout the cutter, but also labeled at regular intervals with embossed metal tags. You can see the details by clicking large the photo above, and it's not hard to imagine how much this could help a technician to rapidly troubleshoot an issue.
This entry is mainly and purposely about the people behind marine electronics, and this image of the Bruckenthal's awesome antenna farm continues the theme. Just imagine the questions and comments generated by a gaggle of NMEA/RTCM folks, like what the heck is that tubular staple-shaped antenna to the right? (Seriously, not even the sharp boatswain's mate leading the tour knew.)
Ben Stein and I learned a lot, and we'll be sharing it with Panbo readers for a long time to come.