Raymarine e7, hand's on #1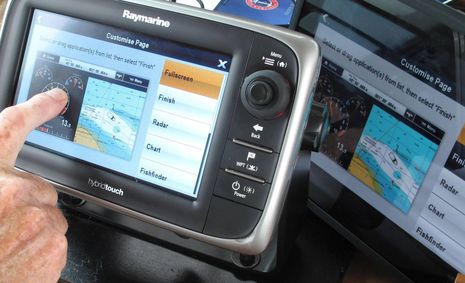 The new e7 multifunction display seen above is a pre-production unit running incomplete software, but last week I got some freckly hands-on time with it thanks to a visit from Raymarine marketing director Jim Hands. In fact, that e7 is plugged into Gizmo's NMEA 2000 network where it showed off some skills that have been absent in prior generations of Ray gear…
In the top photo I'm building a custom display page by simply finger dragging possible functions onto a facsimile of the finished screen. I first saw this bit of modern touchscreen elegance on the new Simrad NSS7 (8 & 12 also), and let's remember that the interface on the popular Garmin 700 series (which both Ray and Simrad seem to be after) isn't too shabby either. (At least temporarily, 7-inch displays have become a hot battleground in the great MFD competition.)
Note also in that top photo that Jim's iPad is repeating everything on the e7 screen via WiFi, which seemed to happen smoothly and quickly. And it was good to hear that actually controlling the e7 from an Apple or Android pad is on Raymarine's road map for this product and the inevitable larger eMFDs. But let's remember that the first WiFi-equipped nav displays announced were actually the Standard Horizon CPN 700i and 1010i, even if their shipping seems to be delayed, and to my knowledge Standard won't be offering a free screen repeater app when they do ship. On the other hand, the CPNs will do email and web browsing when in port, a nice bit of icing that Raymarine is "considering".
Now for some photos and commentary on various aspects of the e7 noticed during this first brief hand's on: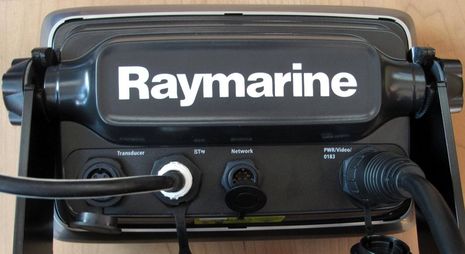 Looking at the back of e7, what jumped out at me was the new proprietary "Network" connector. But the fact is that there is no standard for waterproof Ethernet plugs and apparently the style that Raymarine developed for earlier gear — a waterproof collar around a regular RJ45 plug — didn't always hold up. So now there will be Raymarine network cables with a plug that matches the one above on each end, for networking multiple e7's and products to come, as well as patch cables for mixing e7's with existing Ray gear like E Wides, radars, fishfinders etc.
I was glad to correct the e7 announcement entry to note compatability with the E Wide and G Series MFDs, but it turns out that there's some nuance to that. For one thing, such compatibility may not be included in the first e7 release (which may happen quite soon). And when it is used at least one aspect of the e7's improved NMEA 2000 (aka SeaTalkNG) facilities will not be available…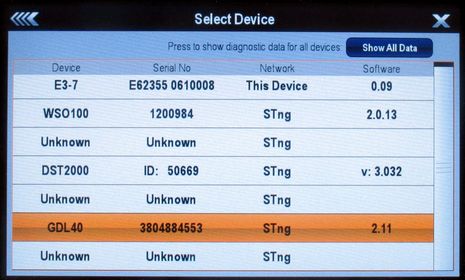 As partially shown above, the e7 can list and show diagnostic info for the N2K/STng devices on a network, which has become the norm for most modern displays and is great for verifying and trouble-shooting systems (that some devices remain 'Unknown" on this screen is just unfinished software, I'm pretty sure). The e7 also has the ability to select a desired data source if more than one is available, like, for instance, getting GPS info from the Garmin 17 that's on this backbone or from the e7's internal GPS sensor. However, when we tried making that choice we got a dialog explaining that the feature was not available because there was also a Raymarine ST70 on the backbone. An e7 mixed with older STng devices will not enjoy what Ray calls MDS (for multiple device sourcing, I think). That's a slightly unfortunate byproduct of completely rewriting system software, but certainly Raymarine is moving in the right direction. Another sign is a listing of supported standard NMEA data PGNs that looks pretty complete and will be included in the e7 manual…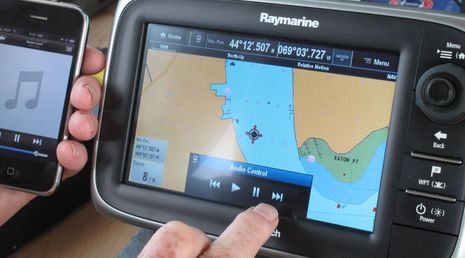 Meanwhile the e7's new forms of networking worked fine. Besides the WiFi screen stream, I was able to easily pair my iPhone and use the audio controls shown. (My Android phone didn't pair easily, but I've had it behave that way at first with other Bluetooth devices.) Once paired, the little music player icon next to the Home button appears and that's how access the controls. And it's the same deal with the RCU remote…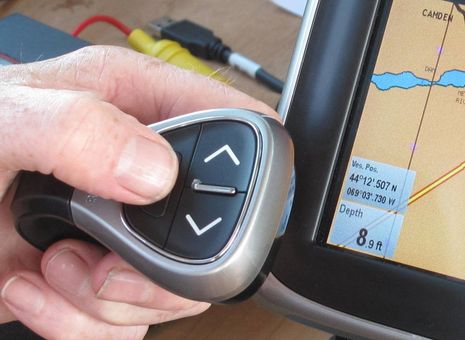 The RCU-3 has a solid feel and I learned that the steering wheel clip can be completely removed and replaced with a tie point for a pendant. By default the up/down buttons zoom the display while the main button sets a waypoint; with a long push on the latter bringing up the Home screen and opportunity to up/down choose another display page. In the e7's setup menus there's a place you can change these defaults, and the remote also does audio if you put those controls on screen. I'm guessing that this will be a popular option for the sailboat cockpit and small powerboat helms where the e7 is a natural fit.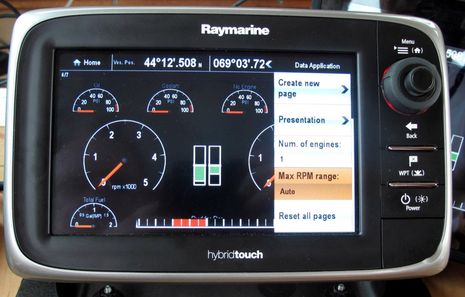 I'll close with two images that speak to other niceties spotted on the e7, though the photographs do not do justice to the screens. Above is a menu setting up an engine gauge screen and what I particularly like is the ability to select a maximum RPM or let the e7 figure it out. It strikes me that if you are going to expend display space on digital imitations of analog needles and gauge faces, you ought to be able to set the maximum scales wherever possible (like RPM, boat speed, oil pressure, etc.).
I should also note here that I really liked the feel and response of that rubber-clad knob and the eight-way cursor joystick on top of it. And while the software I tried wasn't opitimized for speed yet, the whole package still felt speedy, and particularly the 3D view badly represented below. I definitely still think the e7 is a major step for Raymarine, and I'm looking forward to thoroughly testing a finished unit, as I am the Simrad NSS and Standard Horizon CPN. Game on!