Two old guys, and a Garmin, part 2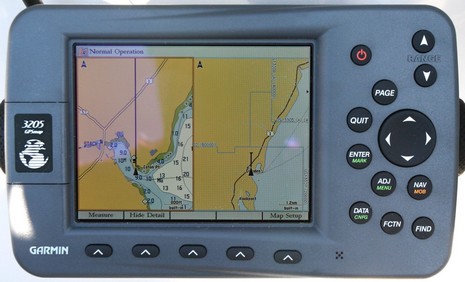 So I spoke to "the boys" on Saturday; they'd had a great first sail on their own. Good Enough is slippery, as I saw myself (note the 6.3 knots on the GPS, relatively flat seas in background). And, good news, Jo found himself getting more comfortable with his Garmin. Here's a bigger shot of the screen above, showing some of the things I set up that may be helping him:
* In Map Setup, the Prefs sub tab, I put Orientation to "Track Up". Now I know that some salts think North Up, paper chart style, is the only way to go, but I've come to believe that head up makes it easier to sort out what's important on these little screens. That's especially true on this Garmin (the Navman 8120 too) because Track Up and Course Up automatically put the screen into a "look ahead" mode so you see more chart ahead of the vessel.
* In the same setup page, Nav sub tab, I set a Heading Line based on a distance of 1 nautical mile. I always set up one of these lines, which I think Garmin should be calling a COG line (there could be Heading line too, like on a Raymarine, but it would be based on compass input). Usually I use time, but in this case, with inexperienced users and those tiny lower right map scales, the 1 mile really helps the eye to understand the current chart scale easily. The effect is pretty obvious on this Split Chart page, which I think is another boon to maximum situational awareness on a minimal screen.
* Finally, I also goosed up the spot soundings font size in the Labels sub tab, but I'm not sure that helps. I really wanted to enlarge the nav aids but couldn't figure out a way to do this. Anyone? Or do you have any other ideas on how to make a small Garmin screen as easy and informative as possible? Do tell!
PS. In regard to inspirational old boat guys, I'm happy to report that my buddy Max didn't last long without one. Plus: Sir Robin Knox-Johnston, who won the first non-stop race around the world, aka the Voyage for Madmen (excellent book), is doing it again.