Simrad NSX, an impressive debut of Navico's next-generation platform
The Simrad NSX may be a value-oriented chart plotter in Simrad's lineup but "value model" doesn't tell the story of how important NSX is to Simrad's, and Navico's, future. NSX is the first MFD running on Navico's Neon operating system (although B&G's Nemesis was the first Navico hardware to run it). I've been using an NSX in Panbo(at) for the last several months and I'm pleased to report NSX is an upgrade from the Simrad Go it replaced in nearly every dimension. If this is Navico's future, the future is bright.
The NSX is available in 7-inch, 9-inch, and 12-inch models. The 1,024×600 pixel, 7-inch model lists for $1,049, the 1,280×720 pixel, 9-inch model lists for $1,449, and the 1,280×800 pixel, 12-inch model lists for $2,749. All models include a sonar sounder module and the all new C-Map Discover X charts.
Using NSX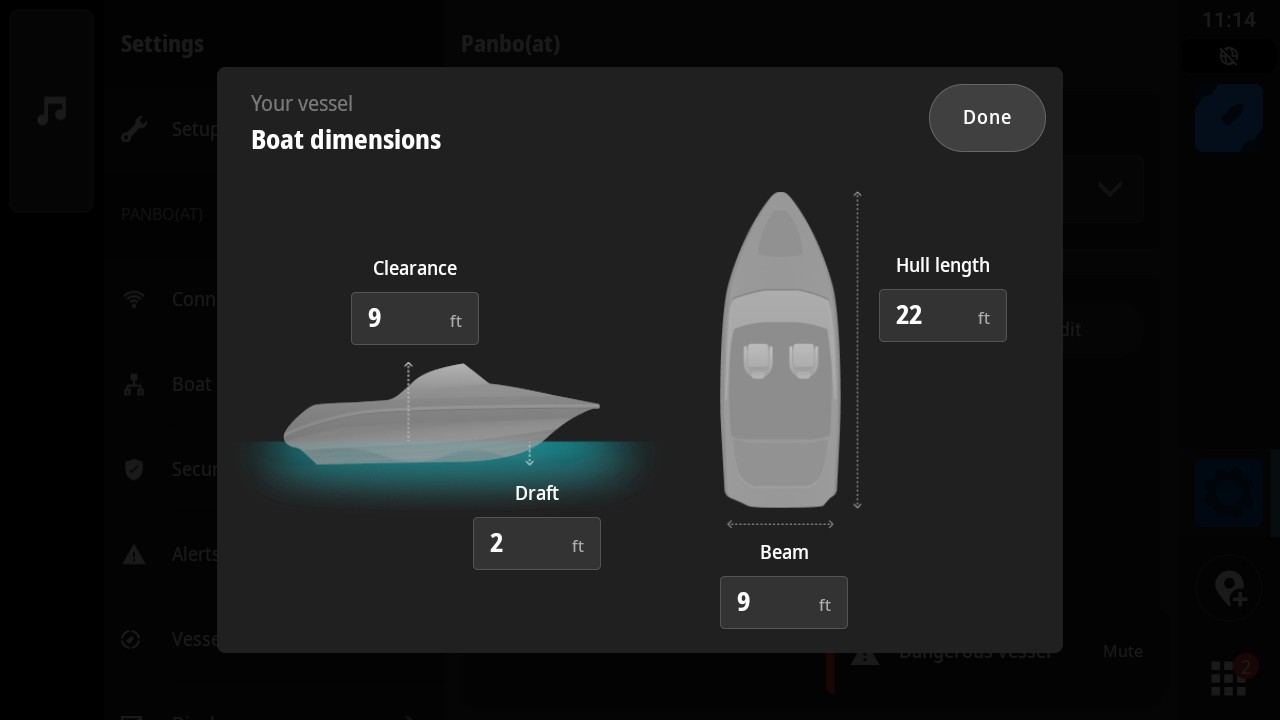 As I noted in my quick entry about the start of testing, the overall visual impression of NSX and Neon is really positive. Nearly every screen is attractive and intuitive. Plus, the X Generation charts are, at least to my eye, noticeably more attractive than the C-Map charts they replace. I've long considered Navionics' visual presentation the gold standard for charts and I'd say the X Generation charts are equal to, or even better than, Navionics.
But, my positive impression of NSX isn't just about appearance. It's really about the way the system works, responds to your input, and gives you the information you're after. Let's be honest, technology has gotten to the point that MFD selections aren't about which ones can do the job and which ones can't. Every chart plotter or MFD on the market has more capabilities than we recreational boaters are likely to ever need. So, as new equipment comes to the market, it's really about more intuitive and easier use as well as advanced functionality.
NSX slots into Simrad's lineup in roughly the same position as their Go line of chart plotters. But, it's not a one-for-one replacement. NSX is a little more expensive, and currently doesn't come in a five-inch version, but from what I've seen it's faster, has significantly more advanced networking features, uses IPS displays and generally feels higher-end.
Charts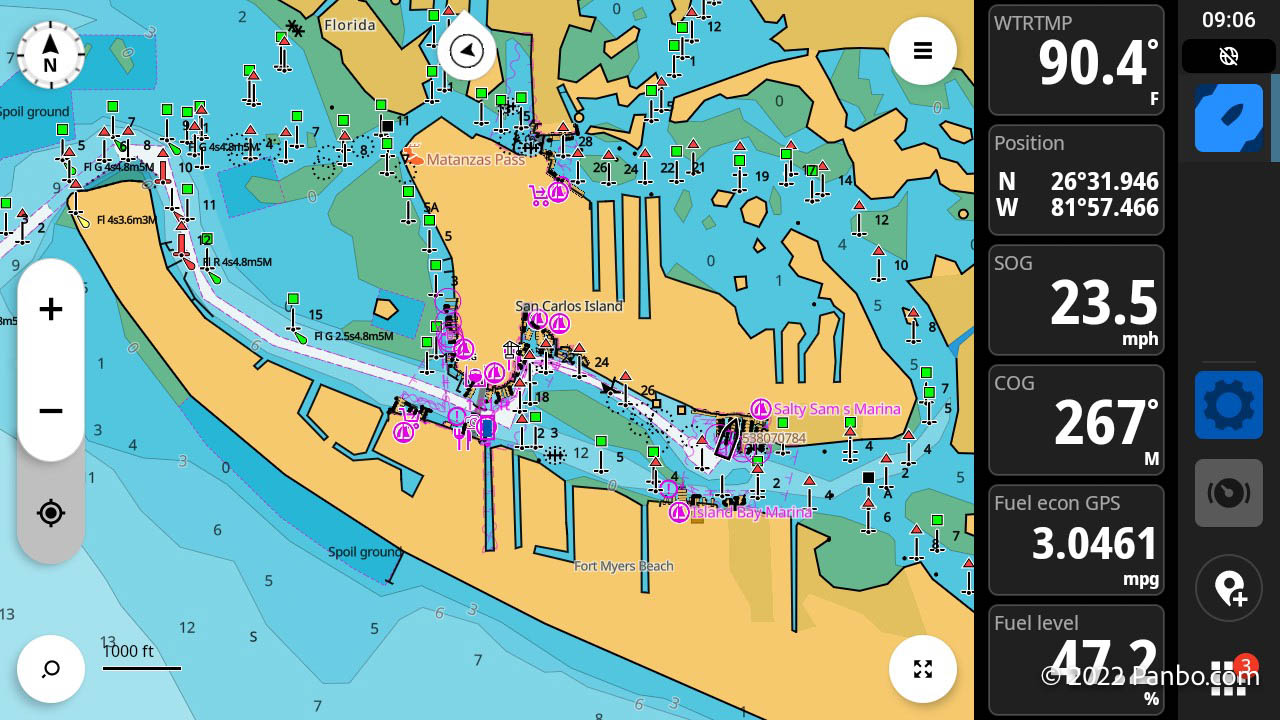 I'm not an expert on the science and technology of presenting charts electronically. But, I do get to see lots of different charts and have formed my own opinions about what I like. To me, Generation X charts feature an attractive color scheme, easy-to-read fonts, and scale nicely. I rarely feel like the charts are overly crowded with too much detail that ends up confusing the eye.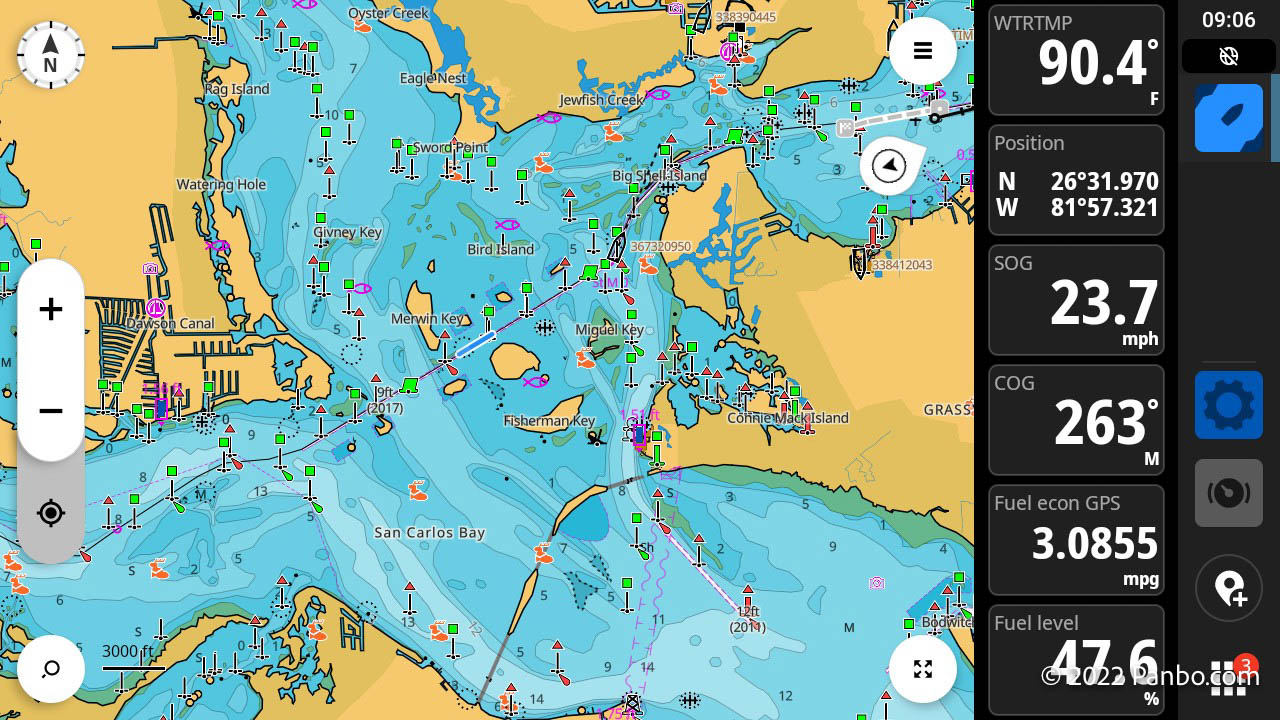 The gallery above shows the NSX 9 with C-Map Reveal X charts on the left and a Simrad Go12 displaying C-Map Insight Pro charts on the right. To my eye, there's nearly no comparison in both the visual appeal and clarity of the two charts.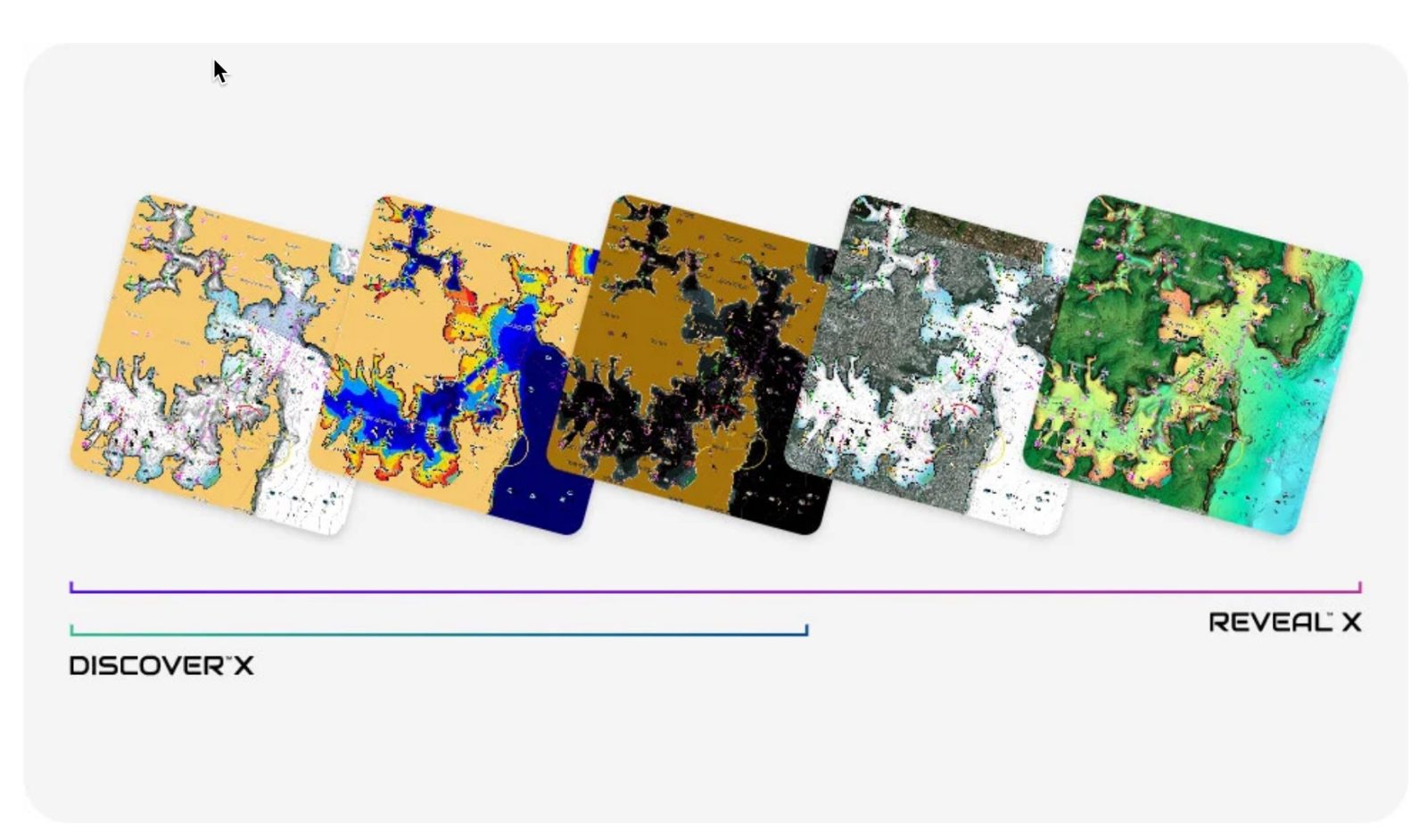 There are two versions of X Generation charts: Discover X and Reveal X. According to the Simrad website, Discover X comes bundled with the current NSX chart plotters. Reveal X adds a shaded relief layer and satellite imagery.
Both flavors of charts bring a lot of functionality; too much to talk about all of it here. But, it is worth highlighting a few of the bigger benefits I've found. First and foremost, I appreciate that autorouting isn't tied to a subscription.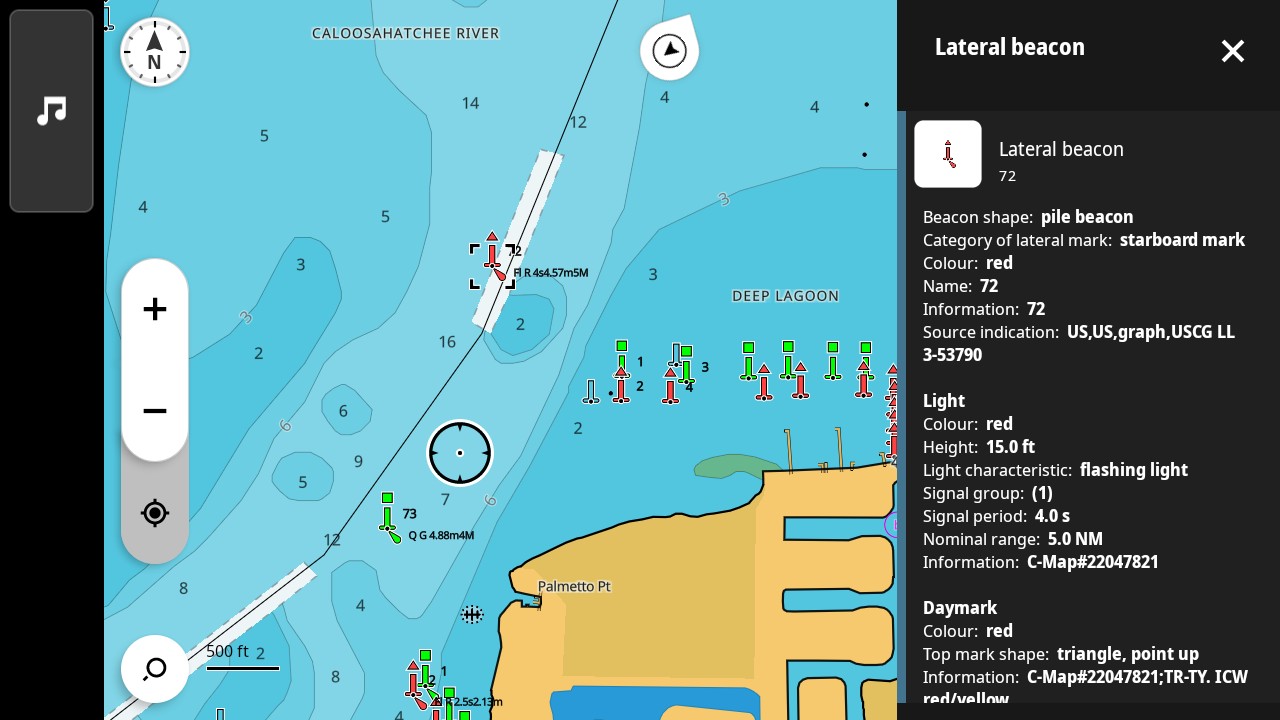 Using NSX, I've often found the combination of chart presentation and Neon's interface makes it easier to accomplish familiar tasks. Bringing up the chart data inspector on an ATON reveals familiar information. But, the presentation of the information is, to my eye, easier to read at a glance.
Currently, the X generation charts are exclusive to NSX. Additionally, all NSX models ship with Discover X charts. For coastal North America you could also purchase Discover X charts without an NSX for the US and Canada for $149 compared to $249 for Reveal X coastal. But, I don't think there's a way to upgrade from Discover X to Reveal X besides buying all new charts.
Route planning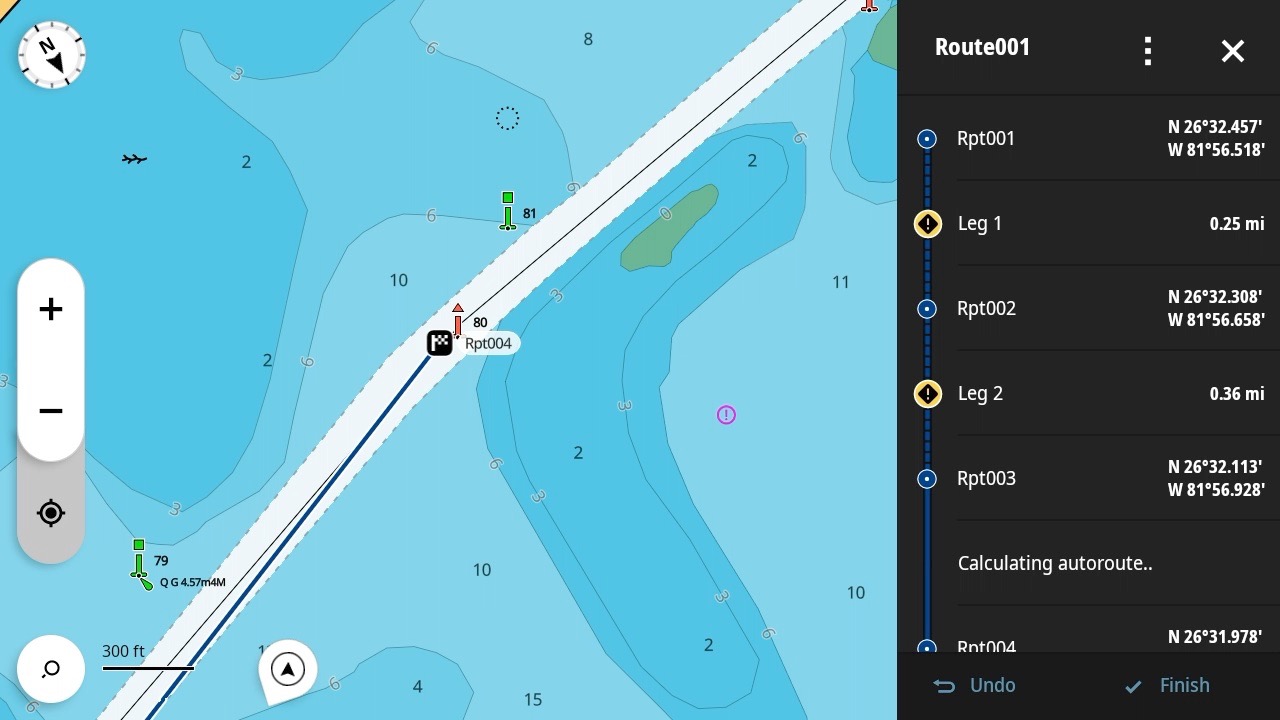 It's possible that Neon's handling of route planning is its greatest strength and also the best illustration of the polished, intuitive user interface.
First, a caveat: I'm going to talk quite a bit about auto-navigation. Across all the products I evaluate, I continually see improvements in auto-nav, but that's in large part because there's plenty of room for it. Automatic navigation planning on the water is not nearly as mature as automobile navigation. Currently, it's a very useful distance planning tool and can make planning in straightforward areas much faster. But, it's not a replacement for an experienced mariner making careful navigation plans. So, please verify anything your MFD plans before following it. Okay, I'm off my soap box now, I promise.
Neon makes switching between auto-planned routes and manually planned extremely easy. As you build a route, each leg shows on the right side of the screen. For auto-routed legs, just tap the route symbol on the right side of the leg and it will switch to a direct route. For legs not auto-planned, tap the leg, tap the route symbol on the right and it will be auto-planned.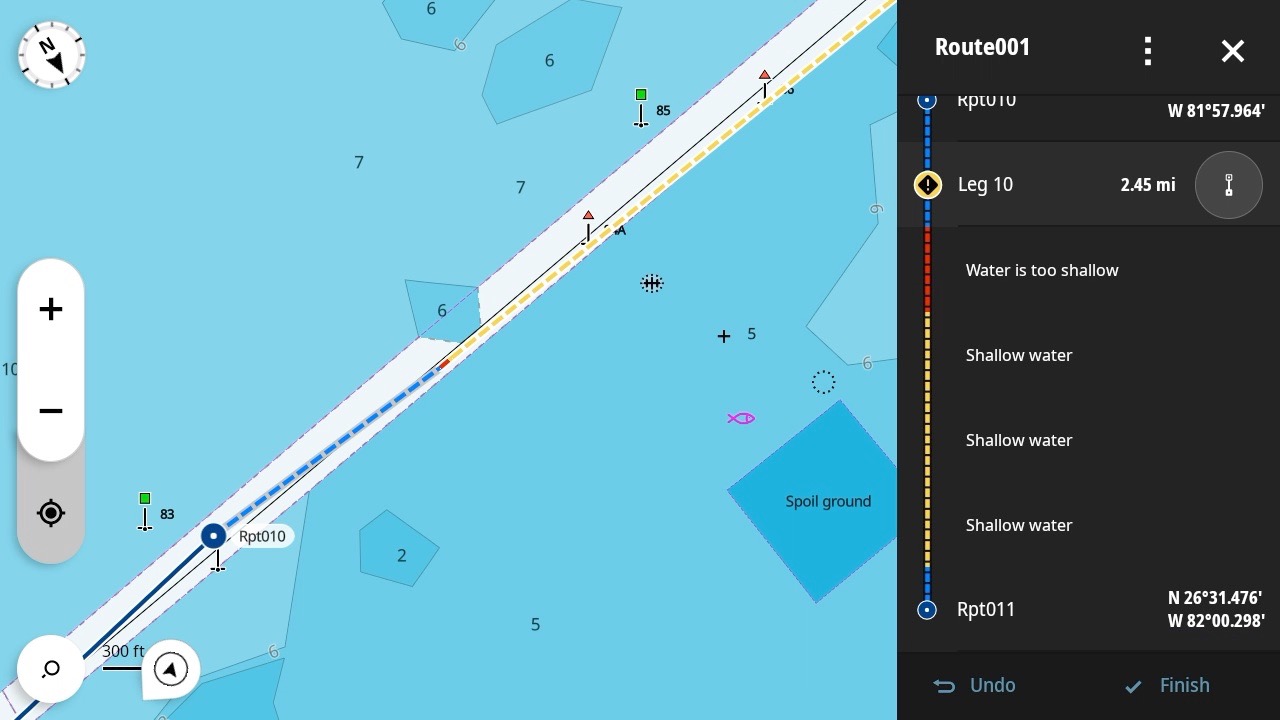 Each auto-routed leg will be color-coded by depth: blue for safe water, yellow for shallow water, and red for water that's too shallow. Tapping those color-coded sections will bring the start of the section into focus.
The video above walks through the process of planning a route. The method I'm using to record videos on NSX slows it down a little so real world performance is better than what you see in the video.
Sonar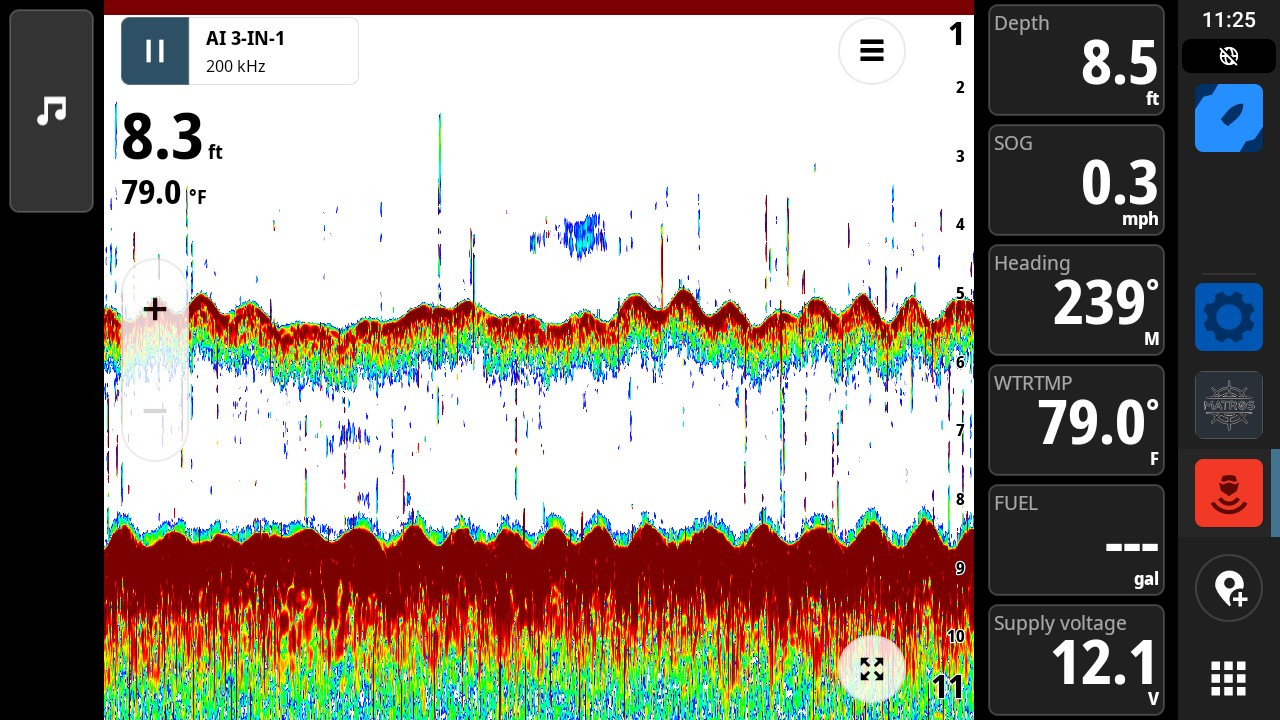 I've been testing the NSX with Simrad's 3-in-1 Active Imaging transducer. The 3-in-1 AI mounts on Panbo(at)'s relatively small and congested transom. Between the center-mounted engine and the Zip Wake trim system, there's not much room for the transducer. The main tradeoff I've had to make is that the transducer comes most of the way out of the water on plane, as a result, it loses the bottom at speed.
Sonar functionality seems largely unchanged from what I experienced with the Go. But, I had little quarrel with the Go's sonar. The screenshots above show performance on a choppy day. Panbo(at) has a satellite compass providing, among other data, pitch and heave data that would make it possible to correct, but that's a lot to ask of a brand new platform. Especially from a value-focused model.
Radar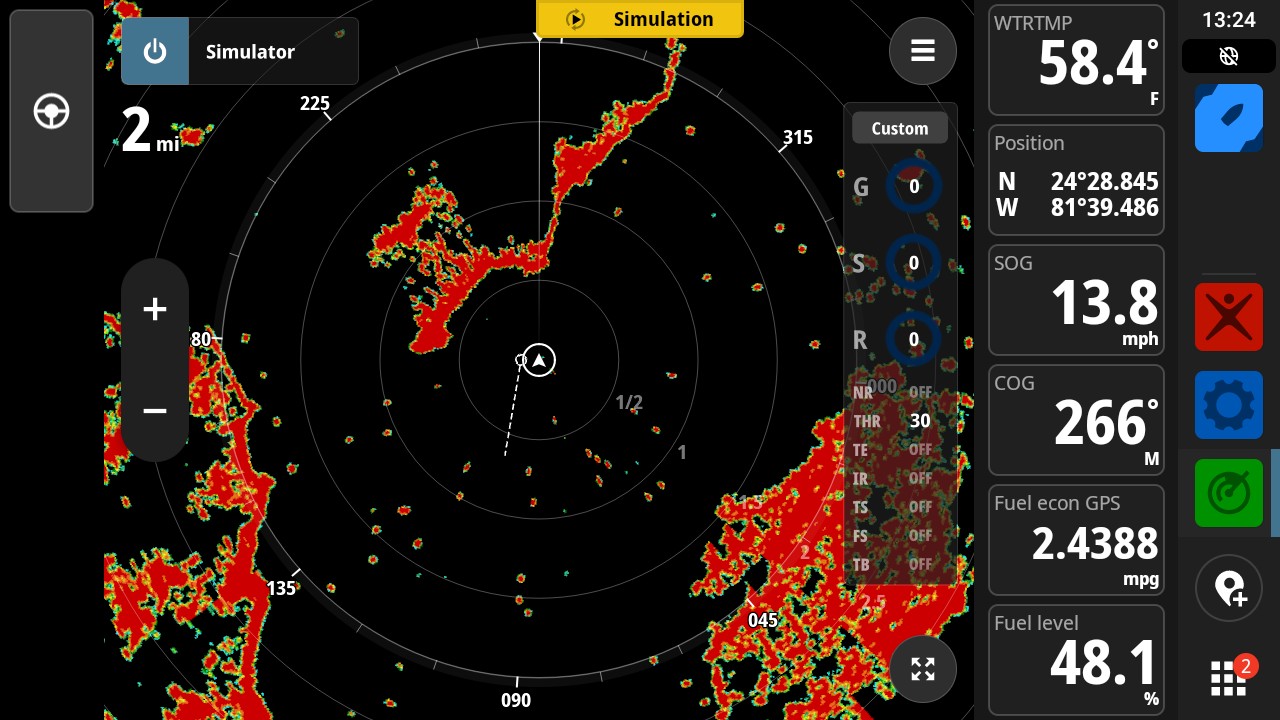 I haven't had the opportunity to get on the water testing with NSX and a Halo radar unit yet. I'm planning some head-to-head testing of the current crop of solid-state enclosed domes, however, that work isn't done yet. I have used the radar app with the simulator as well as with a radar unit connected but sitting outside my shop on land.
I've noticed that the radar app seems to be a little bit slow to respond to user input. I expect this will get better over time as Navico optimizes the functionality. At first, I thought this might have been because I was using simulated data but even with the actual radar unit I saw the same performance. Since I tested the Go and Halo20, I've had an affinity for the radar scope appearance on NavicoOS (or NOS, Navico's outgoing operating system). To me, it reflects big-ship radar in appearance while delivering a bunch of information. Neon's radar app has a more modern appearance and makes adjusting settings easier, but it doesn't have the same shippy feel.
Instruments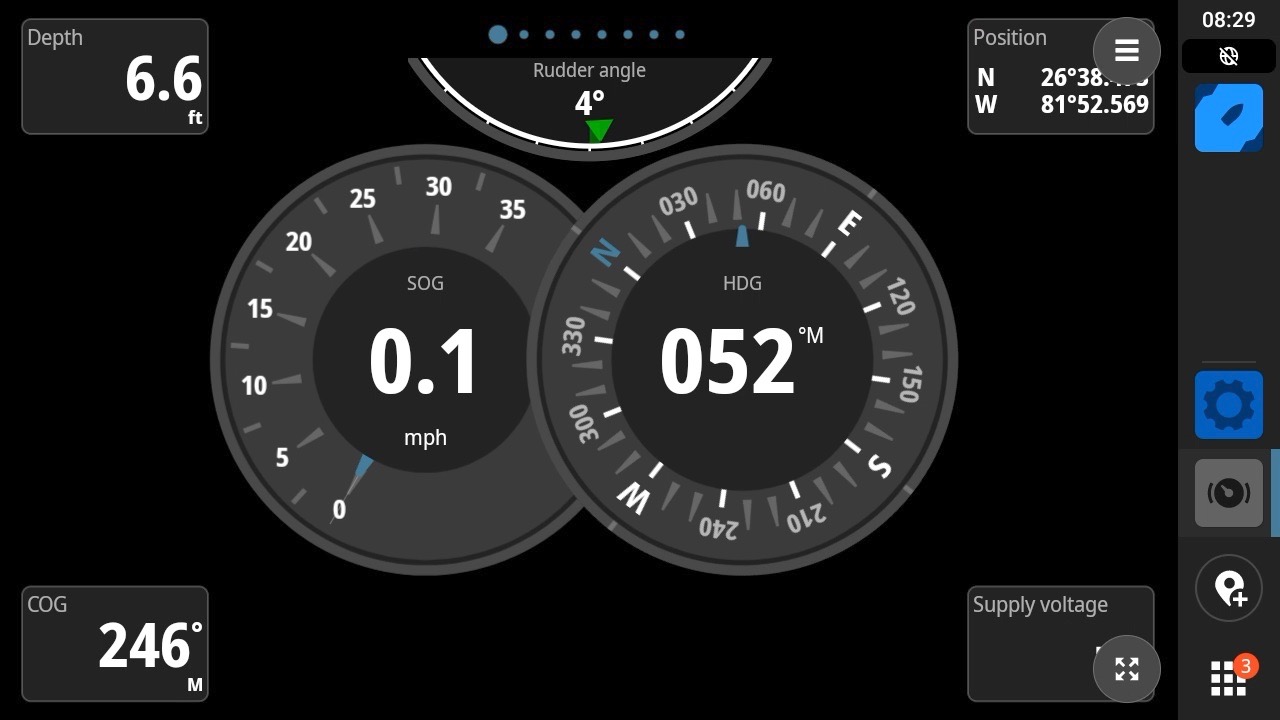 Neon builds on the excellent instrument functionality in NOS. For years I wondered why it wasn't possible to arrange gauges on an instrument page via drag and drop. Touch screen interfaces are made for this kind of work. It seems Navico agreed since in late 2020 they introduced that ability in NOS and carried it forward into Neon. Like everything else in Neon I think the new gauges are a little more attractive and I find the drag and drop interface a little more responsive on NSX than I did on the Go. Additionally, the eight pre-defined pages shown above provide a lot of information and probably cover most needs.
Performance in this video is also reduced a little bit because the processor in the NSX is busy recording the video. Instrument pages I've created without video recording have gone a little smoother.
Trip intel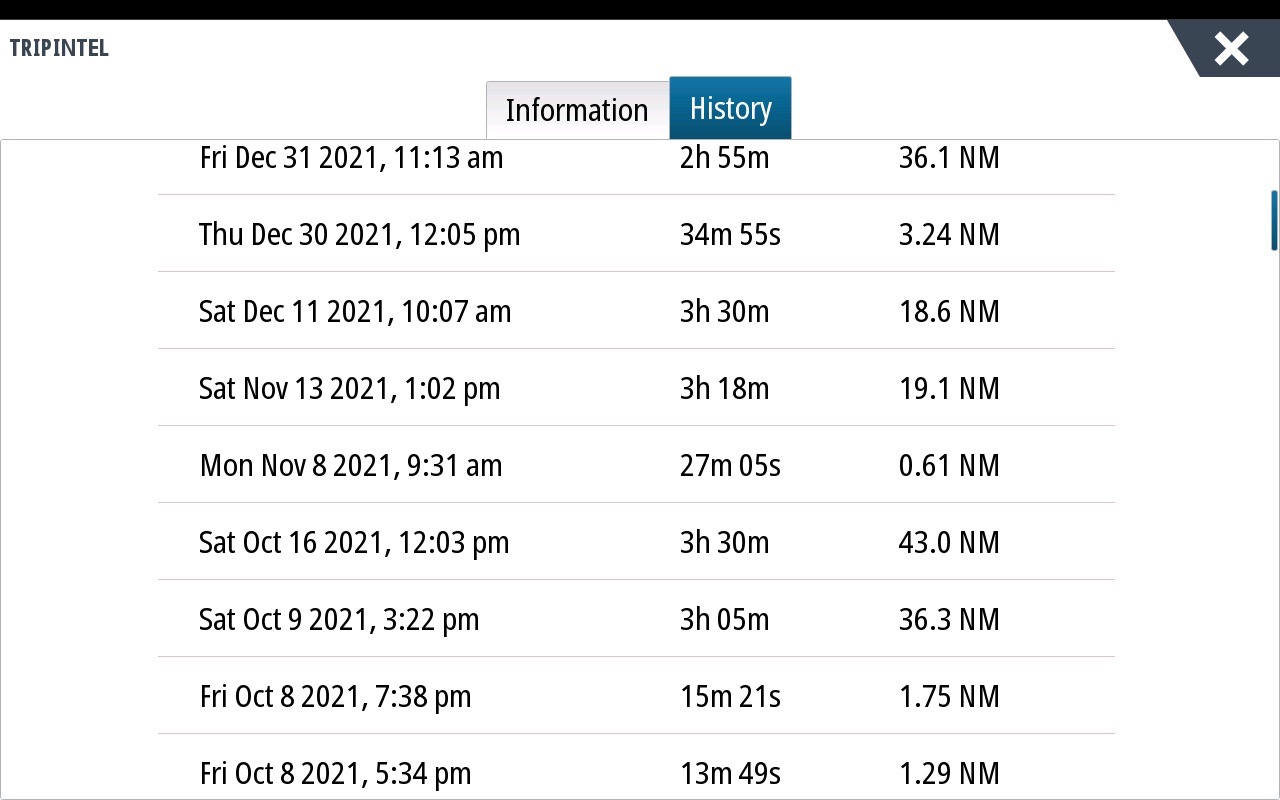 One of my favorite features of NOS is Trip Intel. Trip Intel is NOS' automatic trip recording functionality. As soon as the vessel starts moving Trip Intel displays a prompt with choices to start a new trip or continue the existing one. The result for me has been that I have nicely categorized and easily viewed records of every trip the boat took with the Go12 installed.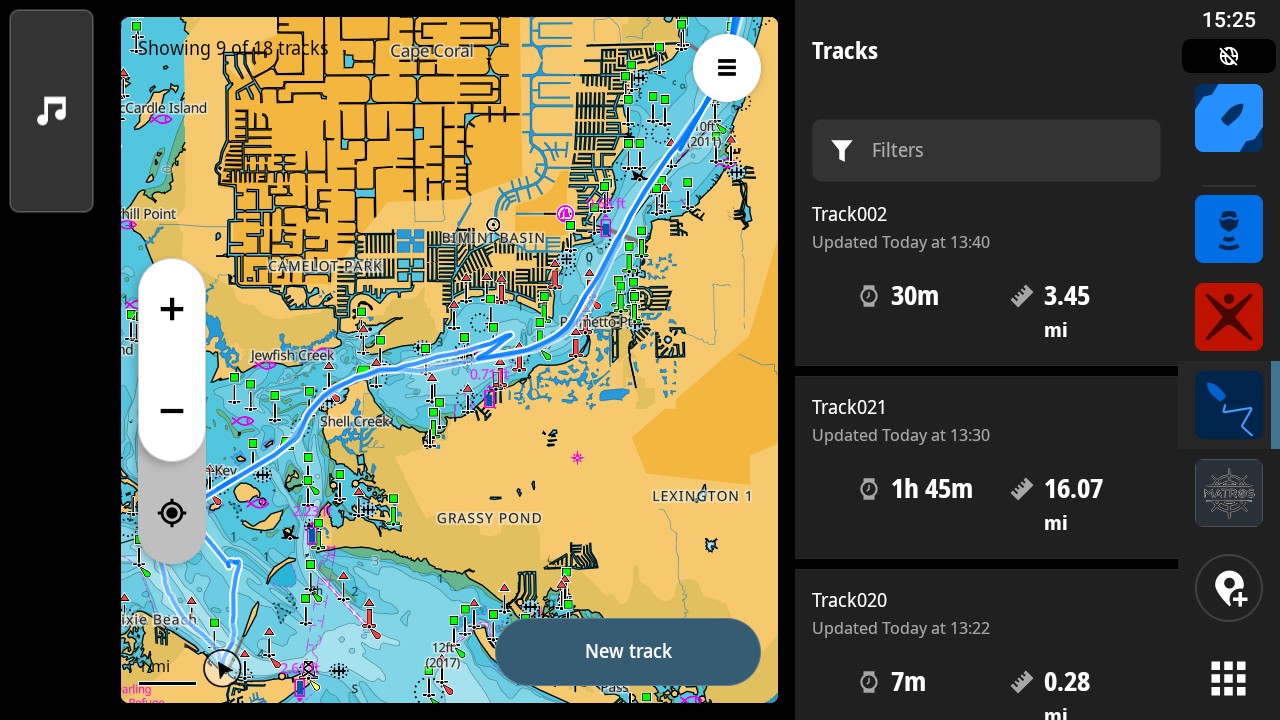 NSX doesn't have the same functionality. It has an intuitive and easy-to-use track manager, but the tracks will span longer periods of time. In my use, I found the track manager an inferior solution to Trip Intel. There are some hints of trip functionality still buried in some of the data so I have hope Trip Intel may make a return, but for now, I miss it.
App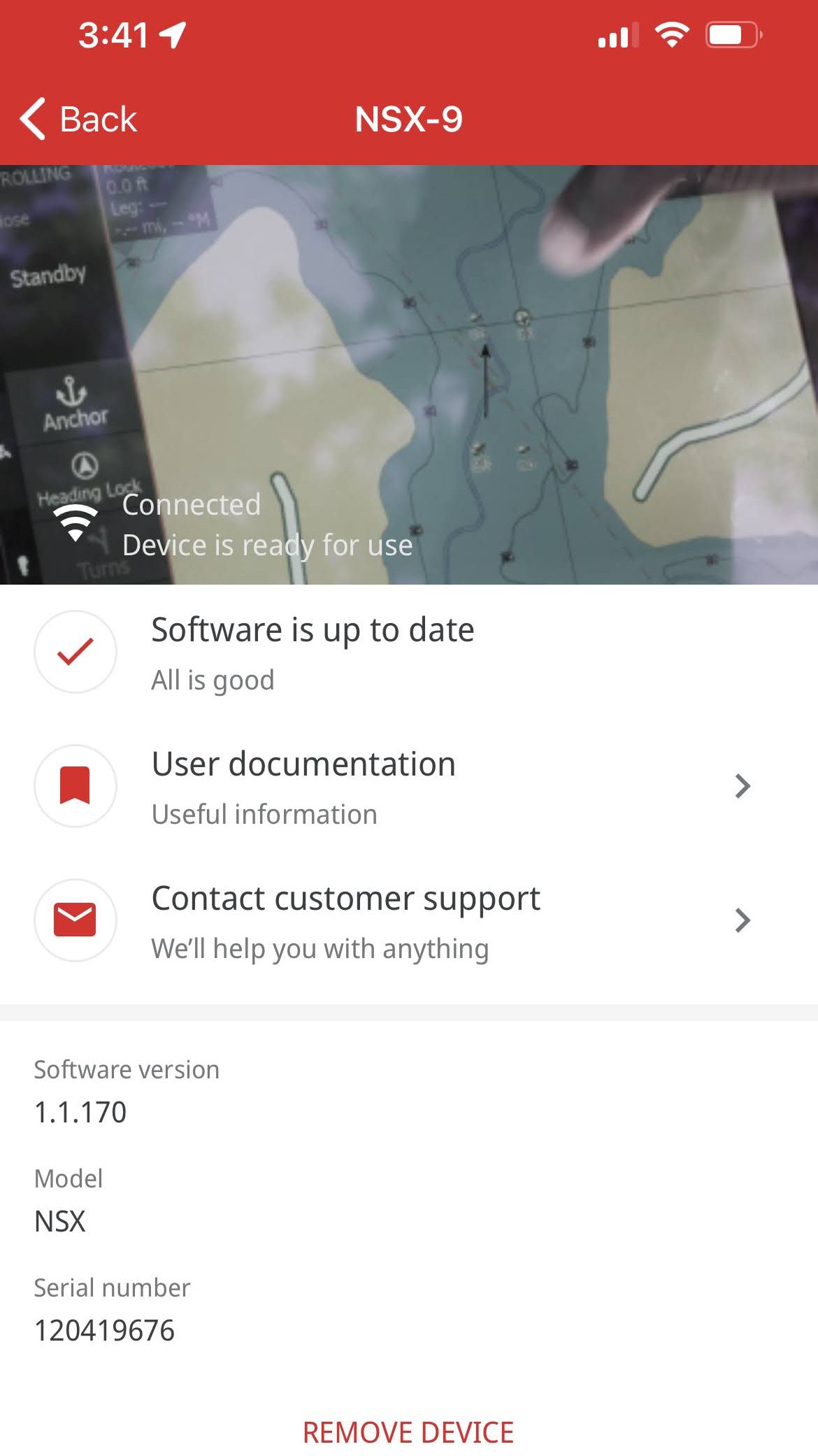 Although Navico intends to add functionality to the Simrad app, right now it's very much a one trick pony. The only thing you can do from the app, besides getting version, model and serial number information, is upgrade the software on the device. In the future, Navico intends to support screen mirroring, chart updates, and more.
Other features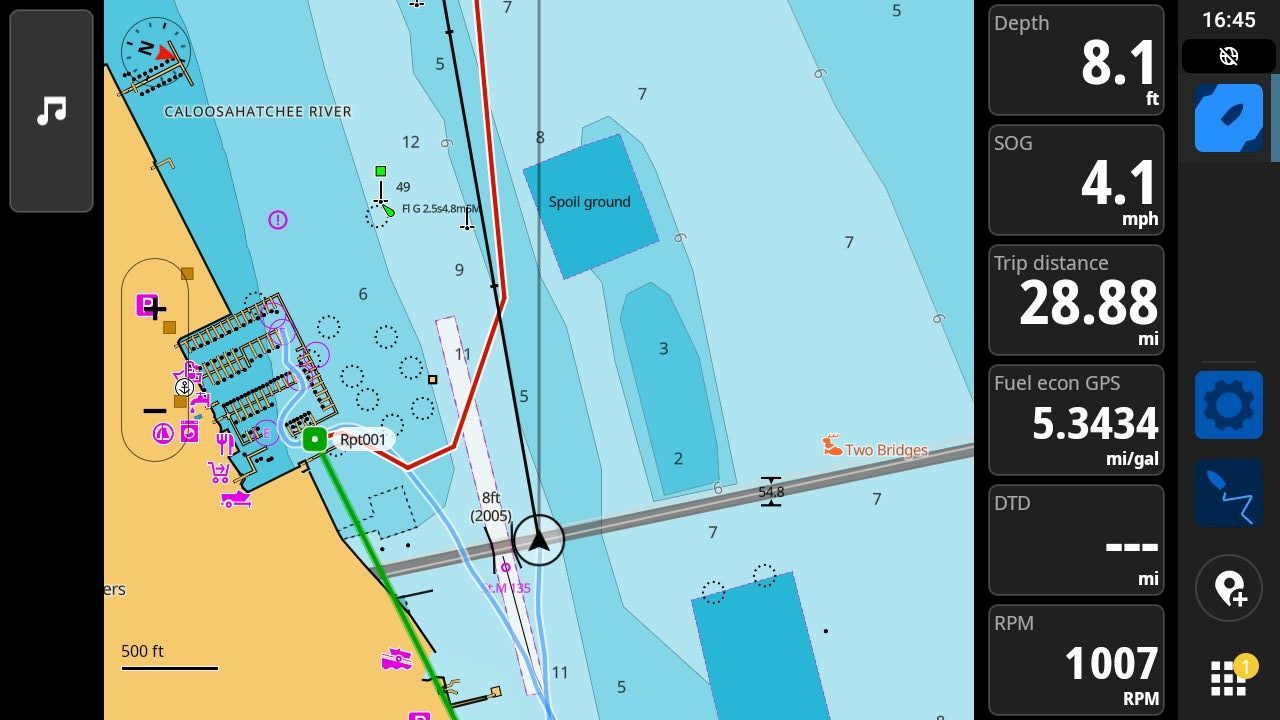 The Simrad product manager who first showed me NSX at the Miami Boat Show was very proud of their night mode. I recall finding his focus on night mode a little odd but he kept telling me I wouldn't even need to turn down the brightness of the display. In practice, I've found myself dimming the backlight a little, but even without dimming, night mode is effective at preventing searing your eyeballs.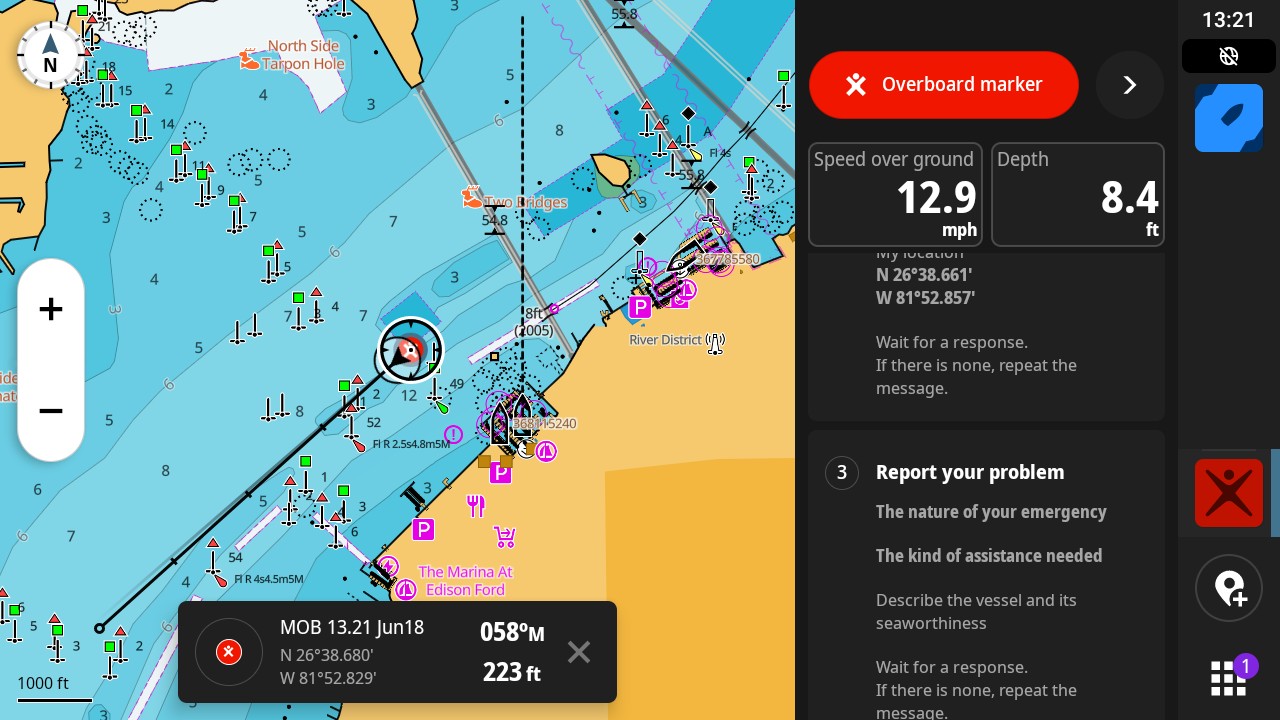 Safety features don't always get top billing and probably don't sell too many units. But, as I've learned myself, in an emergency everyone reacts differently. We can all forget things we know well, so it's very helpful to have them prominently displayed and available.
When the user taps the man overboard icon on the home screen, the screen above is loaded. The MOB screen includes step-by-step instructions on how to hail for help including your vessel name, callsign, and current position. While this is likely to be helpful for the operator of the boat, it could be invaluable if the call is being made by a passenger.
Final thoughts
Simrad's NSX is cost effective, intuitive, attractive, and highly functional. That's an impressive list of attributes it has going for it. But, it isn't perfect. There's some functionality not yet implemented and I've certainly seen some app crashes and other reminders this is a new platform. Before NSX, it had been a long time since we saw major new developments from Navico. Based on what I've seen in NSX, they were quiet doing a ton of work to launch a new platform and they've done a good job of it thus far. I'm excited to see Neon based successors to other products in the Navico lineup.