Raymarine LightHouse II, the paper chart lives on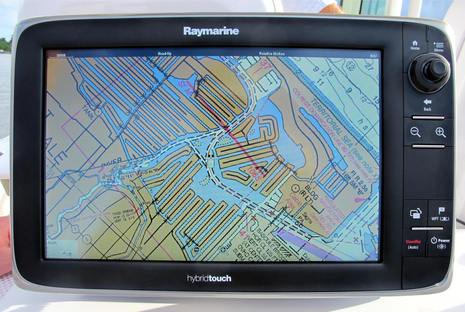 Isn't it interesting that just after we learned that NOAA will no longer print traditional paper charts, Raymarine announced that all its current plotters will soon be able to use the digitized "raster" equivalent of those same NOAA charts? The "completely redesigned LightHouse II" software that will make this entirely free new feature happen is due out in December, but I got on the water with a beta version last week. I was impressed with how well the raster charts looked and how well they panned and zoomed, even in beta, and there's much more to like about LightHouse II…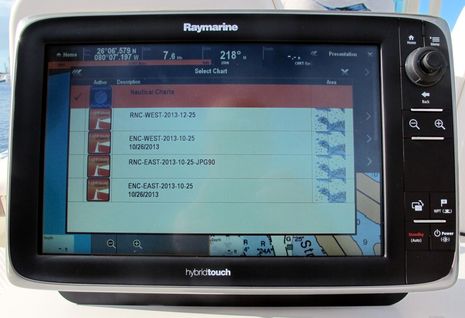 Raymarine's new chart software engine can also display NOAA's vector charts — known as ENC's (electronic navigation charts) as opposed to the paper-like RNCs — but first Ray has to convert them all into its new LightHouse chart format. This intermediary step means that Raymarine probably won't issue updates as frequently as NOAA does, though I'm told that quarterly or even monthly updates are being considered. While users will need a fast internet connection and a large SD card to get the updates to their Ray a-, c-, e- or gS Series displays, most already do (I suspect).
   Having its own chart formats and distribution system means that Raymarine can conceivably offer other free charts for countries where they're available — like New Zealand and Brazil — or even sell cartography from other sources like Furuno does via its MapMedia partner and Navico does at its Insight Store. Their long relationship with Navionics is not over, though; LightHouse II will also support all Navionics chart cards and can purportedly display them in new ways.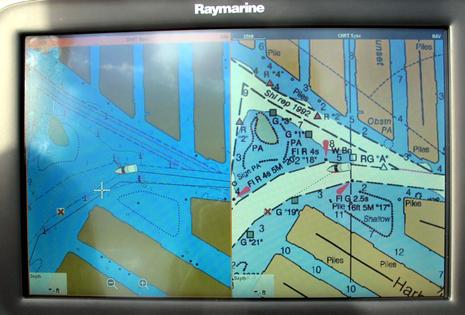 So, while this a significant strategic change for Raymarine, I think that the first impression for the U.S. owners of their current hardware will be something like, "Holy cow, after December I'll be able to download, update, and use two official chart types – all for free!"  Some shoppers are going to perk up at this news too, especially as Ray may lower some U.S. MFD prices, since they will no longer have to pay a Navionics fee for embedded charts. And while there are some boaters who don't give a hoot about paper-like raster charts, there are a lot of us who do.
   Vector charts may be "smart" — you can turn data layers off for simplicity, highlight important depths, etc. — but the display is assembled by software, not the human cartographer who actually draws a paper/raster chart and thus can put extra emphasis on perceived dangers. With Raymarine joining Furuno and the various plotters that support C-Map 4D with its NOAA raster layer, not to mention the Navico-compatible NV-Charts and all the PC/tablet apps that support raster, the "paper chart" format appears very much alive and well.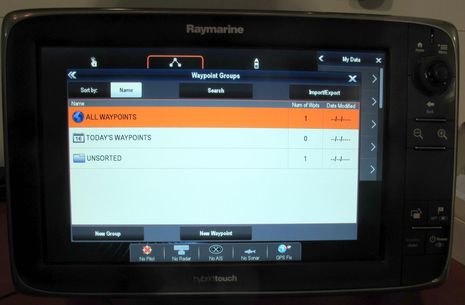 Did you notice how the first two screens are all chart? That's because LightHouse II let's you auto-hide the data bar that's always occupied the top section of LightHouse screens. Just touch the screen or hit a button and it appears again. As a navigator who often splits these wide screens into two head-up radar or chart windows, this is a much appreciated change. It will free up pixels for better fishfinder display, which is further improved because the new software can support multiple Ray fishfinding devices.
   It's also nice that Raymarine is switching its waypoints, routes and tracks to the standard GPX format, which will be much more easily shared, and apparently, LightHouse II also makes waypoint and route management much easier. In fact, as the photo below suggests, the whole menu structure has been rethought and graphically polished. I look forward to when all Ray a-, c-, e- and gS Series owners can try LightHouse II, but what do you think so far?