SAIL Pittman Awards, one that got away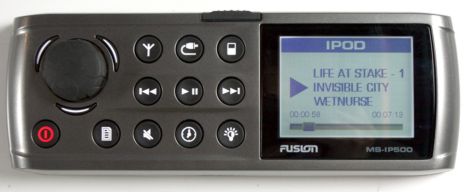 Above is the MS-IP500 head unit of the full Fusion Marine Stereo system I've been testing in the lab. The sound is impressive, even with tracks as wildly dynamic as Wetnurse's Life at Stake. (Check'em out; my boy Curran is the drummer!) Overall, I think the MS-IP500 is so innovative that it almost earned one of Sail magazine's 2009 Freeman K. Pittman Awards…
The Pittman Innovation Awards aren't on Sail's site yet, but they are in the February issue and there's a press release here. Like last year, I got to choose and write up four electronics products. It wasn't an easy decision; the ActiveCaptain Mobile cruiser info sharing system, Furuno's NavNet 3D nav system, Standard Horizon's HX850s VHF/GPS handheld, and Navico's Broadband Radar are all innovative and valuable developments, but the Fusion MS-IP500 is one that got away.
However, I'd say that Fusion is headed into 2009 with another potential winner, namely the MS-AV600 previewed below. I believe it will do everything my test unit does plus play DVDs to two video screens—like maybe your MFD and/or your onboard TV. You'll need the separate iPod dock, but hopefully this machine will also play iPod video podcasts, TV shows, etc., which could be very cool on a cruise, I think. Hopefully I'll learn more about the MS-AV in Miami.
PS Other worthy electronics winning Pittmans are Vesper Marine's AIS Watchmate in the Cruising category and Maretron's SIM100/ACM100 in Systems.