Sea Ray SLX-R 400e in Vegas & is the "helm of the future" Navico ID?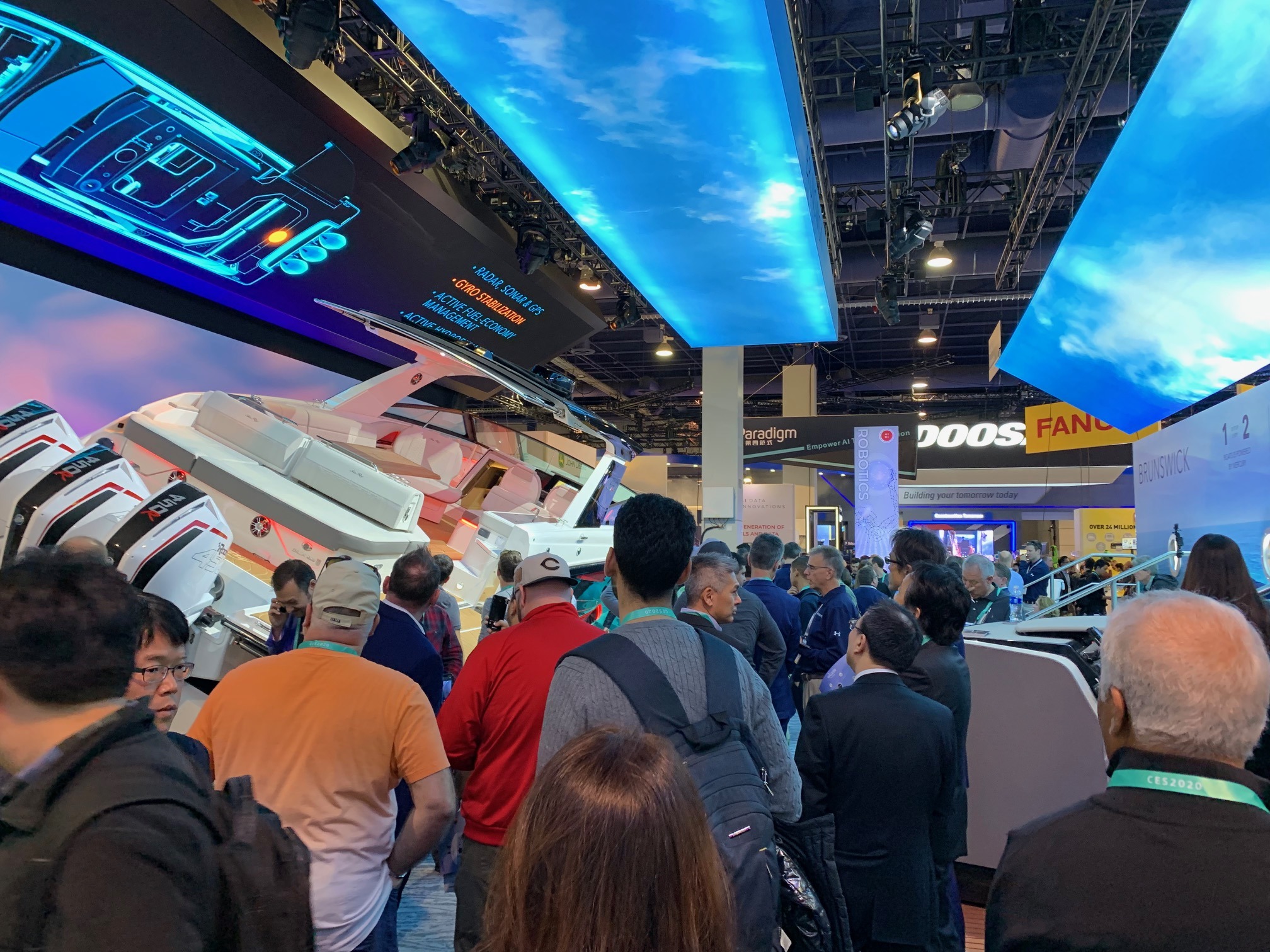 I think it's neat that Brunswick showed off its latest marine technology at the huge Consumers Electronics Show (CES), though it's a bit disconcerting to see the lowercase-"e"-for-electric model designation on a sport boat with three 450hp internal combustion engines hanging on its stern. But then again, the electric component of the Sea Ray SLX-R 400e really is a valuable concept that deserves more attention from all sorts of boaters.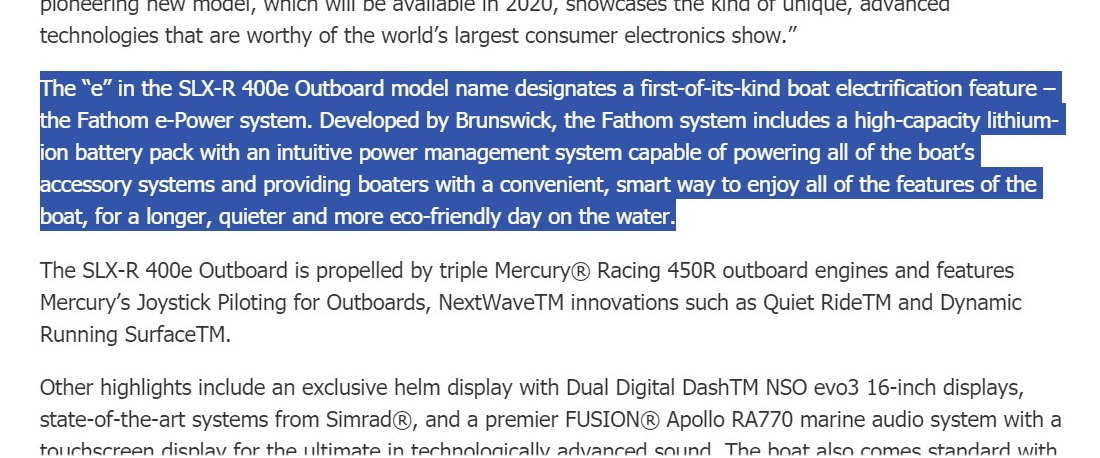 According to the Boating Industry writeup (probably submitted by Sea Ray), the 400e's new Fathom e-Power system will intuitively manage a high-capacity lithium battery pack so the boaters can freely use all sorts of powered accessories during "a longer, quieter and more eco-friendly day on the water." And if that means cranking up a half dozen drink blenders, who the heck are we to judge?
Seriously, Fathom e-Power reminds me of developments in entirely different boating segments like Torqeedo Deep Blue Hybrid, the Integrel generator replacement, and even the trawler Bliss makeover. There are many ways to skin the cat, but modern electric boat power can be more abundant and easier to manage while costing less in weight, hassle, and fossil fuel. (And that's especially true when the whole boat system includes electric propulsion.)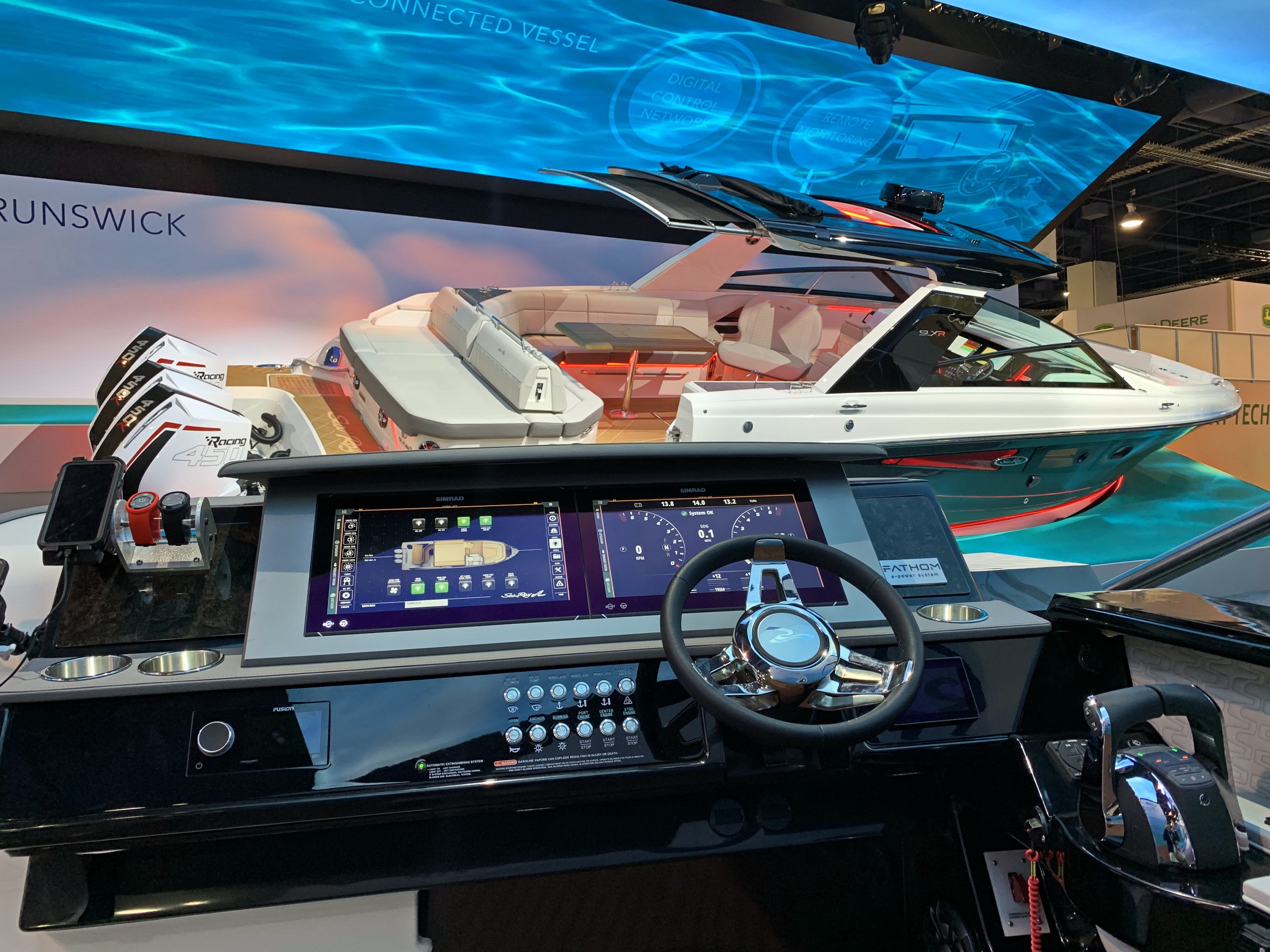 Meanwhile, the 400e helm boasts "an exclusive helm display with Dual Digital Dash NSO evo3 16-inch displays, state-of-the-art systems from Simrad, (and a premier FUSION Apollo RA770 marine audio system" etc), and I suspect that means the just announced Simrad NSO evo3S along with the Navico information display (ID) integration that Ben Stein dug into last year on the Sea Ray SLX-R 350.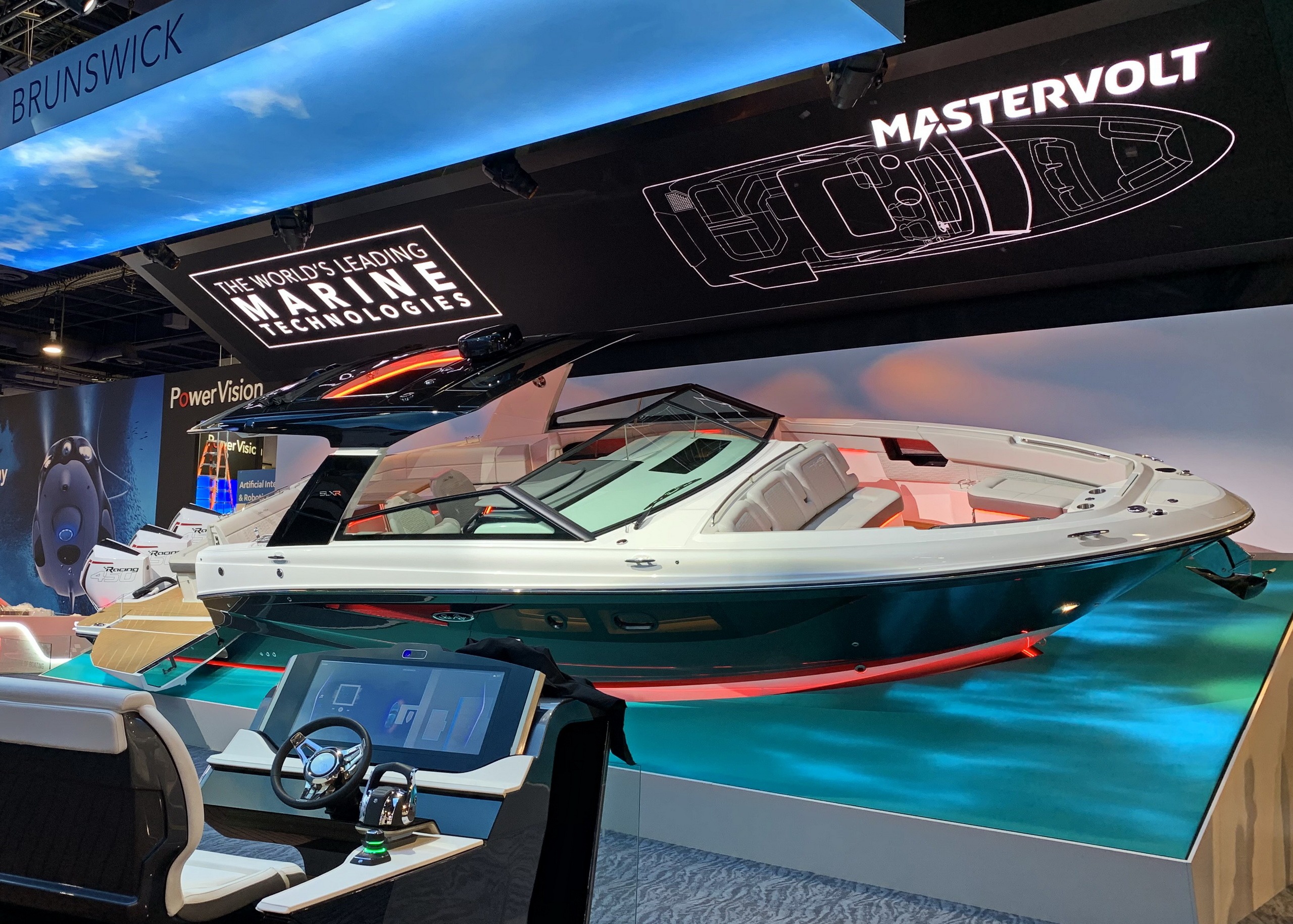 Brunswick also brought a long-term "helm of the future" project to Vegas and, dang, the demo consists almost entirely of a single 34-inch display (somewhat Dashew style). I can't find anything about the project at Sea Ray or other Brunswick sites, but fortunately Alan Wendt nicely covered it for Trade Only.
Every aspect of a boat's systems, navigation tools, audio, radar, even text messaging has a place on the screen, but the readouts only appear when necessary or at your command. The content is intuitive. If a squall is ahead in a plot line, the autopilot and chart offer an alternate course. Daily notices to mariners warn of obstacles in channels. Looking for a restaurant along the ICW? Simply ask.
Alan's description sounds a lot like the advanced Navico ID features I wrote about last year — and also the Yacht Defined tech they acquired in 2018 — but the Navico name does not come up in his conversation with the Brunswick development team. Then again, that's the nature of the beast for these deeply integrated boat electronic systems.
At any rate, I was glad to read that besides the concept of a "digital butler" even able recognize speech and gesture commands — which could be very cool, and with great appeal to many new boaters — "how to please the 'salty' customer" is also being considered. Alan quotes Mercury's director of industrial design Todd Dannenberg thusly:
For that reason, we're building in layers for that deep dive experience, for the skipper who feels more comfortable knowing he can monitor every readout of a boat's systems. At the same, time we've simplified the boating experience with this helm.
I don't know if this future helm demo will be at the Miami Boat Show, but the Sea Ray SLX-R 400e with Fathom e-Power surely will, likely along with many other efforts to advance marine technology.