Shakespeare inflatable emergency VHF antenna, smart design with 3dB
That's Shakespeare Marine Electronics manager Bill Eastwood hamming it up with their just-announced inflatable VHF antennas at METS last November, and the grin is well deserved as the product had just won the DAME Award for the Safety category. In fact, I was the DAME judge who got to pull the cord to inflate the sample — worked like a charm — and I think we were all impressed with how rigid it became.
I have not actually used the Galaxy-INFL8 Emergency VHF Antenna, and don't know anyone who has, but it certainly makes sense that its 5-foot (1.5m) height can produce 3dB of gain. Which is a lot more than the "unity gain" offered by what Shakespeare now calls their 5911 Classic Emergency Antenna, and I've seen pretty good performance from that little 1/4 wave stick on occasion.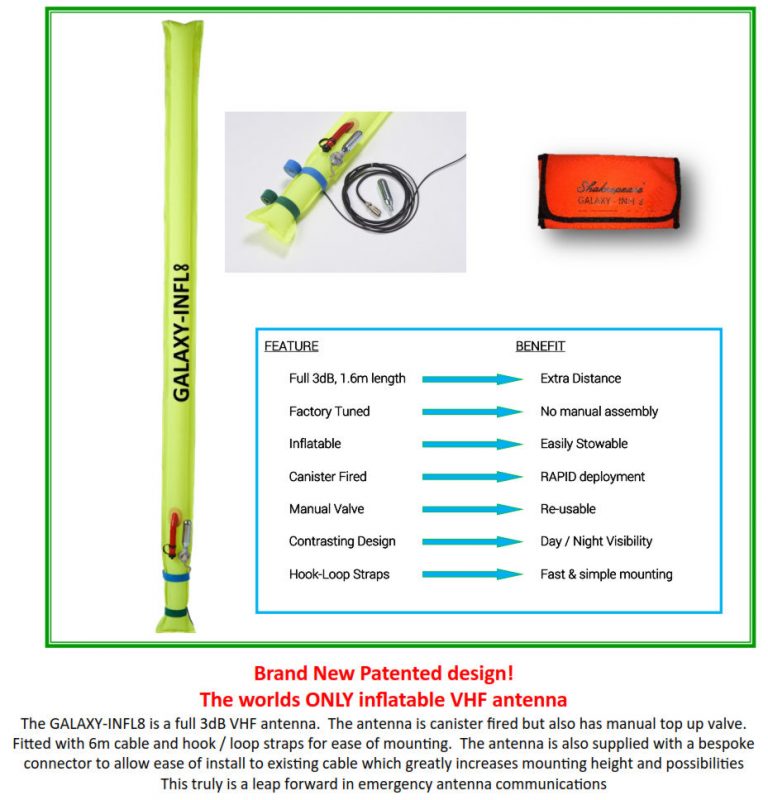 The Galaxy-INFL8 seemed to made well of tough materials, and so I believe it really is reusable and will hold up in challenging weather conditions. I also like the included connector flexibility:
The pre-soldered PL-259 connector allows connection to a Fixed VHF directly or a handheld via the included SMA Adaptor. The package also includes a solder-free female UHF connector that allows the antenna to be spliced into existing coax cables on the boat.
I'm not sure that the $150 retail INFL8 inflatable is shipping yet, but it is starting to appear at online outlets and I've asked Shakespeare about future availability. Please let us know if see one at a store near you and especially if you try one.