Simrad at FLIBS, GB65 & MX510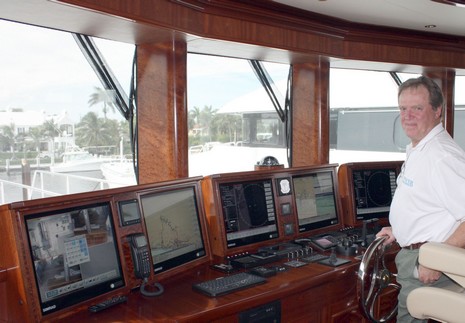 This old-man-on-a-megayacht shot seems right for my birthday (62!), and also says a lot about what Simrad is up to. The 142' Richmond Lady sports a passel of Simrad gear, including two GB60 systems with six 19" displays. There's a lot of detail on this Richmond Yacht page, and you can check out the bigger photo (thanks to Ron Ballanti). Though it's not online yet, the GB60 will soon be upgraded to the GB65, which will include MAX Pro cartography and support for GRIB files and Navico's Sirius Weather Module (which will pop up in several Navico brands).
GB60 systems will be upgradeable to GB65 with a board swap and a software update (which will likely please the owners of Alexis). One thing that tickled me about the Richmond Lady install was the pride of place given to a Simrad AI50 Class B AIS display, seen below and bigger here. There were over 100 AIS targets visible in the vicinity of the Fort Lauderdale show, and when zoomed in they showed a lot fewer dimension errors than in prior shows. Yesterday I could see on an AIS Web viewer that Richmond Lady had moved to another berth in Lauderdale. She and Gizmo were among only 4 Class Bs in view, but that's 400% more than last month.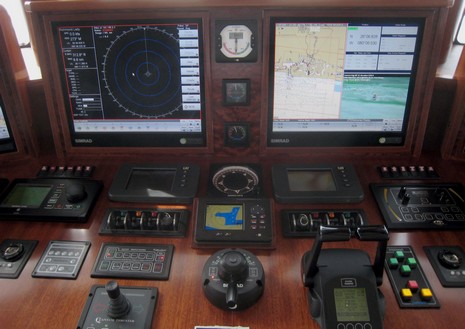 Meanwhile, Simrad had other big boat advances to talk about. One is StellaMaris, a whole-yacht integration service that's beginning in Europe, and another is the new MX510 seen at the Show below. This heavy duty, seriously certified DGPS navigator is the latest in a line that has gone to sea under brand names like Magnavox, Leica, and MX Marine. Got a vessel with a big GPS appetite? The 512 version of this product has nine (9!) serial ports.