Simrad buys Lowrance, very, very interesting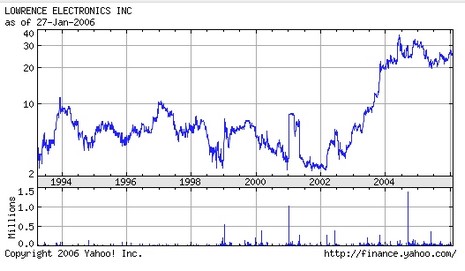 Weird! I was just writing an entry giving Lowrance some grief about their NauticPath charts, when a stock trading friend of mine called. "What the hell is going on with Lowrance?" says he (as I had once suggested LEIX as a possibly good investment). After a few minutes a release came up on Business Wire, excerpted here:
Simrad Yachting AS and Lowrance Electronics, Inc. (Nasdaq:LEIX) announced today that Simrad Yachting has agreed to acquire all of the outstanding shares of Lowrance for $37 per share… Darrell Lowrance, the current Chairman and Chief Executive Officer of Lowrance who founded the company in 1957 and is still its largest shareholder, will become the Chief Executive Officer of the combined company. Jan Berner, the current Chief Executive Officer of Simrad Yachting, will become Deputy Chief Executive Officer and lead the integration work.
Wow, Simrad and Lowrance are quite the combination…I'm still reeling over the implications. One thing I'm feeling very good about is the big kit of Lowrance gear that arrived for testing last week. I've been thinking for some time that Lowrance deserves more attention in the saltwater, bigger boat world, but my timing is really, really lucky. I also I think my buddy owes me a nice dinner out.