Simrad Glass Bridge, who knew?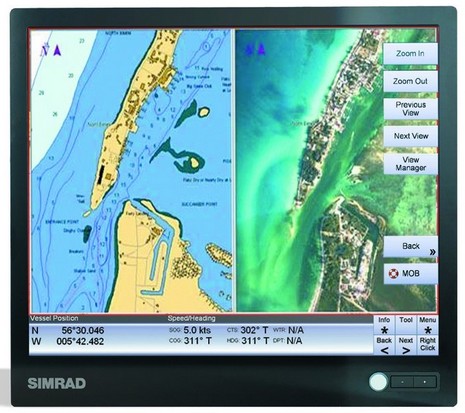 I was somewhat chagrined to open the latest issue of PMY and find a full page ad for an interesting new electronics system I had never heard of! I guess it's hard to manage a world-wide product introduction; heck, even searching the Simrad Yachting site for the GB60, as this system is called, yields nada, at least today. At any rate, it's pretty clear from the pictures and European press releases I found that Simrad Yachting has teamed up with Jeppesen Marine, i.e. Nobeltec. The PR references Passport charts, photo maps, etc. but the screen above sure looks like Admiral to me. Which is not a bad thing. Why reinvent the wheel, especially when you have all the hardware that a big Admiral glass bridge system wants to live in.
When I visited Simrad a few years ago, I was surprised at how many commercial grade marine computer products they made. Hence there's a lot of experience behind that dual processor black box PC below. Ditto the keyboard and even the cool arm rest control. Simrad has also been making, or at least OEMing, monitors for a while but these, available in 12", 15" and 19" sizes, are a new super slim design. I dare say that a full 3 monitor GB60 system, like below (and really big here), will be pricey but powerful, and some will love that it's all under one warranty. Intriguing detail: the system can talk NMEA 2000 (aka SimNet); will regular Nobeltec charting programs acquire 2000 soon? That would be a good thing.