Simrad Halo solid-state open-array radar, what you get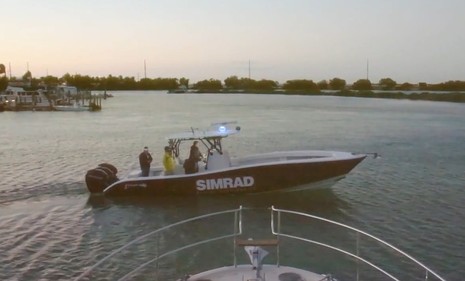 This is big. Today Simrad announced the first recreational solid-state open-array radar and it seems to be a humdinger. In January I got to see Halo in action aboard the same Yellowfin 36 seen above in a screen grab of Simrad's informative Halo video, and I've also met twice with members of the engineering team. In fact, there are so many features with so much complex technology behind them that this entry will only attempt to cover what Halo hopes to do for you; next week we'll get into how it works. And yes, this radar does include blue LED accent lighting, if you want it, but that's just the bling…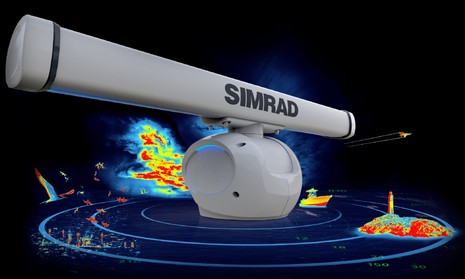 The exuberant graphic seen heading up Simrad's online Halo pages tries to tell a lot of the story. A Halo user will purportedly be able to see weather cells, bird activity (fishing potential), and large-but-distant solid objects as though they were running a 6 kW magnetron radar with a 3-, 4-, or 6-foot antenna. But at the same time they'll be able to image close range objects with the high resolution that distinguishes Navico's 3G/4G radomes, which remain the only small recreational solid-state radars available. Moreover, Halo offers most all of the added features seen in 3G/4G like fast start-up, low power draw, safe emission levels, extraordinary dual range capabilities, and long product life (at least theoretically). And adjustable blue LED lighting!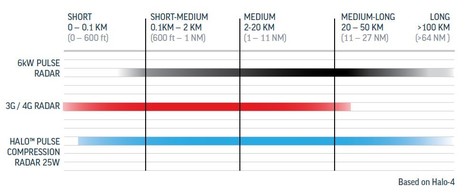 The diagram above shows Halo's huge range claims. I can't attest to the nearly 64 miles for the Halo-4 — the low Florida keys in fair weather didn't lend themselves to that sort of targeting — but the screenshots you'll find online look good. And I can tell you that Simrad has already lowered the near range to 20 feet, very similar to 4G and nicely shown in the video. Plus, I saw a dramatic example of that performance myself.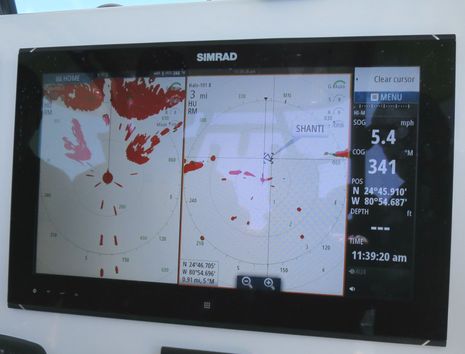 This photo shows Halo dual range on an NSO evo2 19 aboard the Yellowfin. The left side is set to the 400 foot range and we've just threaded the beacons marking the short channel into Duck Key (home of the up-named Hawk's Cay resort ;-). You can see the beacons, the boat's low speed wake, and a few low rocks port and starboard. Ahead and slightly to port is rocky clump and about 20 degrees off the starboard bow is another boat coming out of the resort's channel. But those targets in between the clump and boat are swimming pelicans, sometimes just showing their butts, and the Halo continued to hold them even when we were about 20 feet away. I failed to get that photo, but it may be because I was so amazed to see an open-array radar do that. It was also nice to see the handsome and fully tricked out Grand Banks Shanti I met in Baltimore on AIS at the 4 mile range (discussion of very similar 4G dual range here).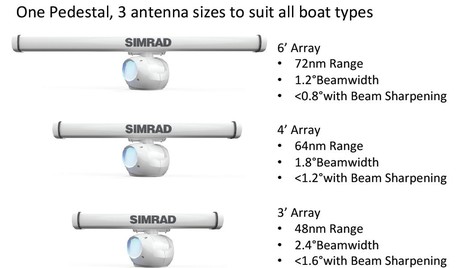 Another feature I got to experience in the Keys was how quiet Halo is. I've heard and felt radars spin on all sorts of boats, and normally an open-array on a t-top like the Yellowfin would be the worse, but "whisper quiet" did not seem an exaggeration. Simrad attributes this to a brushless motor, grease sealed bearings, and radial cut composite gears "like a BMW tranny." The highly engineered moving parts are also supposed to match the 10,000 hour lifetime of the solid-state internal electronics, though that will take a while to confirm. And note the "Beam Sharpening" specifications.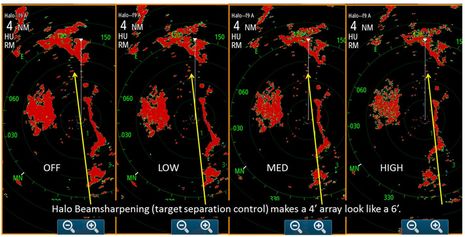 Beam Sharpening is another 4G signal processing feature I've appreciated in testing, and the screenshot collage above illustrates it pretty well. Observe, though, that while it can really help to separate close-together targets, it also tends to break up big solid targets. Note also that while 4G offers many of its features on the original NSS displays, Halo is NSS evo2 only. It may not become a Lowrance or B&G product either, as neither of their target markets are big users of open-array radars.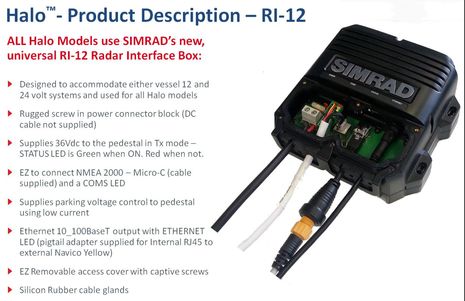 Many users may never see the Halo's RI-12 interface box, but they may appreciate its engineering. It can use either 12 or 24 volt power (just 6.5W in Instant On standby mode), which it then converts to 36v so that the cable to the actual radar is only that relatively thin white one. Halo also has quick and accurate antenna parking which can be locked down with very low current (10 milliamps, I'm told). In January the Simrad team thought that the radar's "safe distance" would be just a few feet, but recent testing proved it's "radiation safe to people within the swing circle of the array on all models."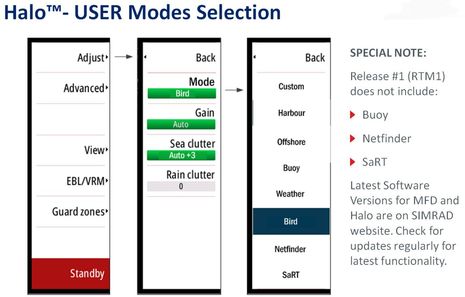 Simrad also spent a lot of time on making Halo easy to use, and they're still working on it. While there is a Custom mode in which you can tweak most any parameter, the slide above shows four (somewhat adjustable) automatic modes and three more coming in the first software update. The SaRT mode is especially interesting as one con of the 3G/4G solid-state radars is that they can't see RACONS and radar SARTs properly. Simrad says they've figured out a way, but don't expect it to meet IMO requirements. Incidentally, Halo rotation speed can vary up to 48 rpm, and the Bird mode takes it down to 16 in order to "maximize energy on target."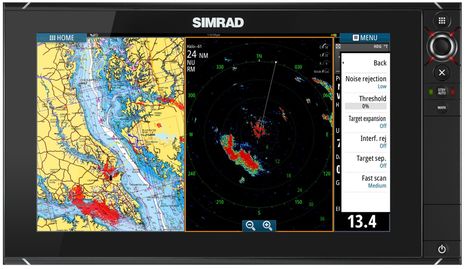 It's fascinating how Halo manages to get as much energy on target at long ranges as it does, given its 25W maximum transmission power, but that will be detailed in the next entry. I'll leave you with a compelling screen of those 25 watts imaging Chesapeake Bay weather in 24nm range, plus a last shot from the Florida demos. Never mind that Simrad pro Mark Maus is head down at the helm (he's never hit anything that I know of). What I like is the grin on Lindsay Lilburn, a Halo engineer from New Zealand (where they're being built). Apparently, years of development and thousands of testing hours went into this revolutionary radar, and I believe the team deserves a relaxed moment before they get back to work making it even better. Halo is not only impressive as is, but it has room to grow, as will be discussed in part 2.