Simrad MOnitors, the other NSO evo2 shoe drops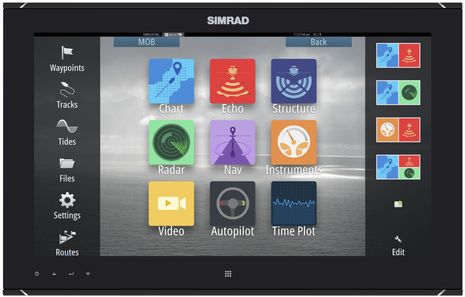 So, it turns out that when I saw the new NSO evo2 blackbox system at IBEX Simrad was low key about it because they were planning a big splash here at the Fort Lauderdale show. And now evo2's unique ability to drive two independent multi-touch displays can be applied to Simrad's new MO Series of handsome multi-touch monitors. They'll purportedly be available very soon in 16, 19 and 24-inch sizes, and judging from the prototypes I saw on the water at the NMEA Conference, they are notably sharp and bright. And, yes, that on-glass button on center at the bottom of the monitor pulls up the NSO home menu just like your phone or tablet.

The photo above shows the NSO evo2 glass bridge possibilities, except that there will also be non-touch (and probably lower maximum brightness) Pilot House MO models and the blackbox can drive other manufacturers' screens if you'd like.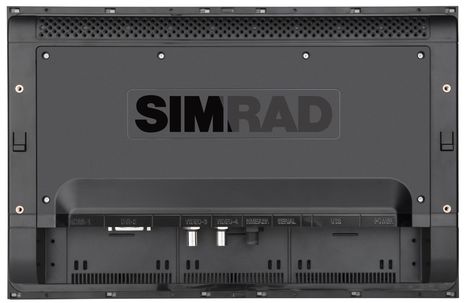 Here's what the back of the new MO 16 looks like. Note the HDMI port, which the new NSO can use for HD quality input, as well as one DVI and two analog video inputs that can be switched with other on-glass buttons. I'm not positive yet, but I think that the NMEA 2000 port is there so that these monitors can be dimmed and turned on/off by other Simrad devices on the network. Touch commands are transmitted from screen to black box via USB or serial cable, depending on how long the run is. 
   NSO evo2 details and prices aren't online yet — please post in comments if you see them — but the U.S. press release says that the "evo2 black box has a suggested retail price of US $5,695 with MO-Series Multi-Touch and Pilot House displays ranging from $4449 to $10,000." Also, noted is a package of  "black box and two MO-16T high-bright, multi-touch monitors for US $12,999 — providing the benefits of dual independent displays for the price of one." I guess they're referring to a Garmin 8000 black box and 15-inch monitor, because I think that a pair of 15-inch Garmin 8000 or Raymarine gS MFDs or 14-inch Furuno NavNet TZT's are competitive. In fact, the Big Four are now all battling over multi-touch glass bridge systems.
I'll be out on the water with Simrad later today (and also seeing some new Lowrance gear), but here's a (poor) photo of the new MO Series prototypes I saw in San Diego. I'm told that the severe screen glare will be gone on the finished units, but I got a kick out of how an iPod video running on a (Fusion-built) SonicHub could be shown on one of the screens, and I believe we could have also watched it in a PiP window. The multifunction display ain't what it used to be!