Siren Marine Introduces Siren 3 Pro Connected Boat Device
Advanced "Smart Boat" Technology Features Built-in NMEA 2000 Connectivity, Enhanced Data Options, Best-in-Class Wireless Sensors and Focus on OEM Integration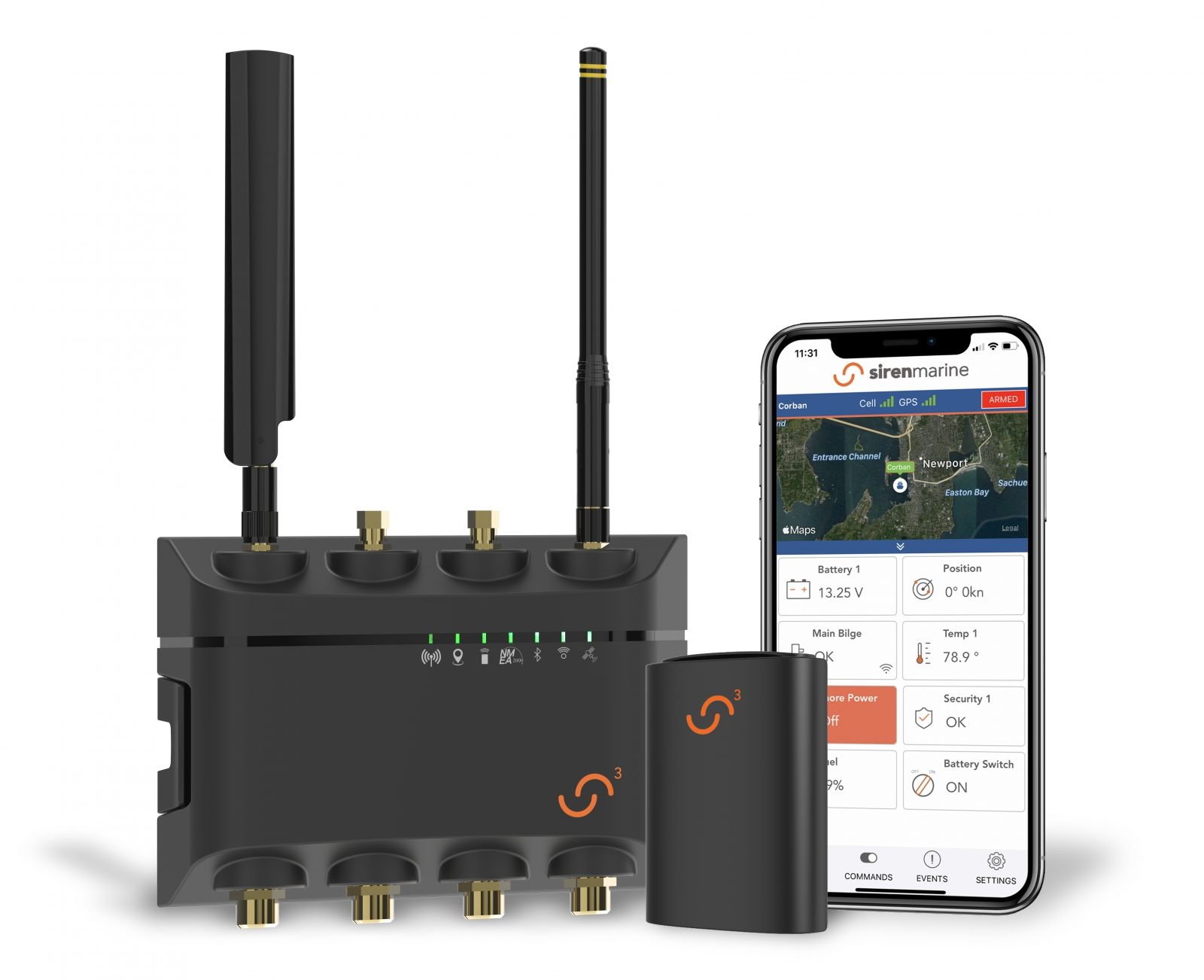 NEWPORT, RI / July 23, 2020 — Siren Marine today unveiled the Siren 3 Pro — the next generation Connected Boat product that will fundamentally enhance the boat ownership experience while providing the boating industry with critical data needed to provide better products and an entirely new approach to service opportunities and customer support.
The new Siren 3 Pro expands on what Siren Marine has been offering for over a decade — Peace of mind and the security of stress-free boating. The smart technology is comprehensive and powerful, while maintaining affordability and ease of installation. The Siren 3 Pro connects with the free Siren Marine App for extensive vessel monitoring and control using iOS or Android based phones, tablets and computers.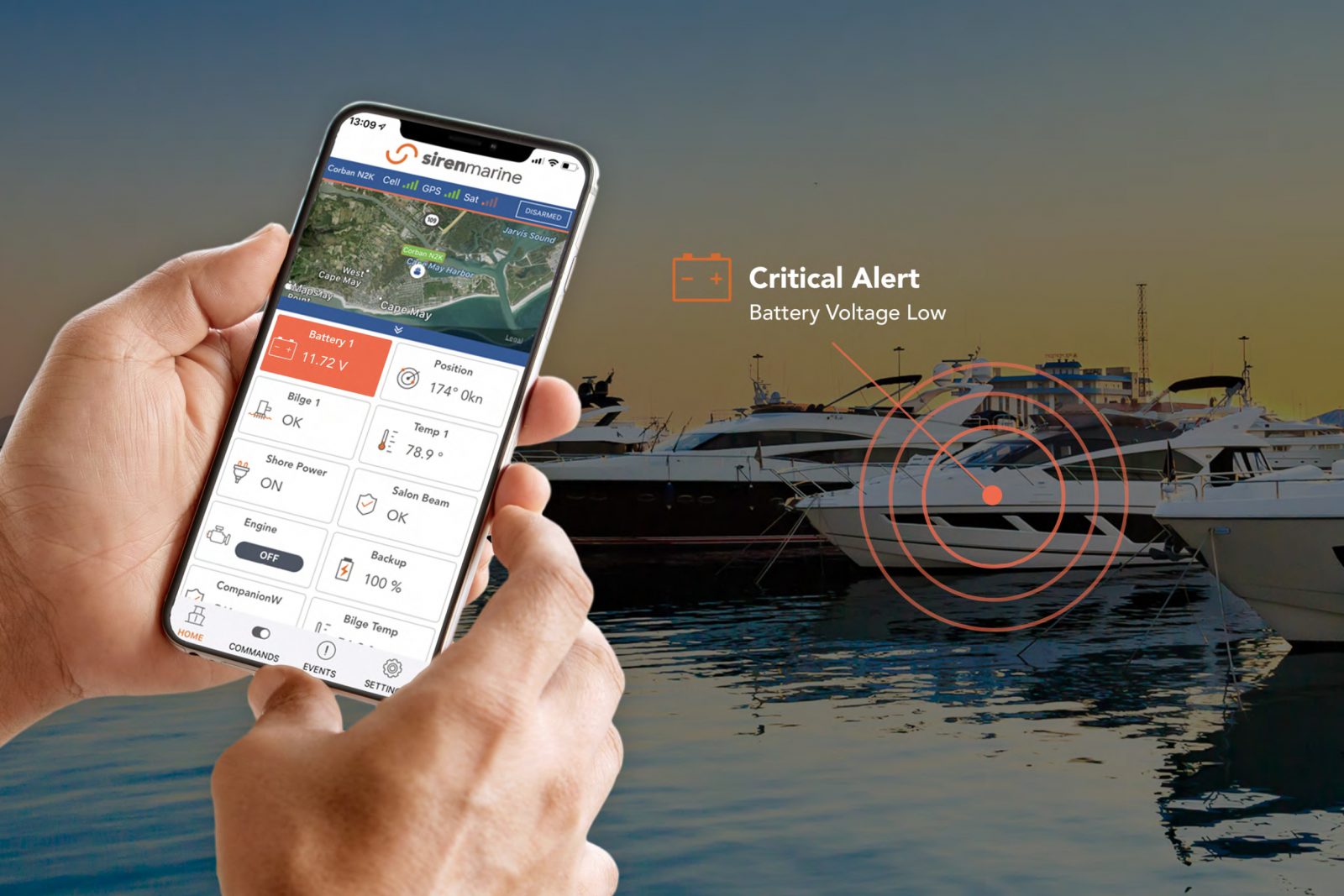 The Siren 3 Pro main device features built-in GPS tracking, worldwide LTE cellular connectivity and works with a range of advanced wireless and wired sensors. The system monitors a variety of important conditions — including security, geofence alerts, bilge pump activity, battery health, battery switch status, shore power status and more.
The Siren 3 Pro also features built-in NMEA 2000 connectivity that opens up the full power of digital switching and puts unparalleled control and data at the fingertips of boaters. Through partnerships with marine digital switching pioneers such as CZone, Siren Marine revolutionizes the power of digital switching — taking it up to the cloud and then onto the boater's mobile device. Remote digital switching gives boaters the ability to turn on cabin lights, switch on A/C, or spool up a gyrostabilizer— to name just a few features —right from the palm of their hand. By doing these things ahead of time, everything can be ready to go when the boater arrives.
This NMEA 2000 capability also provides Siren Marine's OEM boat, engine and NMEA device manufacturer partners with valuable data that will help them transform their products and customer support. Manufacturers can gain new understanding of how, where and when their products are being used, and apply this data-driven knowledge towards enhancing their products. Through Siren Marine's cloud-based platform, customers can receive immediate notifications when serviceable events occur, identifying small problems before they have a chance to become large, costly ones. The Siren Pro 3 can be outfitted with the optional SirenSat Offshore antenna for use on trawlers, cruisers, sportfishing boats and other vessels that venture far offshore. SirenSat provides boaters with accurate global GPS positioning and tracking for peace of mind and security. It also satisfies satellite tracking insurance requirements now required for vessels in certain regions of the country and boats with multiple outboard engines. An upcoming Phase II release of Siren 3 Pro will feature built-in Iridium bi-directional satellite capability, allowing access to all the advanced monitoring and control functions of the Siren Marine system from anywhere in the world. This includes not only the ability to monitor and track vessel position and movement, but also to receive alerts from any of the system's sensors, turn NMEA devices on and off through digital switching and more.
Key OEM partners have recognized the power of this technology to enhance both customer experience and brand reputation. Leading boat builders such as Bass Cat, Cobalt, Falcon, Hell's Bay, Mag Bay Yachts, Jeanneau, Princess, Riviera, Solace, Southport and Vanquish have already partnered with Siren Marine to provide smart boat technology to their customers. Marine propulsion leader, ZF Marine, recently partnered with Siren Marine to create a customized and interactive Connected Boat Experience for its customers. Using customized tiles in the Siren Marine App, ZF customers' transmissions are connected 24/7, providing automatic equipment status alerts about potential issues and the need for scheduled maintenance via the Connected Boat cloud. This technology also allows for instant connection between the boater and global ZF customer support with Siren Marine's proprietary Two-TapTM feature.
Diesel engine leader Cummins also recently signed a partnership agreement with Siren Marine to develop a customized connected experience for its customers and boat builder OEMs.
The company is confident that its next generation product, the Siren 3 Pro, will fuel more widespread adoption of its smart boat technology across the marine industry. "Ten years of experience in the Connected Boat realm has led to the culmination of this new device" said Siren Marine Founder and CEO Daniel Harper. "In that time, we've gained invaluable knowledge from boaters and the industry. We have applied these insights to develop a new system that is more full-featured, while remaining easy to install on today's boats. We believe the Siren 3 series has the potential to transform every boat into a smart boat."
The new Siren Pro 3 has undergone rigorous, real-world testing and will be available to the industry and the boating public beginning in August. Despite its technological advancement and new features, it will carry an MRP of just $749 — allowing the boater or boat builder to select the affordable wireless and/or wired sensors best suited for their vessel. Siren Marine offers a variety of cellular subscription plans, the most affordable of which is only $15/month. Separate satellite subscriptions are available for boaters who want satellite connectivity for offshore use.
To learn more about the new Siren 3 Pro, or any of the Connected Boat products and services offered by Siren Marine — or explore becoming an OEM partner — call 401.619.4774 or visit www.sirenmarine.com.