SmartCraft NMEA 2000 gateway, looking good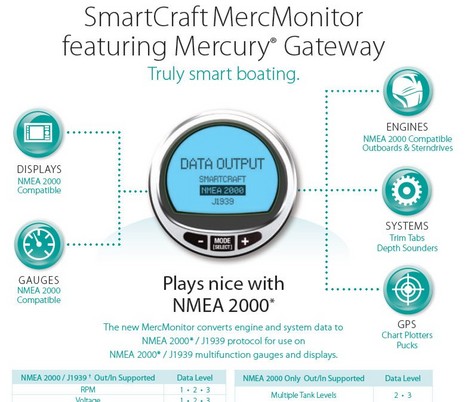 Never mind that Mercury promised a NMEA 2000 gateway to its SmartCraft engine monitoring system back in 2001, the one it's poised to actually ship in 2010 looks quite powerful and useful. If you check out the Gateway PDF above linked to this MercMonitor gauge page, you'll see that it can deliver a whole lot of engine messages to your N2K displays. Plus it turns out that a gent named Glen Ersly has installed a prototype system and written about it in some depth…

Glen runs a great Web resource called the Verado Owners Group, as well as Electronics Unlimited's site, and he seems to be having a good time experimenting with gadgets on his twin 250 center console Reel Estate. A couple of months ago he detailed the install of a MercMonitor and Gateway on the Verado site, and also on the Hull Truth, and he's been answering questions in both places since. Plus he recently installed Garmin's new Bennett Trim Tab analog-to-N2K adaptor and a GMI 10, and chucked his old trim indicator.
SmartCraft has always seemed a powerful system, as did its proprietary gateway to MFDs of the Navico brands that parent company Brunswick once owned, but it was still annoying that it wouldn't integrate with NMEA 2000 when both are CANbus-based networks. Apparently those days are almost over, and I dare guess that the possibilities will be stimulating. Thousands of boaters will get new options for how they mind their engines, and what data they get to see. For instance, not only can SmartCraft fuel flow info be calculated into MPG, range, etc. by many MFDs, but the gateway also means that N2K GPS data flows back to the SmartCraft displays like Vessel View so MPG, etc. can be calculated there too (lots more on that subject here).
Plus the gateway will mean that boat builders who use any of Mercury's many propulsion packages, which notably include both Axius and Zeus drive technologies, will have a lot more flexibility about how they design their helm electronics. Which may stimulate other engine manufacturers to play better with NMEA 2000, and stimulate the electronics guys to improve the engine data display abilities in their MFDs and all-in-one instruments. It's all good.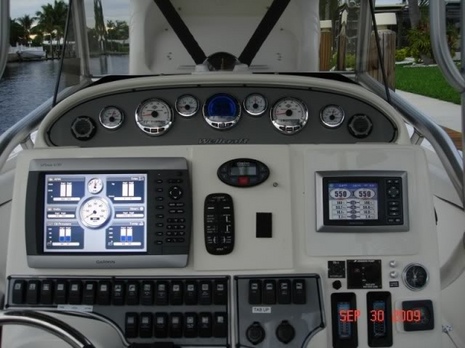 PS Glen used N2KBuilder to sketch out the system above…