Splashtop Remote Desktop, full on charting software on your iPad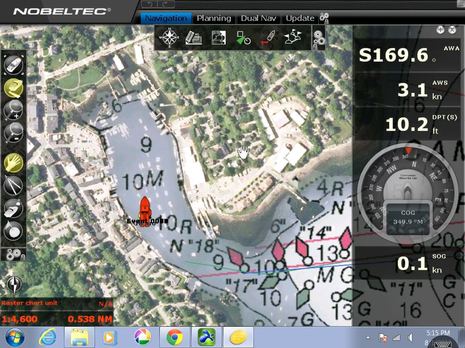 Yes, that's Nobeltec Time Zero Trident running on Gizmo's Mac Mini with NMEA 2000 data coming in via Actisense NGT-1 — as seen in an earlier entry on ChartTable21 — but, wow, the screen shot was taken on my iPad. And I had complete control of Trident from the pad without any noticeable delay in commands or zoom/pan screen refreshes, even with the intense graphic data seen in those nicely blended MapMedia hi res photo maps. If you're interested in extending an onboard PC navigation system over WiFi to an Apple (or Android) pad you may recall that in October the possibilities weren't thrilling, but that was before Splashtop Remote Desktop came along…
You'll see from the iTunes reviews that Splashtop has already made quite a splash, but it took a recent Steve Dashew blog entry to inform me about the app. And yesterday I got a personal demo from Steve and also met Chris Martin, the salty young man who set up Steve's system. Their enthusiasm was contagious and when I got back on Gizmo and saw that Splashtop was on sale for $5, I tapped that easy "Buy/Install" button and within twenty minutes I could neatly control either the Mac Mini running Windows 7 or the Datalux XP police car computer with the iPad.
Of course it helped that the boat already has its own WiFi local area network, which generally has a good Internet connection when I'm in Camden (and many other spots) via an attached Rogue Wave. But I'm liking that setup so much — because I can easily access the Rogue via any PC, pad, and even the boat's TV — that it will become a long term system on Gizmo (and many similar boat's I expect). So having an onboard WiFi LAN even when the Internet isn't available is just a matter of leaving a little NetGear 12v router on…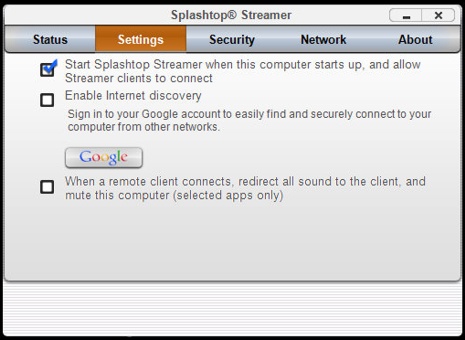 Setting up PCs to work with Splashtop is nearly trivial. You download a little application called Spashtop Streamer, set up a password, and that's about it. If you have a Gmail account and enable the Internet discovery feature seen on the Streamer screen above, the iPad will just find the PC on its own, but you can also get your PC's IP address (from Streamer's status page). Once connected it just takes a tap on the iPad to reconnect.
Splashtop gives you set of touch commands to use instead of a mouse, and also access to a touch keyboard with F1 – F12 function keys and a few other additions that make it more PC friendly. And you can still control the PC with its regular mouse and keyboard even when Splashtop is connected. However the app will change the attached PC's screen resolution to the iPad's native 1024 x 768 pixel resolution. But, then again, that's the same resolution that the Datalux uses and both Windows 7 PCs I've tried it with return well to their much higher res setups whenever I shut down Splashtop.
I'm looking forward to trying Splashtop underway and especially once I get Gizmo's big machine running radar. But I'm already fairly confident that it will work well — especially given the reviews and the claimed performance comparisons seen below — and thought I should write about it quick, in case that sale ends soon. Note too that once you have Streamer running on a PC, Splashtop can also provide apps that extend its screen (instead of repeating them) or turn your iThing into a wireless touchpad.