ST70, STng, & N2K, an ironic tale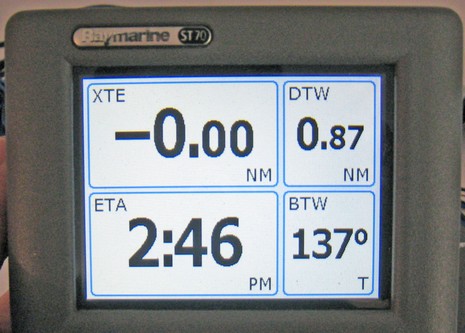 So I hope yesterday's goofy contest made a point about Raymarine's STng cabling system. I do think the design has merit, particularly for production boat building, and there's more of interest, like heavier gauge power wires, that I'll get into eventually. But today I'm going back to the larger point that NMEA 2000 cabling is not that big a deal. As noted earlier in these ST70/STng experiments, the data flows easier than one might think given the different connectors and network names. What really counts is that the desired data is sent and received. I learned that vividly when the first Garmins could hardly understand any N2K PGNs (messages), despite having a standard NMEA 2000 connector, and now I've stumbled on an ironic reminder.

Though the Raymarine ST70, which I'm falling for, can display almost all of the data being sent by the various Maretron sensors in my test network (often as a number, graph, or dial), I was surprised that it would not see some numbers theoretically sent from the Raymarine E120. I set up a go-to waypoint, expecting all the values seen above…but all (except XTE) stayed blank! Was it the E not sending or the ST70 not understanding? One way to check was trying the same drill with the Garmin 5212, now updated to firmware 3.2 which does NMEA 2000 pretty darn well. And it worked, producing those numbers above.
Better yet was observing all this using Maretron's NK2 Analyzer (now official software, by the way). Below you can see part of the story, the glorious details of PGN 12934, Navigation Data, that's being transmitted by the Garmin and displayed by the ST70 (full screen here). A similar screen from the E120 shows that it is not sending that particular PGN (but is sending 129283, XTE). Are you with me? Here we have three brands using NMEA 2000 together to pass data and troubleshoot a small (and easily fixed) issue that showed up within one brand. I like that! And never mind that it's being done over a hybrid STng and DeviceNet backbone, which sure ain't kosher but is working fine, at least in the lab environment.