Standalone AIS — new DY, Vesper, & Icom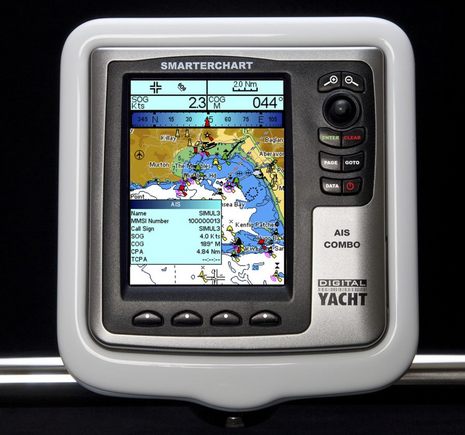 As noted recently Digital Yacht is on a new product roll. To my knowledge this SmarterChart SC500A is the first new C-Map plotter in quite a while, and the first plotter to have a built-in AIS receiver period . At $799 list, it might be just the thing for open helms on some smaller boats, for which DY also has a new line of helm pods (though they don't seem to be online yet). But some bigger boats might want one of these to serve mainly as an AIS target plotter (it has NMEA 0183 output too), and there are a couple of other interesting developements in that department…

Hand's on time with the Simrad AI50 last summer confirmed my sense that there's real value in a standalone AIS display. It's often useful to have AIS plotting zoomed out while you're zoomed in your primary navigation screen (though you'll also want the AIS info there too, which is generally easy). Plus a low wattage device like the Simrad is easy to leave on when you're anchored or moored so you can keep track of who's around and/or — in the case of a Class B — let others know who and where you are.
Those are some reasons why I think Icom may have a hit with the new MT-500TR Class B AIS announced at the London Boat Show. It doesn't look to have a built-in base map like the Simrad, let alone full charting like the SmarterChart, but the screen hinted at in the image below could be darn useful (as contrasted, say, with the much smaller display on the Standard Horizon VHF/AISrx GX series). Plus the MA-500TR will be able to integrate with popular Icom M505 and M603 VHF radios so you can auto dial AIS targets (as I've been able to try a bit with the Garmin VHF2000). Icom USA has been quiet about this transponder so far, but I'm hoping that's
just because they're waiting on an imminent FCC approval. Maybe the
Miami Boat Show?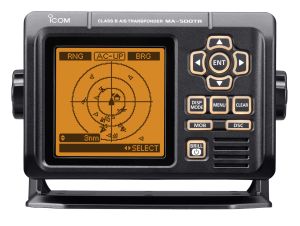 If and when I do get my mitts on either of these new AIS displays, I'll pay particular attention to their alarm setup parameters and how well they all work together. Getting AIS alarms to be useful yet not annoying is tricky! Which is why it's good to see Vesper Marine add to its line of dedicated AIS plotters. The new AIS WatchMate-RX has — you guessed it — a compact dual channel AIS receiver built in (they're going to be everywhere). Actually I've never tried either model WatchMate either, but I did read the manual when I wrote up the original, and will venture a guess that Vesper's sophisticated alarm design may still be the best out there. Here's hoping that it too is in Miami, and that all the developers involved with AIS alarms take a look.