S/Y Aeolian, waiting for WiFi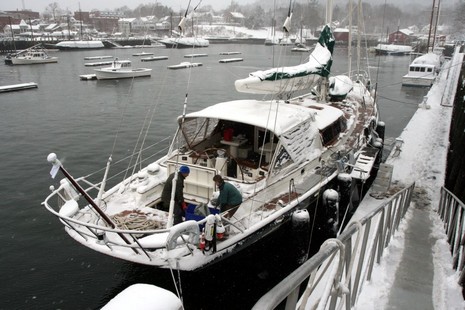 Yup, check out the bigger image, it's been snowing here again and this poor crew was getting ready to take the lovely Aeolian south for the charter season tomorrow. Yipe! Apparently this was not exactly the plan in early July when the boat was hauled (which, amazingly, is documented on You Tube). Schedules can slip when the project list includes major items like a deck overhaul, a new engine and an exotic electronics network. I might have gotten a peek but there was a little stress aboard as yesterday that network had a "melt down" when a PC was swapped out.

The WiFi bridge wouldn't grab hot spots anymore and a custom CE-based PC that does systems monitoring had dropped off the network. There's also a new Furuno NavNet vx2 blackbox aboard (yeah, they're sad they missed NN3D, but so it goes) with a FAX30 network weatherfax (very cool) and a FA30 network AIS (using a puck-size masthead antenna I'd like to know more about). As I understand it the system has dual monitors down below and a single high bright Furuno screen on deck. Interestingly, the output of the nav PC is put through a converter so that it arrives at the monitor as a video input, which means the skipper's charting program can be seen in a variable size window instead of just VGA full screen. There's also an Apple Mini on board for entertainment, including an AirTunes net. Yipe! But actually I was there to trade a hearty bag lunch for more info from John Gass about maintaining and upgrading instruments. I got a lot, including a look (below) at John's inventory of no-longer-available instruments that he's had rebuilt and thus ready to trade out with a passing cruiser's broken unit. When it comes to marine electronics, I say that is real service! At any rate, a geeky good lunch was had…until John and his mate Nic had to refocus on cracking Aeolian's WiFi conundrum.