Underwater lights, stupid & offensive?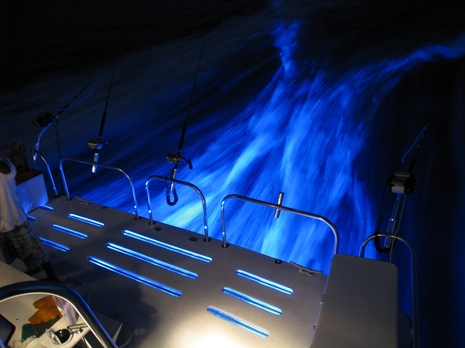 I was surprised when Tim Flanagan went all Glen Beck on underwater lights last week. It hadn't occurred to me that "no boat owner with an ounce of sense" would drill a hole below his or her waterline just to "make the water glow pretty colors". In fact, senseless me has long considered going for the dramatic effect above (compliments DeepSea Power & Light) on Li'l Gizmo, which has become fairly reasonable and easy thanks to gear like OceanLED's Amphibians. You'll note that they are surface mounted, and hence only need a cable hole through the hull (they also purportedly run cool enough to use on deck). But, heck, I'd consider putting bigger holes in big Gizmo's transom if the LED and thermoplastic casing technologies reach the right cost/performance point, which is where they seem headed. Any underwater fitting deserves especially carefull installation, but I don't think fixed underwater lights compare, danger-wise, to true thru-hulls which involve a forever hole protected only by an often open valve and a hose. Has anyone heard of an underwater light causing a sinking? And while I won't argue that anyone really needs underwater lights, they sure can be beautiful…

In fact, I put underwater lights right up there with beauty accents like well tended flags and varnished teak toe rails; they are unnecessary and possibly annoying-to-care-for accessories that can bring owners and onlookers alike real pleasure. "If you're not looking good, you're not yachting," was one of my seamanship teaching joke lines, but there's truth in it. It's also true that you can enjoy the hell out of a boat without paying attention to how it looks. But I digress.
Apparently I'm not the only boater yachtie who likes underwater lights; this is one busy and competitive niche. Brands besides the already mentioned DeepSea P&L and OceanLED (which, like several of the following, has a good photo gallery) include: Aqualuma, SeaVision, Underwater Lights LTD, Abyss, Aqua Lights, Oceanbright, KEP Marine, and Imtra. And there are probably even more brands, which, along with some hard-to-understand technologies, may explain the fairly high level of infighting I've noticed in this sector. As you can gather from some of those links, underwater lighting started as a very expensive and somewhat tricky category using high power Xenon and Halogen bulbs. Hassles for a megayacht engineer included not only changing burnt out bulbs, but making sure they were all of similar age so they balanced properly.
When OceanLED aggressively trail blazed LED lights back in 2006, there was push back. The competition claimed that LEDs just weren't bright enough. But the founding father and son team of Nigel and Lee Savage are not the sort of chaps who walk away from a fight. The illustration below came at the end of a long, highly technical, and wickedly sarcastic rebuttal to the "not bright enough" e-mail campaign. That battle is long done, as most every manufacturer now features LED underwater lights. Recently, though, some of the companies have been fighting about who first developed a decently bright LED which runs cool enough to stay healthy even when underway and sometimes deprived of cooling water. Frankly, I don't care who was first. Nor do I think that these lights seriously disrupt sea life, as suggested by a Navagear commenter. Am I stupid and offensive because I want underwater lighting to get better and cheaper, and hence more available?