V4 & P+, after a "real" factory reset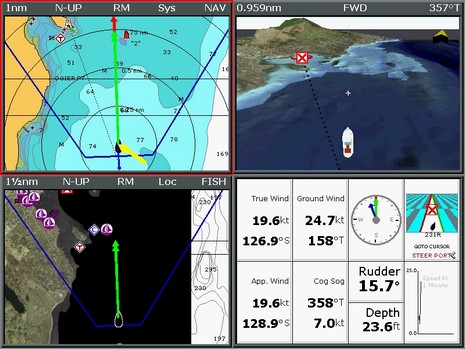 After I'd written my first impressions of the new E-Series 4.29 software and the Platinum+ charts it supports, I learned that I hadn't done the "real" version of the recommended factory/master reset. You see, though Raymarine's own FAQ is unclear about it, a reset done by powering up while holding down the leftmost soft key is apparently different, and deeper, than the one I'd done from the System Setup menu. I know for sure that this is true, as after a "real" reset yesterday, some of the problems I'd seen went away. For instance, I can pull up the System Diagnostics SeaTalkNG sub-menus now without causing a reset, though the device list there remains strangely empty (the new manual says it's "for diagnostic use by authorized dealers" anyway). Much more important is how the test E seems be performing even quicker and looking better than what I'd noticed the first time around.

Check out the full-size screen above. Though the rotary control over the 3D image stills hangs up sometimes (I've learned I can clear that just by flipping to another screen page), the 3D itself seems prettier and smoother in motion than ever. Even the 3D photo overlay, which I used to turn off before V4, doesn't seem to affect performance any more. The neat Depth Plane feature (here set at 50') also seems to work more reliably, though I still need to shut off 3D nav aid display to use it. And I think I found another new Data Panel choice in that mini compass rose, which scales to any size you want. All that data, by the way, is coming from Nema Talker via the AT10 (except for rudder angle). During the road trip, I swapped P+ cards for ones with the Fish'N Chip charts properly installed, and they work fine, as seen a bit in the lower left window. Fishermen will like how they can have one plotting window with their high detail bathymetry and another with a regular chart, same as can be done with photo map overlays (as long as you use the "local" Presentation mode). That window also shows how Navionics has masked out deep water in P+'s hi res photo maps—even 8 gig cards are small relative to their data mass—but unfortunately have filled the remainder in with black. I'll discuss this aspect of P+ more soon, but I stand by my opinion that four times more resolution is more than four times better for navigation, and that Ray's V4 (4.29) update is worth trying.