Wilson cell booster testing, on Sun Dancer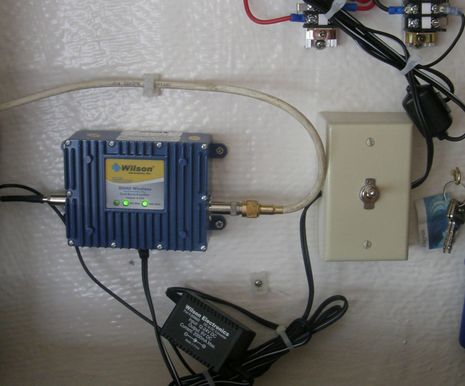 Panbo reader Pat Harmon is cruising Alaska aboard M/V Sun Dancer and he kindly agreed to write about some gear, seen above, that's helping him stay in touch:
I recently installed a cell phone booster on my 43′ North Pacific trawler, and although I am not an expert, my hands-on experience may be helpful to my fellow boaters. I am computer literate and had Navy electronics training back in the 60's…
Cell phone amplifiers/boosters are bi-directional amplifiers which boost both the signal from and to your cell phone and also boost the signal to and from the cell tower. There are a variety of ways to accomplish this. There are systems that work with only one cell phone at a time and systems that work with multiple cell phones. The ones that work with multiple cell phones essentially create a local hot spot. Each system has the following in common: an external antenna to communicate with the cell tower, a bi-directional amplifier, and an interior antenna or a direct connection to communicate with your cell phone.
There are several issues that the manufacturer's design engineers must deal with. First, the unit must be able to vary the amount of gain needed to be useful but not overpower the cell tower. Second, they must deal with potential feedback with signals broadcast by the interior antenna being fed directly into the exterior antenna. Then, the power supply needs to match the power available to the power requirements of the system. (All this has to be done in order to get FCC certification.) Lastly, there are many different approaches that the individual cell phone companies use to provide service; there are no universal standards.
With the advent of the "smart phone" with practical applications, the expense of a cell phone booster is becoming a lot more worth considering. For a simple but effective solution Wilson Electronics has recently introduced a model that works with a single cell phone called the "Sleek". The Sleek has a MSRP of $130, with the street price significantly less.
My system has a Wilson 801245 50dB dual band amplifier. It connects to an external cell phone 3dB omni-antenna mounted high on the radar arch (seen way below). Inside is a patch antenna supplied by Wilson (seen below). My unit is powered by 6VDC which requires a DC-DC converter also supplied by Wilson. The booster is a bi-directional amplifier which creates a local "hot spot" in and around my boat. The unit works with multiple cell phones simultaneously from most service providers (Nextel is an exception). It works with both voice and data, it boosts the signal strength in marginal situations and makes communications possible where poor or no service would otherwise exist, and it works with both 3G and Edge networks. It would cost less than $500 to duplicate my installation.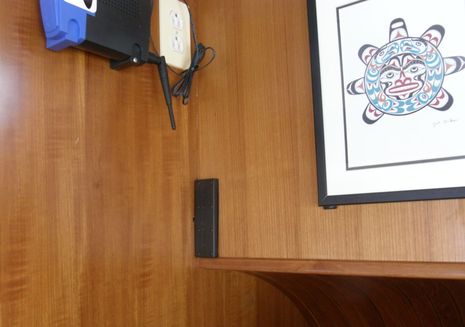 With the booster I seem to get an additional two bars on my iPhone. Without the booster I have had no service, but turned on the booster and had two bars. I have had 3 bars in the marina parking lot and 5 bars on my boat with the booster. It is not unusual to see people using their cell phones standing on the dock near my boat taking advantage of the better reception in my "hot spot."
My wife and I are presently cruising in Alaska. NOAA weather radio and the USCG radio have large holes in their coverage in Southeast Alaska. The cell phone coverage with my iPhone and its apps allows me to get weather information over a wider area and with virtually no static. Mostly over the Edge network, with 2 bars I can get the text forecasts I am interested in, plus the latest surface analysis and fax forecast charts. The weather radar doing a one hour loop is a stretch.
Out in the wilderness of very remote Alaska the Edge network service is much faster than the 3G network in Juneau. Essentially I had more bandwidth in remote areas, probably due to being one of the few people using the network in the area.
Wilson Electronics seems to be the dominant company in the field of Cell Phone Boosters. They make units for buildings, office, home, vehicles, and marine use. They offer many options and variations. Call their tech support (1-866-294-1660) and let them assist you in selecting the components you need for your particular situation. Just in the area of antenna adapters there is a long list of options. Units are powered by both AC and DC at various voltages. Antenna selection can be difficult. This is not rocket science, but the sheer variety to select from does require knowledgeable assistance. Had I called tech support first I would have selected a different interior antenna.
For some reason the boating public is not generally aware of cell phone boosters. I think they have a definite place in the suite of electronics we choose from to equip our boats. Although the need for a cell phone booster is a matter of personal preference, for me, cruising in Alaska, it has proven to be essential equipment.
{Many thanks and smooth cruising to Pat Harmon}