Simple marine cell boosting: Wilson Sleek 4G (weBoost Drive 4G) and Digital Antenna Bullet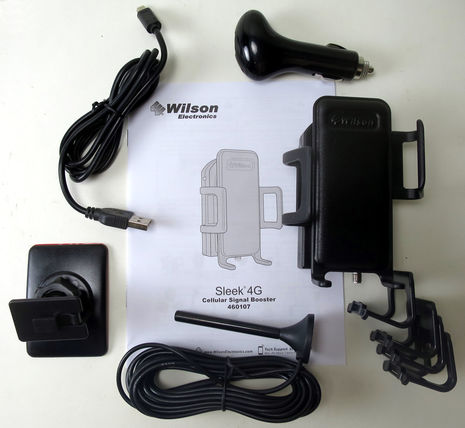 New FCC regulations have caused turmoil in the world of cell boosters and now leading manufacturer Wilson Electronics has changed its name to weBoost. Thus, the Wilson Sleek 4G (460107) above, one of the very first new breed boosters last April, has just morphed into the weBoost Dash 4G-S (470107). Adding to the confusion is the boater's need to replace that wimpy car top antenna with a possibly illegal marine model — I'm happily using a Digital Antenna 1285 Bullet in my testing — but the whole package ends up relatively simple to install and effective for its cost.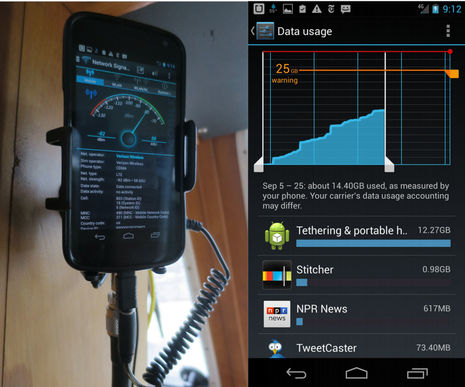 The Sleek (Dash) 4G is a cradle booster that only works with one fixed phone, but it couldn't be much easier to install. You just fasten the mount where you want the boosted phone to live, figure out the cradle "ear" shape and positions that best fit that phone model, and run the USB cable to a decent 12v USB power source (perhaps like these). The Sleek (and Dash) 4G cradles also have a USB outlet, so that curly wire above is keeping my old Galaxy Nexus phone charged while it's being boosted. Constant charging is especially important when I'm using the phone as a WiFi hotspot to put the boat's computers and tablets online. The screen at right suggest how much I used this mode while cruising south this fall; yes, I put over 14 gigabytes of data — 12 of it via onboard WiFi — through the phone in just 20 days, though I would have been more careful if I hadn't lucked into an unlimited Verizon 4G service plan.
In fact, I've used this cell setup a lot since last August — I had a fast 4G/LTE connection almost the entire trip south — and I often saw significant signal strength differences on that able Network Signal Pro app when I negated the booster by turning it off or pulling the phone out of the cradle. But I suspect that much of the performance enhancement came from the high performance antenna combined with 30 feet of thumb-thick Wilson/weBoost LMR400 ultra low loss coax cable that you can just make out stepping through a couple of adaptors into the Sleek (Dash) booster. (Note that I regularly wear a somewhat unusual Bluetooth headset and am also long testing a heavy duty Cruising Solutions alternative.)
While I detailed my mast install of the Digital Antenna 1285 last September, this photo shows more of the possibly irritating base design plus the terrific Wera Mini Bit Ratchet that made it possible to apply those little upside-down screws while in the rigging! I'm happy to report, though, that the newer Digital Antenna 1264 Bullet model can fit on a standard 1″ x 14 antenna mount and comes with a nice one. Plus, all the DA Wide Band Bullet Antenna models — which claim 4-9 dBi gain on every cell frequency (I think) plus WiFi and WiMax — seem to be winning the admiration of marine electronics professionals (who should in many cases be installing these systems).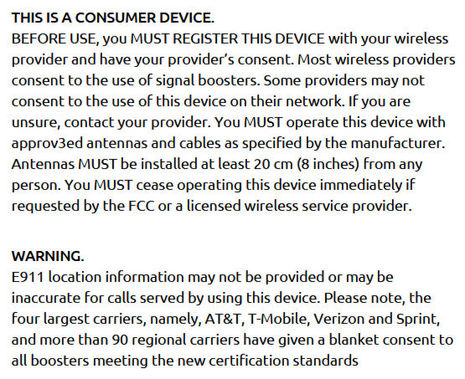 But I did mention "possibly illegal marine" antenna in the opening paragraph, and that's because the new FCC rules state that consumers "must operate" their cell booster "with approved antennas and cables as specified by the manufacturer" (who must supply complete kits). So while I guess my install is technically illegal, I take comfort in the fact that the Sleek (Dash) booster only claims a maximum gain of 23 dB while the new booster limit is 70 dB. It's hard to imagine how the cradle booster — which only uses a maximum 2 amps, even while charging my phone — could interfere with other cell phones.
You will also see warnings on the new breed boosters that "YOU MUST REGISTER THIS DEVICE" with your cell provider, but look at the bottom of the small type for notice that AT&T, T-Mobile, Verizon, Sprint and 90 regional carriers "have given blanket consent to all boosters meeting the new certification standards," presumably because the new boosters are designed to shut down if they cause network problems. I did, in fact, try to register the test booster at Verizon, but they don't make it easy.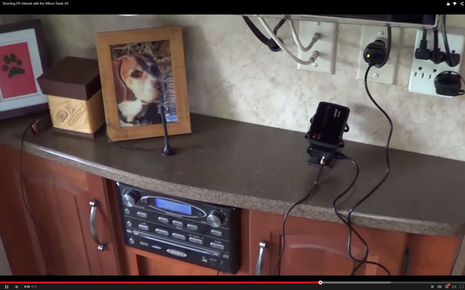 Of course, you'll have an even simpler, less expensive and totally legal Sleek (Dash) 4G install if you just use the included antenna, and you can see how that might work in this Love Your RV video. Note that the tester is using a 4G Jetpack MiFi mobile hotspot instead of a phone, and that the beloved beagle does make a "live" appearance:-) But I have done a little A/B testing of the small Sleek antenna versus the Digital Antenna Bullet and think the latter makes a big difference. After all, the reason the FCC now views boosters as complete systems is because their total effectiveness equals external antenna gain minus cable loss plus actual booster gain minus/plus the cradle, cable or internal antenna that makes the final booster-to-phone link.
Unfortunately, complete marine cell booster kits remain scarce. I believe that weBoost plans at least one — possibly based on their new 65dB Connect 4G — and Digital Antenna purportedly has an excellent boat booster that's unfortunately stuck in the FCC approval process. If you want a high-power marine system that will serve several uncradled phones at once, like the (long gone) one I tested in 2013, the only choice right now may be one of the Shakespeare Halo CA series, and note that you have to choose a specific 4G provider model, and that the total retail cost before installation is about $1,500.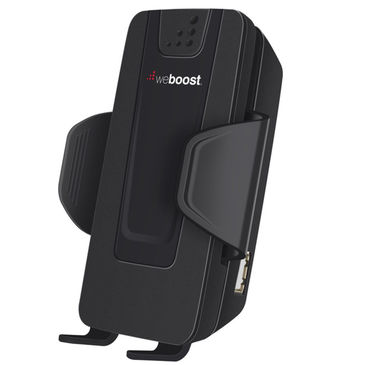 Meanwhile, the Sleek (Dash) 4G can handle multiple 4G/LTE providers — though the old Wilson specs are more specific about which than weBoost's — and the total retail for what I'm testing is about $400. The weBoost Dash 4G-S does seem very similar to the Sleek, but a representative tells me that it does "feature a newly designed dynamic gain control system, which maximizes the signal connection automatically, adjusting to varying external signal strength and environmental changes including to the landscape"…which I thought was already happening, and that it "also has a larger surface to accommodate for the growing size of our smartphones."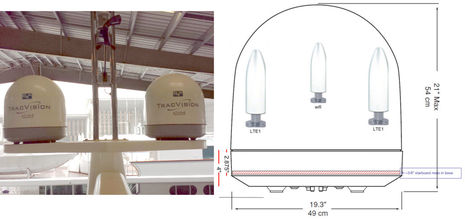 I'll close with some images that Digital Antenna passed along from their dealer/installers. Above is an empty KVH dome which has been fitted with three Bullets, presumably for aesthetic balance. Digital says the install works well because the Bullets only need 10 inches of horizontal separation. You'll also see a Bullet installed on the stern of the current Volvo Ocean 65, and then there's the quad Bullet array that Axxess Marine just finished on the superyacht below. I don't know what cellular, WiFi or whatever tasks these wideband antennas are up to — hopefully, commenters can fill us in — but it sure looks like Digital Antenna has a bullet-shaped hit.