Yacht Devices announces NMEA 2000 Ethernet gateway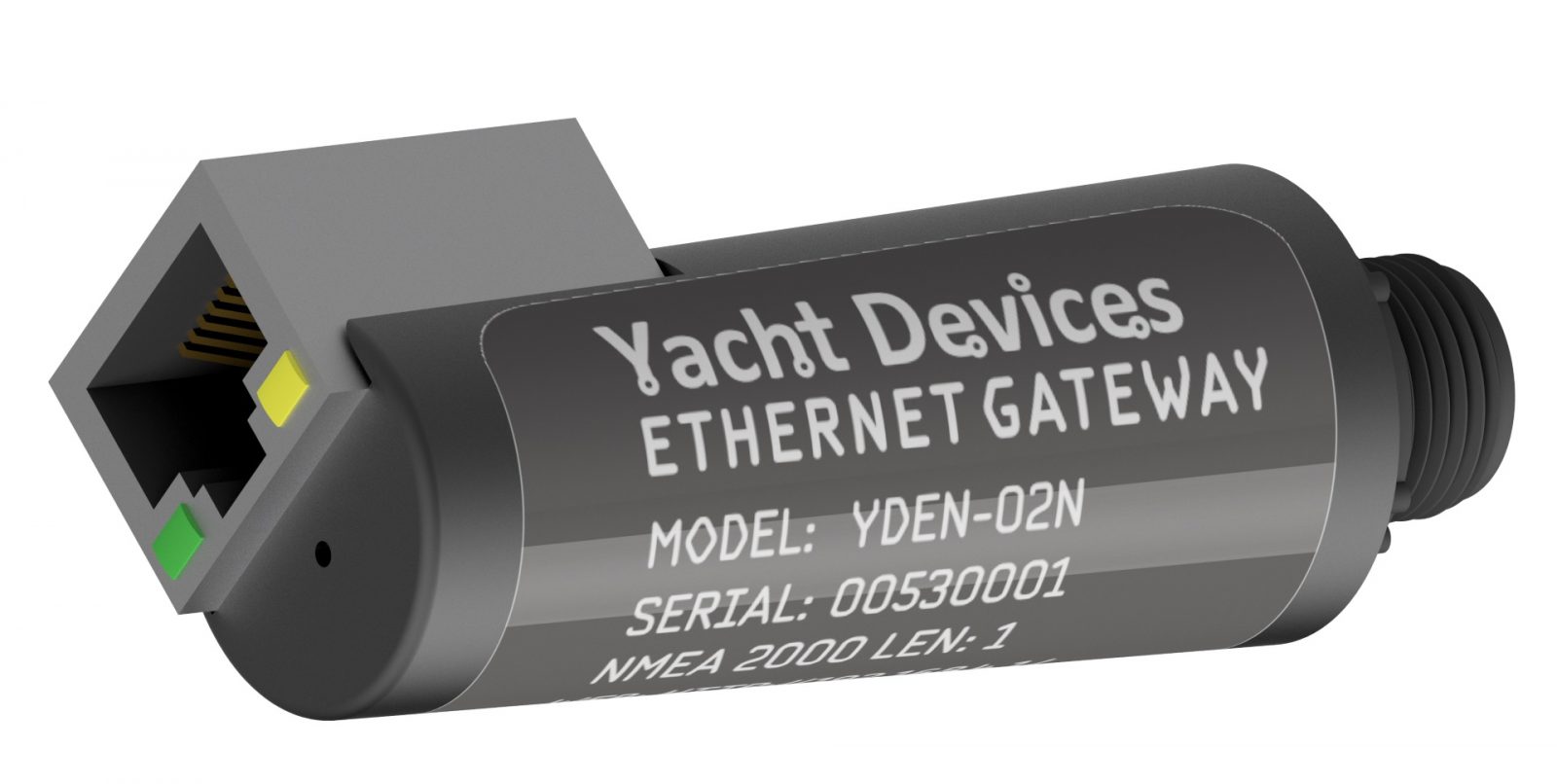 New product: Yacht Devices NMEA 2000 Ethernet Gateway
The YDEN-02 connects navigation PCs and laptops to NMEA 2000 over Ethernet, Garmin Marine Network, Raymarine SeaTalk HS or Furuno NavNet, and allows bridging of NMEA 2000 networks
Ethernet networks are not rare even on small vessels over last ten years, because it is a popular option to connect digital radars, modern fish finders and IP cameras. Ethernet technology in the marine industry is known by different names: Raymarine SeaTalk HS (SeaTalk High Speed), Garmin Marine Network, Furuno NavNet, and Simrad Network. These networks may have standard RJ45 connectors or proprietary waterproof connectors, but all manufacturers offer adaptor cables to connect to a PC or laptop. The upcoming NMEA OneNet Standard is also based on Ethernet and will co-exist with other protocols and devices on the cable.
Although computers can co-exist with marine devices, chart plotters usually do not offer NMEA 0183 or NMEA 2000 data streams with navigational data over Ethernet. Enthusiasts have created plugins to connect some models of radar to the popular OpenCPN software, but to receive navigational data on a PC, some kind of gateway (serial, USB or Wi-Fi) to NMEA 0183 or NMEA 2000 is still required.
The NMEA 2000 Ethernet Gateway provides NMEA 0183 and NMEA 2000 data streams by TCP and/or UDP protocols, and has a bi-directional converter between NMEA 0183 and NMEA 2000. It allows viewing of navigational data including AIS as well as managing NMEA equipment including autopilot from virtually all marine software, e.g. OpenCPN (it handles NMEA 0183 only) and Expedition 10 (both NMEA 0183 and NMEA 2000 protocols are supported).
The device can be easily configured or updated using the built-in web server, which also hosts Web Gauges. Web Gauges is an HTML application already available in other Yacht Devices gateways that allows viewing vessels data (navigational, environmental, engines, tanks, batteries, etc.) and managing digital switching equipment right from a web browser without software installation.
The Gateway is powered from NMEA 2000 only and consumes 45 mA (1 LEN); it is galvanically isolated from Ethernet and can co-exist with any other Ethernet devices, including devices powered over Ethernet (PoE). Two Gateways can create a NMEA bridge over Ethernet and connect two NMEA 2000 networks.
The device's case measures 54mm in length (overall length with NMEA 2000 and Ethernet connectors is 67mm), and is equipped with NMEA 2000 Micro Male or SeaTalk NG connectors. The device can be connected directly to the backbone, no NMEA 2000 backbone cables are required.
The Gateway will be presented at the Yacht Devices booth #5.455 at the METS Trade expo on November 19, and will be available for order in December for USD $189.