Your friendly neighborhood DSC watch, smart!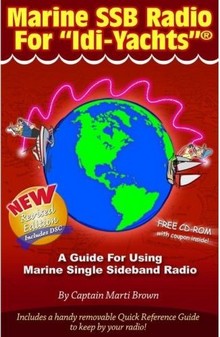 I'm a fan of Marti Brown, author of a several how-to books about marine SSB radios. This is one of the most daunting technologies cruiser may struggle with, and Marti does a good job of clarifying just what it can do for you, and how. I'm just setting up an Icom R2500 receiver to test, and I think the book at right is going to help me listen in to some of the interesting marine nets and other resources. There's more info at her Idi-Yacht Web site, as well as Amazon and wholesale distributor NavCom Digital.
I spoke with Marti this morning and she told me about a neat project getting started in her home port of Marathon, Florida. Boot Key Harbor is full of live-aboards like her, and, despite the sunny weather, they have concerns—hurricanes, homeland security, Avian Flu breaking out in Miami and working down the Key's single access highway, etc. So they're setting up the "Boot Key Harbor Tropical Telegraph", a system of phone trees and radio procedures such that all boats can be alerted of a problem. MMSI's and DSC are a key part of the plan, and Marti says her fellow cruisers get enthused when they learn just how well DSC can work for this. The local Coast Guard apparently likes it too. The "telegraph" seems like a great idea, and another way that DSC/MMSI use might progress toward the tipping point.