4th of July 2009, & antenna questions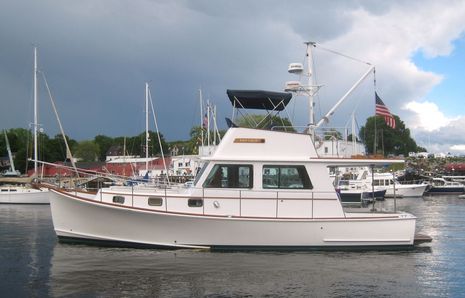 Here's hoping that American panbots had a wonderful holiday weekend, and that northern hemisphere readers everywhere are enjoying the boating season. I'm pleased to report that blue skies are finally breaking out here in Maine. Friday night's harbor fireworks were pretty sad — even those of us out in boats could only see vague glows in the fog — but there were times on the 4th that flags dried out enough to flutter. And isn't Gizmo looking good? I still haven't gotten around to changing the name lettering yet, but as an electronics test bed — and a cruising celebration of independence — she's really coming along…

I had the mast folded down last week, and between rain storms, installed the two domes seen below, along with the Scanstrut mount — very easy and solid, especially given the borrow (from a friendly local boat yard) of a Marson Big Daddy Riveter. The BR24 is now cabled to a Simrad NX 45, which was as simple to set up as the HDS10. It's lost target images within about 100 feet, presumably because it's now about 22 feet high, but I think it would still impress Capt. Kessler around the harbor. I also tried 3, 4, and 6 mile BR ranges out on the Bay yesterday, with some success, but a better test will be when I get the Raymarine dome cabled to the C140W, and when I learn how to fine tune these scanners. (This may take a while, though, as I'm traveling much of next two weeks; more on that soon.)
Planning further down the road, note that mast cap is cleared off in preparation for a Flir M-Series thermal camera and a mixed brand pair of LED spreader lights to compare. But how can I best install all the stick antennas — VHF, AIS, WiFi, & cellular — Gizmo might want to have? I could have another aluminum top plate made with extensions to get antennas away from the camera and each other, or I could mount them 5 feet lower on those spreaders, or I could leave them off the mast altogether, using brackets on the sides of the fly bridge enclosure. And what about more places to hang flags, which a boat can't have enough of? Your suggestions appreciated.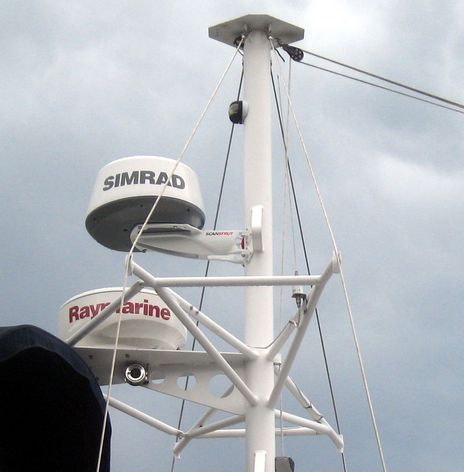 Also please check out the handsome dark blue boat, below, that breezed by Gizmo when I was taking these pictures, its 4 foot array swinging. Was that skipper endangering his eyes and/or brain? Regardless, apparently I could safely mount the BR24 on the forward side of Gizmo's fly bridge, and it might work a dite better at very close range. Anyone know of a stock mount that would handle the angle? Finally, note how I have the Airmar PB200 temporarily mounted on a 4 foot pole so its over the bimini but I can still loosen the bracket and simulate heel. A cleaner spot for wind sensors should also figure in the overall antenna plan. I'm beginning to realize that making all the antennas happy is going to be hard.