Actisense QNB-1, N2K breakout box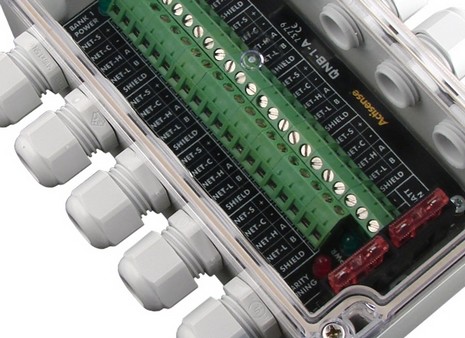 Ah, yet another doodad useful for installing a NMEA 2000 network, an economical one too. If used to the max, Actisense's brand new QNB-1 "Quick Network Block" takes the place of 6 regular N2K tee connectors, 8 cable connectors, and a separate power supply (like most of this). Plus all the N2K cable ends run into it can be run through smaller holes and tighter spaces than even those skinny SimNet connectors, and they can be cut to fit perfectly. And I don't see why it can't be used with proprietary flavors of N2K cable too (the possible exception being SimNet because it lacks a distinct "shield" wire). The QNB-1 even includes 4 amp blade fuses for each side of the backbone, and LEDs that indicate power on/off/reversed and data activity, and it will retail for about about $146 (available in the U.S. from Gemeco).

It can also be used to connect multiple NMEA 0183 listeners, though I don't think it's as versatile in this regard as a PAS-Thru Box.  At any rate, I'll bet the QNB-1 will even be used in places where six tees aren't needed or that don't make sense for the power supply (which should sit around the center of loads, especially in larger systems where voltage drop is an issue that has to be calculated). Now I must say that I didn't even know that NMEA 2000 breakout boxes were possible until Furuno previewed its similar unit last fall. But Actisense—which, by the way, claims to be the world's largest manufacturer of NMEA multiplexers—says that the QNB-1 incorporates the "the NMEA 'Barrier-Strip' method as outlined in the NMEA 2000 specification". There are those who still say that connections like this violate N2K standards, so I asked NMEA about it; but they were non committal, saying that no such breakout boxes have been submitted for certification. But do they need to be? And who actually cares if the likes of Furuno and Actisense stand behind them? I bet installers will use them; happily, I suspect.