ActiveCaptain 2010, huge things?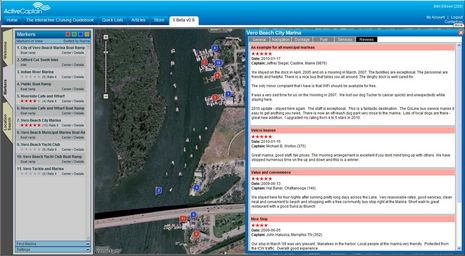 My longtime admiration for Jeff and Karen Siegel, and their creation ActiveCaptain, has started to lean dangerously toward jealousy! They've spend many months cruising from Maine to Florida and judging from their blog and the latest AC newsletter, they've not only been having fun but also writing code and making deals the whole way. Version "X" of the interactive cruising guide is really taking shape, and other developments coming soon do indeed sound "huge"…
More specifically, the Siegels report that they've been "working with major marine electronics manufacturers to incorporate ActiveCaptain into their products. Expect to see some exciting developments here including offline storage of all marker data with synchronization when an internet connection exists." I believe that means that the AC database, which is getting richer every day, will become part of the primary navigation tools that we also use to plan routes, check weather, etc.. Frankly, I'd hoped to see ActiveCaptain integrated into Coastal Explorer along with the professional ACC guides, as the title of that entry hinted, and maybe that can still happen as I don't think the Siegels will make any relationship exclusive. At any rate I'm really looking forward to seeing AC integration in the flesh wherever it happens, as I recently noted in a Yachting "Where Are We Headed" piece:
A particular peeve of mine is the poor point-of-interest (POI)
information available on electronic charts, which is where you really
want it. While it's near impossible for one source to keep up on all
marina details, for instance, let alone comment knowingly on their
quality, we now know from the likes of online Amazon and Yelp reviews
that a community of marina users could conceivably succeed at both
goals. The first MFD or charting program that incorporates a blossoming
community cruising resource like ActiveCaptain.com will be appreciated.
Of course AC, which has been evolving for a long time, covers much more than marinas. Check out the bigger versions of the screen shots above and below and you'll see how Hazzard markers have now been added to Marinas, Anchorages, and the various specific Local Knowledge markers like bridges and ramps. Plus Version X adds an optional NOAA raster chart layer, better filtering, and more. Actually this browser view is pretty darn useful as is, and isn't it likely that it will be even more so on the new Apple tablet that we'll learn about tomorrow?