AF Race 2013, learning AIS Swedish style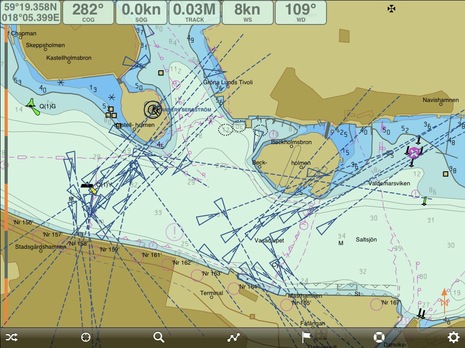 The AF Offshore Race 2013 — in which all boats are required to carry AIS — began in Stockholm Harbor on Sunday and the screen above shows how it looked on the Swedish-made ipad app SeaPilot. Note how the group at the right, already racing, is hard on the (light) wind while the next class stalks the starting line. SeaPilot was even set up to show the race marks as well as the country's many AIS weather-reporting bouys. But actually my iPad went largely ignored at this point because lucky me was perched high on a historic citadel with an incredible eyeball view of the whole scene…
Kastellets citadel was where the race sponsors and friends could observe the starts, and my wife and I got to join them thanks to Anders Bergström, who is a principal behind both the SeaPilot app project and True Heading, a company that manufactures AIS transponders and also distributes other marine electronic in Sweden.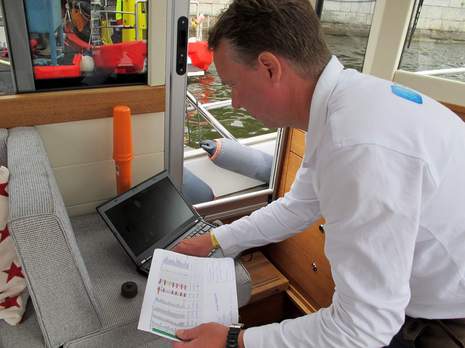 In fact, True Heading provided AIS rentals and service to the 260 boat fleet that had gathered in the race village, and right after the starts Bergström had to quickly program an SRT-built AIS Identifier to replace a broken transponder on one racer.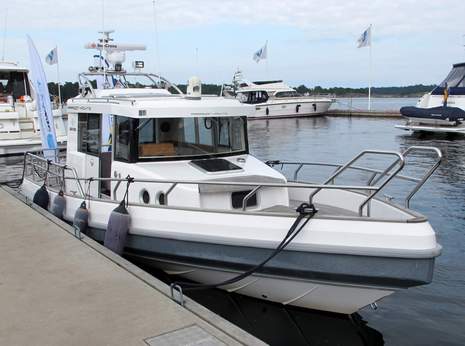 Then we got underway in his fast Paragon 25, zipped past many of the racers as they worked their way out through the complex Stockholm archipeligo, and handed off the Identifier to the boat in need.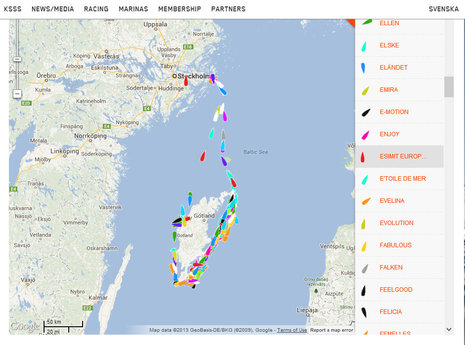 Bergström knows a LOT about AIS and was instrumental in building out the Swedish Maritime Administration's extensive network of shore receivers. That's what the Royal Swedish Yacht Club is using to track the AF racers as they round big Gotlund island. You can see the live tracking here, and it's impressive considering that most vessels are just carrying 2 watt Class B transponders.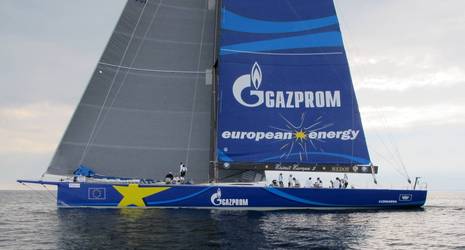 The maxi Esimit Europa 2 has already finished as I write on Tuesday afternoon, and I was glad we got to see her when she first got out onto a calm Baltic on Sunday evening. A neat thing about this race — which seem comparable to our Newport-to-Bermuda event in terms of traditions and enthusiasm — is that it never got truly dark at night.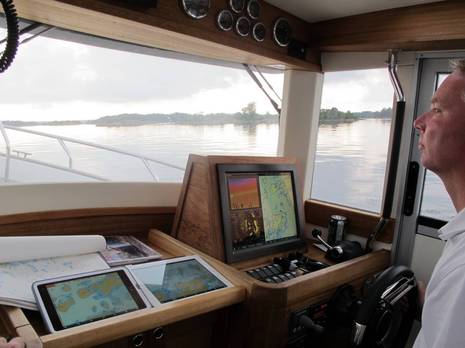 We returned to Stockholm via a lovely though ledge-strewn back route partially because Anders wanted to show me some SeaPilot features that I'll discuss in a coming entry. I also got to see his Swedish-built SeaCross PC navigation system in action…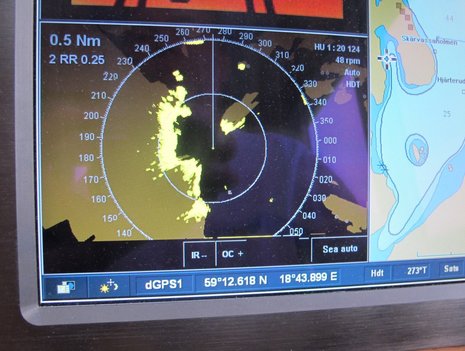 One feature that I'd never seen before is the way it "underlays" charted land masses and navigation aides on its (Koden) radar window, which seems quite smart.
   Tomorrow night we'll be out on Sandhamn Island for the race's closing ceremonies and I hope to gawk at more of the classic class yachts like the one below. And, no, I did not use an unusual lens to take that picture; it's just that Swedes historically had a penchant for long and lean sailing hulls. I've learned a lot about what AIS here,  but also look forward to sharing some of Sweden's boating history and passion.