Seapilot & True Heading, AIS in Sweden #2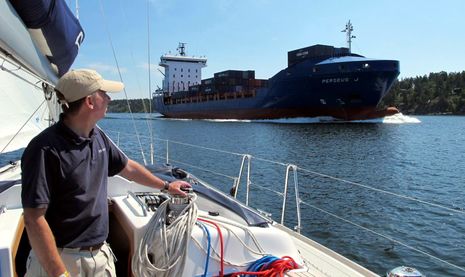 I'm not sure that anyone has made such an effort to show me his marine electronics products as Anders Bergström, and it worked. I left Sweden very impressed with the Seapilot charting/AIS app and the AIS expertise of True Heading. But Sweden itself played a part. The country has built out an AIS-friendly infrastructure that I hope other nations will replicate, and its complex waterways often highlight why we should want them to. It's not uncommon, for instance, to sail around a high island and find yourself in a tight channel with a large fast-moving ship…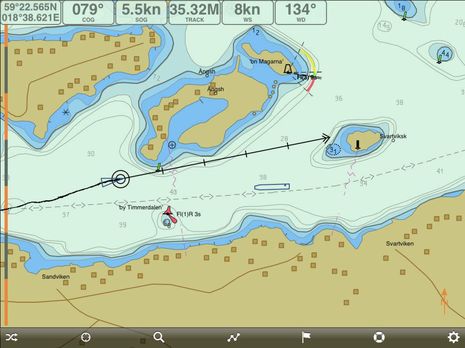 The Seapilot screen above goes with the photo above and we had indeed just turned about 90° into this channel, which meant getting Bergström's slippery Arcona 430 hard on the wind. The container ship Perseus J might have been an unpleasant surprise had not AIS given us lots of warning. In this case my iPad mini is online and the AIS info is coming from a Seapilot server which collects it from an extensive network of receivers belonging to the Swedish Maritime Administration and other sources.
   But the boat had its own AIS transponder (naturally), which is why Seapilot is showing both our GPS position (from a Bad Elf Pro) and our own AIS icon slightly astern. You can put your MMSI number into Seapilot so that your target icon is filtered off screen but Bergström finds it interesting to see what the Class B 30 second transmission rate and network latency look like. There is very little of the later. Besides for the excellent online AIS coverage, Sweden also has Net 1, a modestly priced long-range cellular broadband data system which uses the old 450mHz analog band.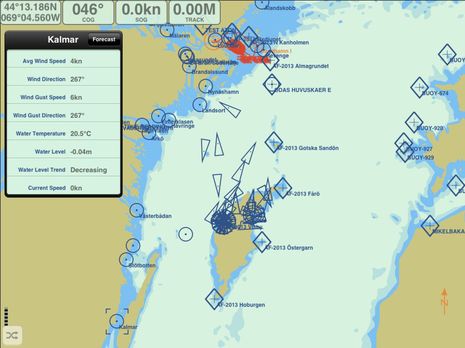 AIS around Sweden is fairly well covered by Marine Traffic volunteer stations (which include the True Heading office), but it's not as good as the government coverage that's licensed to Seapilot and other commercial users and it doesn't show Sweden's many live AIS weather bouys, which are represented by those circle icons on the wide area screen above. Some bouys, like the Kalmar one I've clicked on, have current, tide level, and visibility info besides the wind speed and direction that Seapilot can keep updating in permanent windows for the nearest bouy (as on top screen).
   Note also the rectangular AIS AtoN icons. Most are actual navigation aids but the ones titled "AF-2013 xxxx" show the marks for the AF Race I recently discussed and only exist in Seapilot's server. Let's call them Very Virtual AtoNs (VVAtoNs 😉  Aside from those, of course, a regular AIS receiver or transponder should be able to see the various AIS bouys when you're within range, but I was sad to learn from Bergström that the NMEA 2000 AIS messages do not yet include weather bouys. On the other hand, I was delighted to hear that European regulators are pushing government agencies that collect AIS data to share it with companies like Seapilot. I wish our Department of Homeland Security got that message, as I think we'll be discussing later this week.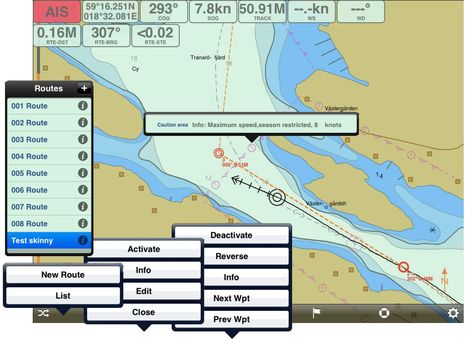 Seapilot is not just about AIS. Bergström likes to think of the app as very 'professional' — by which he means its ECDIS-like screens and close adherence to the related S52 and S57 vector chart protocols. Personally I'm not convinced that the IMO regulations make for a better charting program than what unregulated programmers have come up with, but I become quite fond of Seapilot. The collage above shows how the Route button is context sensitive. In this case I've chosen a route from my list and then activated it, which triggered the RTE-DST, BRG, and XTE data windows at the top of the screen. Seapilot was also smart enough to choose the next waypoint in my direction of travel, rather than the first.
   What I can't illustrate well is how easy it is to edit routes, either moving existing waypoints or creating new ones. Seapilot nicely offsets the point you're working with slightly above your finger tip and like another recent favorite, Nobeltec TimeZero, the touch control seems just right for waypoint selection. It's also easy to select chart data, like that speed limit seen above.  There are many speed limit zones in Sweden, and expensive tickets are handed out, but several other electronic charts of the area do not show them.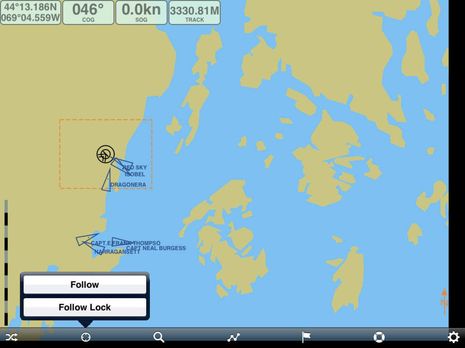 Another Seapilot feature I like is the Follow Lock illustrated on the Maine screen above. Once enabled you can finger slide the screen wherever you want as long as the red box around your boat stays on screen and your boat will stay on that part of the screen no matter where you go. It's like the "look ahead" feature on many chart plotters but more flexible. This screen also shows that Seapilot is collecting and redistributing AIS info from non-governmental sources. In fact, I can tell that the vessels shown are coming from my feed to AIS Hub because the other Marine Traffic feed on the Bay isn't showing (I feed both, and please remember that it's not hard to set up your marine business or near-the-water home as a volunteer receiving station, explained here).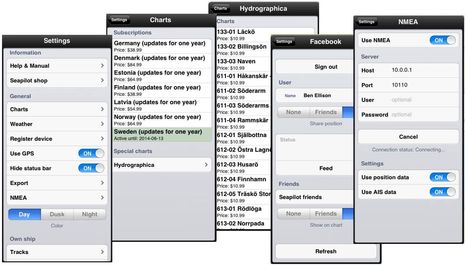 The collage above shows just some of Seapilot's other features and possibilities. The "Export" submenu not shown, for instance, let's you send routes and tracks in GPX format to anyone. The Charts menu illustrates the Baltic countries for which Seapilot can supply official charts (the charts last forever but you only get updates for one year). Also available for complex areas of the Swedish coast not used much commercially and therefore not well covered by the HO are Hydrographica privately-surveyed 1:10,000 scale charts. Seapilot is definitely hoping to cover areas beyond the Baltic, maybe even "across the pond."
   And how about that Facebook menu, which lets FB friends become Seapilot friends with near real-time tracking when both are running the app; there's room for "social boating" in this serious app. And finally note the NMEA screen, which means that Seapilot can be set up to show both online AIS and what's coming from your receiver or transponder. This is also possible in the latest version of Boat Beacon, and I think it will become common as online and VHF AIS learn to work together.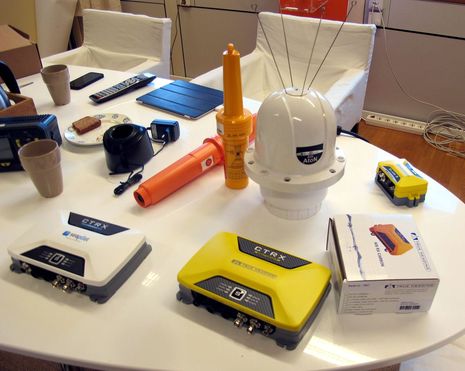 Aside from working on new professional products like that quad-antennaed Carbon AtoN sitting on the conference room table, True Heading intends to provide hardware support for the new world of online/NMEA AIS seen in apps like Seapilot. In fact, that white transponder is a Seapilot direct-to-consumers version of the company's Graphene Class B transponders, which include NMEA 2000 output and can include antenna splitters (although, interestingly, that option is only recommended for sailboats).
   True Heading sources many of its modules from AIS-obsessed SRT but usually builds its own primary circuit board and often adds nicities like polarity protection. That's why the Graphene/Seapilot chasis below is all True Heading but is ready to be fitted with a SRT Cobalt Class B module and a SRT Trident 2 antenna splitter module. But what about that WiFi spot? It's not announced yet, and not fully developed, but eventually these transponders will also have WiFi so they can directly support Seapilot and similar apps.
   Håkan Lans, inventor of the STDMA protocol critical to AIS, is a Swede, and True Heading's tagline is "We knew AIS before it was invented" because Bergström and other company principals were Navy officers who worked on the DSC silent-running minesweeper tracking that really did presage AIS in the early 90's. The population of Sweden is less than 10 million, but they account for almost a million registered vessels and a whole lot of navigation/AIS history; we should pay attention.