Airmar PB200 hands-on #1, & into the delivery box!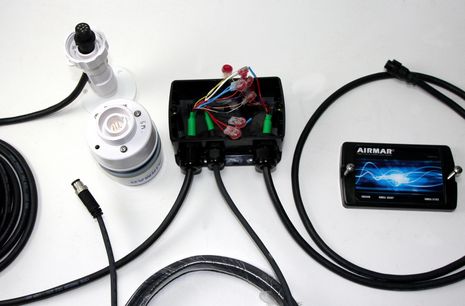 I'm once again way behind on testing borrowed products, and my apologies to all manufacturers involved. The Airmar PB200 Weather Station above is a case in point. I mentioned how well it feeds NMEA 2000 data to the lab network back in February, and Dan Corcoran shared his beta testing experience before that, but there's a lot more to say. For instance, I didn't really understand how it delivered both NMEA 0183 and 2000 data — did it use one of the various junction boxes available to translate from one protocol to the other? — until I got my hands on the sample. Now I know that the PB200 flat out does it all! …

What you can see in the photo above, especially if you click it big, is that the PB200 unit itself (upside down) fits to a nine pin cable that simply breaks out in the junction box to the standard five NMEA 2000 wires and four 0183 TX/RX wires. Airmar can, and does, make cables (probably thinner?) that only bring down 2000 or only 0183 (and probably with whatever custom 0183 plug a manufacturer might want). The 0183 cable shown here has the same Airmar plug as the original PB100, which means I can plug it into the Combiner box I already had in the lab. The results were impressive.
Picture the N2K cable above feeding GPS, heading, wind, air temp, and barometric pressure to every N2K device that knows those PGNs, plus to CE 2009 via the Maretron USB100 gateway. Meanwhile the Combiner box's USB output is going to another laptop running Airmar's Weather Station software, and it could be feeding most any other 0183 aware program. Plus it could have, say, 0183 depth and speed info combined in at the Combiner box, and/or could be using the box's 0183 output to feed a plotter. In other words, the PB 200 could supply a lot of data to a big yacht full of NMEA devices, or it can be set up simply to plug into one flavor or the other. Damn!
I look forward to seeing for myself how good that data is on the water, but I wasn't done with the lab experiments. I thought I'd stress test CE 2009 by adding the Combiner's USB output…and the output of the Digital Yacht AIT250 (now being sold in the USA by Cactus Navigation)…and…what the hell…the IP AIS feed mentioned recently. Check out the screen shot; CE handled all four inputs with style and grace. By right clicking on my boat icon I can choose from any of the three GPS feeds (and CE will automatically roll over if the active feed fails). And note how much network data, mostly N2K, is showing in the panels. GPS signal strength would be there too, if…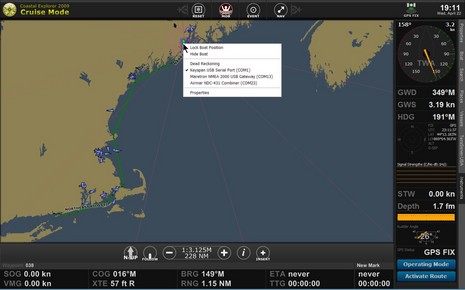 …if I was using the Maretron GPS feed. For some reason, signal strength doesn't get through from the Class B AIS (aka Keyspan USB) or from the PB200 via the Combiner, but does from the USB100 (though it's all 0183 when it gets to CE). There were a few other fairly minor glitches like this, discussed a bit more in the slide show below (I got a little carried away!), but I'm not too concerned about them. That's because as sweet as the above is in terms of PC charting, I'm hoping that we're about to go to the next level, which will be straight up NMEA 2000 data to programs like CE via an Intelligent Gateway (NMEA claims it's finally coming). But (more than) enough for now. Am I going to take CE and the PB200 along on the Gizmo delivery tentatively routed above? Hell yeah.