2022 GPS rollovers: Furuno, Airmar, JRC, and who else?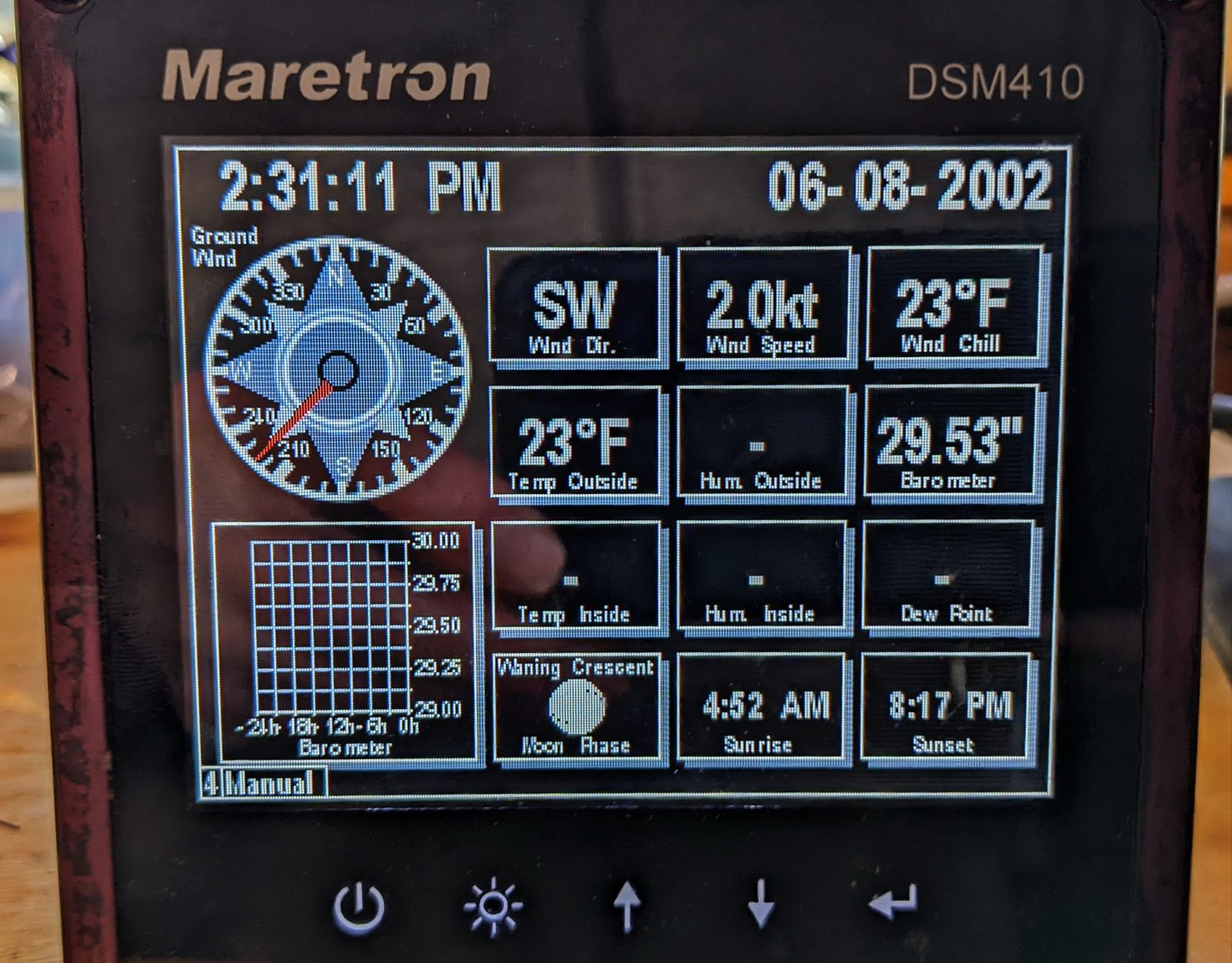 While I certainly knew that it was not June 8 2002 when I took this photo last Saturday, the Sunrise/Sunset times shown above are also quite wrong, and it's hard to tell what other calculations get screwed up when a networked device like this Maretron DSM starts receiving a system date that is 1,024 weeks old. Yes, the problem seems like the well-publicized April 1999 GPS week number rollover, except that it just happened a few weeks ago on the attached Airmar PB200, and lots of older gear from Furuno, JRC and probably other brands are experiencing a similarly delayed and under-publicized rollover in 2022. The date changes will undoubtedly mess up some boaters in the months ahead, so let's make ourselves aware.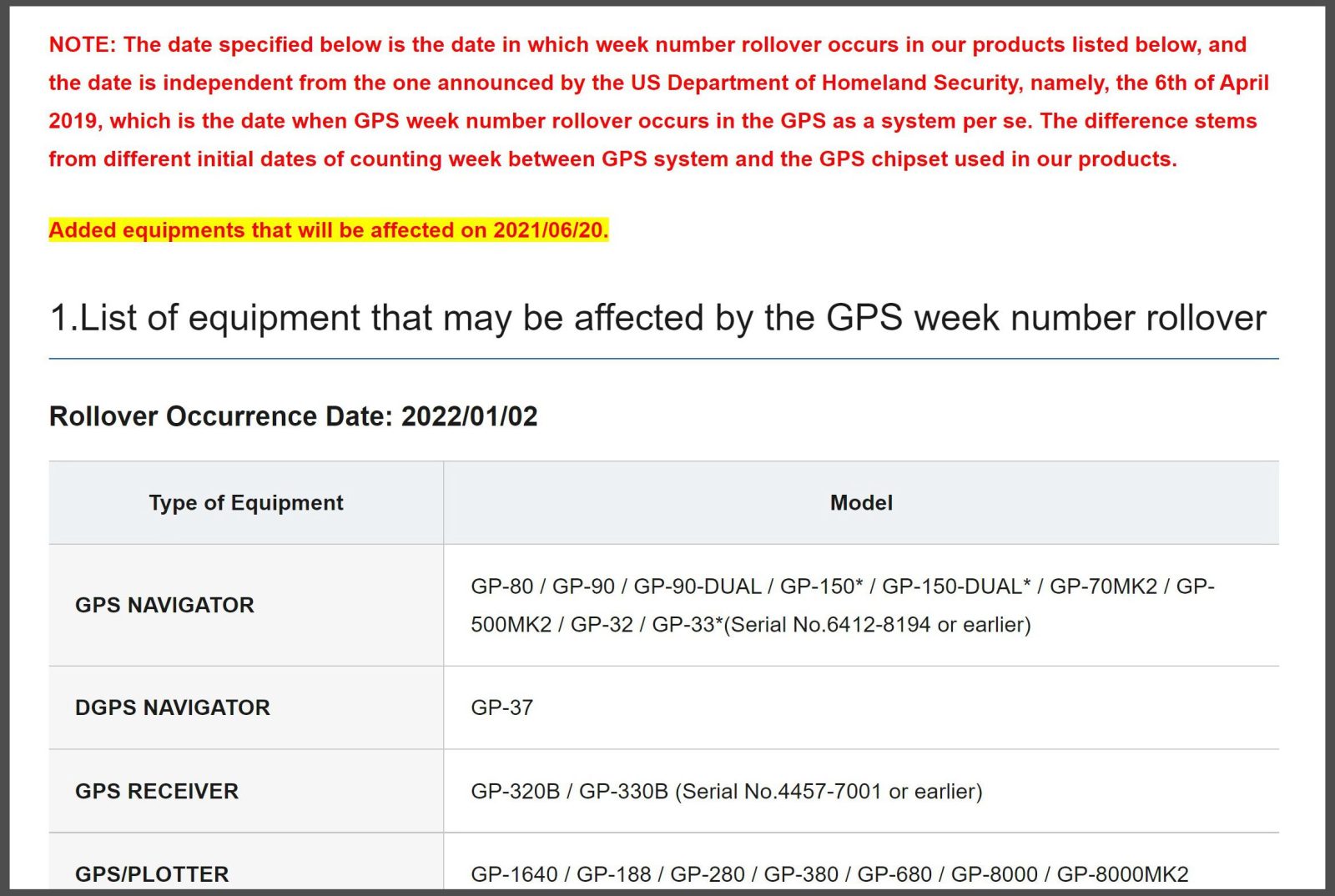 The root cause of GPS week number rollover is a well-known programming limitation in the early GPS satellite transmissions, and it's happened twice so far — at midnight August 21, 1999, and again on April 6, 2019. When Ben Stein well explained the latter rollover, organizations like the U.S. Coast Guard were already warning boaters about it and many marine electronics companies offered firmware fixes.
But few of us realized then that many devices got through the 1999 rollover without problems only because their GPS receiver chipsets had been jiggered to push the 1,024-week date change forward a couple of years or more. In fact, Furuno's long-posted GPS rollover notice lists equipment that rolled over on 12/20/2020 or 6/20/21 or earlier this month, and JRC announced rollovers that will happen on the 15th of May.
So what we have here is a series of rolling rollovers that are apparently only being publicized by the manufacturers, if at all. For instance, I only powered up the 13-year-old PB200 WeatherStation because Kees Verruijt encountered the rollover in his test lab over the holidays. It turned out that Airmar is aware of the problem but they say it can't be fixed, and they further note that rollover is not an issue for the GPS chipsets in the many WeatherStation models that superseded the PB200 many years ago.
Moreover, an unfixable GPS date is not necessarily an insurmountable problem, and I think I've found a solid way to use the PB200's remaining faculties (as discussed below). Then again, the wrong system date can cause major problems…
What will a GPS rollover mean on your boat?
When I searched for "rollover" on FurunoUSA's Forum, it was no surprise that some tropical cruisers experienced issues right after the Jan. 2 rollover, including a Class B AIS that would no longer transmit. Forum moderator "Johnny Electron" thoroughly explained the update options, and the FA50 procedure looks fairly DIY reasonable largely because only an Ethernet cable and PC is needed. (By contrast, updating a GP33 requires a modified NMEA 0183 cable and I'd mind Furuno's "Not recommended for end-users" advice.)
Satellite communications devices can also be crippled if they're getting an invalid date from their own GPS receiver or one they are networked to. But other rollover effects can be quite subtle. For instance, the automatic online updating of a device that Kees was testing failed after the PB200 because the connection's website certificate wants to see a valid date.
A standalone GPS with the date 19.6 years wrong — like my antique Garmin 45 — will probably calculate your boat's correct position, speed, and true course (watch out for magnetic variation errors). But I was happy to use Airmar's WeatherCaster PC software along with an Actisense NGT-1 bridge to turn off all of the PB200's GPS related PGNs.
So now networked devices can still see the PB200's valid Wind, Heading, Temp and Baro output, while Date, Position, etc are provided by another GPS receiver. And let's acknowledge that position fixing technology has evolved a good deal since the rollover-prone GPS chipsets were manufactured, with ultra-accurate multi-constellation and multi-band GNNS the latest.
I'm sure that there are other ways to work with unfixable misdated GPS gear that can still perform some functions well, and I hope that readers will share them. But the bigger story here may be what happens in the spring when more older but trusted marine electronics don't work right anymore, perhaps in subtle ways. So please spread the word — it's far better to fix these issues before the problems start — and please report on any recent or anticipated rollovers not mentioned above.