AIS Miami, good times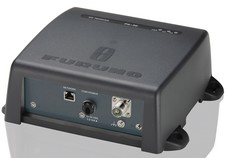 Yeah, man, that's an Ethernet port on the new Furuno FA30 AIS receiver, meaning that it can plug right into a NavNet vx2 network. It also has standard NMEA 0183 38.4k AIS output, and comes with a PC AIS plotting program able to use the Ethernet feed, so it could be set up in many ways. The FA30 is a true dual channel receiver and will retail for "under $1,000." It's slightly bulky at about 10 x 8.5 x 3.5 inches, but that same box will house a Furuno Class B AIS that they're planning to introduce eventually.
I'm a bit disappointed that Raymarine's AIS250 is only a one-channel-at-a-time receiver, sporting a pretty stiff $1,120 MSRP too, but it does pack a lot of features under the hood. For one thing, it's got a built in antenna splitter, allowing just one stick to feed AIS, FM, and VHF sets (preferably your standby set). It also has a built-in multiplexer offering two inputs and two outputs, all able to talk at either 4,800 or 38,400 baud as needed. This can solve lots of installation issues, particularly with single-NMEA-port C– and E-Series machines. Note that ShipModul has a special multiplexer for doing AIS with Ray C/E, as does Brookhouse (informative PDF here), and SeaCas is offering a dual channel receiver/multiplexer bundle.