AIS over NMEA 2000, concept defended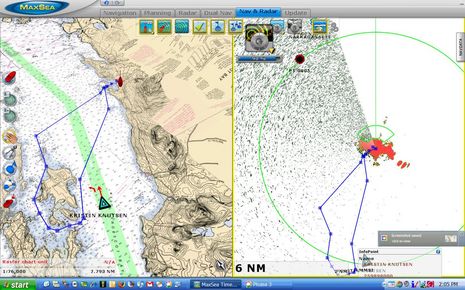 The screen shot above shows MaxSea TimeZero Explorer running on Gizmo this morning, much like I showed last week. In this case you can see how I'm cranking up the radar gain, a neat right click and mouse wheel maneuver, because I'm trying to see the ship coming down the Bay. Which was really asking too much of the superb DRS2D radome because there were so many large obstructions between Gizmo's slip and the Kristen Knutsen. What's really different about this screen is that the FA50 AIS data is finally getting to MaxSea TZ, which should have just happened given that the transponder, like the radar, is plugged into the same Ethernet switch as the MFD and the PC…
The response from Furuno tech support about my AIS problem was: "Sometimes we have a 'setting synchronization' problem between MaxSea TZ and the MFD. Try to go on the MFD and change the AIS filter value (in the Target Menu) from a small number (for example one mile) then back again to the current value (24NM)." Which is kind of a funky fix, even if "FYI, this problem will be corrected in the upcoming v1.8." Plus it took me quite a few filter value changes, and reboots, to get the AIS synchronization to work. But really I'm bringing the whole business up because it's especially ironic given that Furuno is taking the stand that Ethernet is better than NMEA 2000 for AIS. Furuno has made this argument directly to me, but it also came up in a Panbo comment this morning from a tech taking a Furuno training seminar in Maryland this week:
The Furuno product guys have brought up this thread and questioned
the advantage of NMEA2000 AIS Data over direct NMEA0183 when their
systems will automatically convert the AIS data and pass it over
Ethernet at 100 Megabits/second vs. 250 Kilobits/second for NMEA2000.
(According to them, the existing Ethernet network has 400 times more
bandwidth and can be easily scaled to 4000 times higher in the future).
They say that Raymarine has the same capability vs. soaking up a
relatively large chunk of NMEA2000 Bandwidth with AIS data that is only
needed by the main navigation displays?
They also say that it is much easier to push AIS data and all other
navigation data to onboard PCs via Ethernet either wired or wirelessly
instead of having to purchase individual NMEA2000 Gateway Hardware for
each PC via USB.
My question is what is the advantage of NMEA2000 over NMEA0183 AIS
Data Distribution considering AIS data only needs to go to a few select
displays on the vessel for monitoring/Alarm purposes? Their point seems
valid to me as a technician responsible for installing this stuff on a
variety of vessels.
And here's my response, written purely in the spirit of constructive debate (I really like NN3D and MS TZ):
Well, I agree that AIS data is less ideal for NMEA 2000 than what's
being passed around by many other sensors. It involves a lot more data
and is potentially useful to fewer other devices. BUT…
* By Furuno's own estimate, AIS data might take up 10% of N2K
bandwidth. Even if it's 20%, that seems quite affordable on most N2K
networks I've experienced or can imagine.
* I've been working with a gentleman who's thinking of putting an
MFD12 on his flying bridge with MaxSea TZ Explorer at his lower helm.
He wants to know where he stands if the MFD fails. The answer is that
if he reboots MS TZ with a Maretron USB100 attached, MS TZ will use
most common NMEA 2000 data — like GPS, depth, and wind — that's on the yacht's network. I've tried
this and it works fine, but AIS is not included unless there's also an
0183 AIS connection to the PC.
* The first NMEA-2000-to-PC Gateway (from Actisense) has been NMEA certified, and I think we'll eventually see PC programs that can
directly read all sorts of N2K data, AIS included. The gentleman above
might run any of those programs, but if he has a Furuno MFD he'll also
need an 0183 AIS connection. (I installed one of those yesterday, for
some Raymarine gear, and while it works ok, those dinky wires are
looking more and more old fashioned, more and more the weakest link in a system.)
* The latest Navico and Garmin MFDs handle NMEA 2000 AIS data fine,
except for a couple of fairly minor glitches that will be fixed soon I
think (and, besides, are the fault of NMEA for being slow to write the
PGNs). Raymarine plans to support N2K AIS. In other words, it's getting
easier to switch out or add MFDs to a boat and have AIS be easy plug
and play, not one-to-one 0183 or proprietary Ethernet.
* VHF radios that can understand AIS data, and hence make DSC calls to targets, are coming soon and will eventually do that via NMEA 2000, I think. The relationship between VHF radios, AIS, and MFDs has all sorts of potential features, as Garmin is showing, and N2K seems the right common cabling and protocol to make those happen between even multi brand devices.
* I don't think I'm the only one who'd warm to Furuno's
AIS-over-Ethernet preference better if it was more open. I don't
understand why, say, Coastal Explorer — which can understand most
Ethernet AIS streams — is not allowed to see data coming from an FA50 over
Ethernet. (I'm also learning that a NN3D Ethernet network won't seem to support
a WiFi WAN connection, even though MSTZ can use it to fetch weather
data. I haven't checked this out with Furuno, but it looks like I have
to shut down the MFD and reboot the system for MSTZ to see the Wave
WiFi unit that's on the switch.)
All of which is not to say that doing AIS over Ethernet is a bad thing. In fact, I was semi blown away to discover that the MFD12 interface to the FA50 is exactly the same as what I saw on a Web browser when I first tried the transponder last winter. It's a powerful interface that you'll not see on any other MFD/AIS setup and is probably not possible over NMEA 2000. It also strongly suggests that Furuno NavNet 3D has a Web browser built in, which is very interesting, but also a bit frustrating as it seems like it will never browse anything except other Furuno gear. Isn't it a bit schizophrenic to build an AIS transponder that can be monitored and controlled in great detail by any browser, but won't share the actual AIS data with any other brand over Ethernet?
At any rate, what I'm hoping is that Furuno will decide to also support N2K AIS on its MFDs and in MaxSea, so that users have maximum flexibility in their system designs. For the same reason, I hope they'll consider updating the FA50 so it outputs Ethernet AIS data in a known format. Did I argue these points effectively? Am I nuts?