AIS SOLAS-style, Class B is NOT ignorable!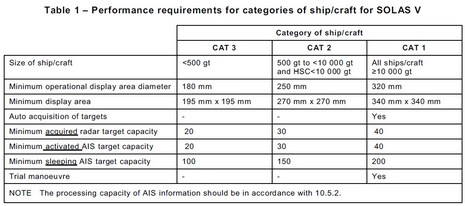 Thanks to an angelic Panbot, I've now read pertinent sections of IEC 62388, a.k.a. "Maritime navigation and radiocommunication equipment and systems –
Shipborne radar – Performance requirements, methods of testing and
required test results." It's a hundred pages (preview PDF here) laying out in great detail the minimum requirements for how all new radars going on SOLAS ships will perform and present data. Perhaps most important among many mandated enhancements is the treatment of AIS targets, Class B included, putting them on essentially the same level of safety value as radar targets. I think these standards are good news not only for the bridge teams on big ships, but also us little guys who sometimes travel amongst them (despite the consternation that came up yesterday)…
To appreciate IEC 62388, it's important to understand the state of AIS plotting on ships now. When the IMO mandated Class A AIS on SOLAS vessels the only display requirement was a simple MKD, and a lot of those vessels still have just an MKD. Today a trawler skipper transiting Chesapeake or San Francisco Bay may very well have better AIS plotting than the ships he or she is seeing on their MFD! Which may account for the widespread notion that ships don't pay attention to recreational level Class B AIS, along with the persistent myth that they filter out Class B signals altogether (which is impossible, as, by regulation, MKDs must show all AIS targets).
Hallalujah, then, for IEC 62388, which requires that new ship radars be able to track at least 20 "active" AIS targets and 100 "sleeping" ones, as shown in the table above (IEC 62288 apparently has separate, but very similar, requirements for ECDIS). However, that sleeping/active distinction — which is mainly just the difference between a small, plain AIS icon and a bigger one with COG, Heading, and ROT vectors shown — caused a lot of confusion here yesterday, kicked off by a knowledgeable commenter who wrote about how IEC 62388 contains a "REQUIREMENT that the operator be allowed to filter and REMOVE all Class B Targets from the display!!" Well, let's look closely at that requirement:
10.5.3 Filtering of AIS sleeping targets requirement: To reduce display clutter, a means to filter the presentation of sleeping AIS targets shall be provided, together with an indication of the filter status (for example by target range, CPA/TCPA or AIS target class A/B, etc.). It shall not be possible to remove individual AIS targets from the display. The filter criteria in use shall be readily available.
The bold facing is mine, but I have double checked that such filtering only applies to sleeping targets, and only filters out their screen presentation. Such targets are still tracked because, as we see in the next requirement, they must be made active, and hence present on screen, if they meet certain user defined criteria:

10.5.4 Activation and deactivation of AIS targets requirement: A means to activate a sleeping AIS target and to deactivate an activated AIS target shall be provided. If zones for the automatic activation of AIS targets are provided, they shall be the same as for automatic radar target acquisition. In addition, sleeping AIS targets may be automatically activated when meeting user defined parameters (for example target range, CPA/TCPA or AIS target Class A/B). The manufacturer shall state what user defined parameters are available and shall show that they are described in the user manual.
Here my boldface emphasizes how all AIS targets are treated much like ARPA radar targets, a philosophy seen throughout IEC 62388. And that's a big deal, as suggested by the Radar and ARPA Manual, partially available on Google books. In conclusion, then, the IMO and other safety organizations involved in the new radar regulations did NOT intend ships to ignore Class B AIS targets in a dangerous way, and did make it easy to do so. In fact, the new radars should make it much easier for ships to monitor a small Class B equipped vessel, even if it's a poor radar target. Keep in mind, though, that it will be many years before all ships carry radars like this.
PS 12/28/2010: I've learned that these IEC regs are looser than I realized.