Alden AE 3300, marine BB WB AIO receiver!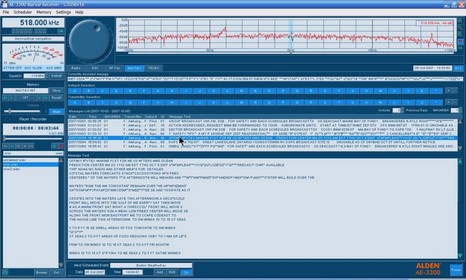 Sorry about my acronym thing! The relatively new and unknown Alden AE-3300 is a black box wide band receiver with included PC software that lets you easily receive Weatherfax, Navtex, Telex, and even medium and high frequency DSC messages, besides listening to most any frequency between 9 KHz and 30 MHz. Hence in marine terms it's pretty much an all in one receiver. Check the screen shot full size
. Not only did the AE-3300 automatically demodulate the Navtex messages and save them as text files when tuned to 518 KHz, you can schedule automated channel changes (as I have for Boston Fax at the bottom of the screen). I found the AE-3300 easier to use than the Icom PCR 2500 I'm also testing in terms of finding and saving interesting frequencies, but that's in part because it has less controls that I'm unfamiliar with (but may be valuable). I also compared the radios using the same antenna and HAM signal, and they performed very similarly. What the Icom has, besides lots more frequencies, is all sorts of ways to scan them, a more sophisticated memory banking system, and a wide pool of users and accessories. There's even alternate Bonito RadioCom control software that seems to do the marine Weatherfax, Navtex, and Telex decoding chores, plus some non marine radio wizardry I'd never hear of like SSTV.