BEP CZone #1, "distributed power"?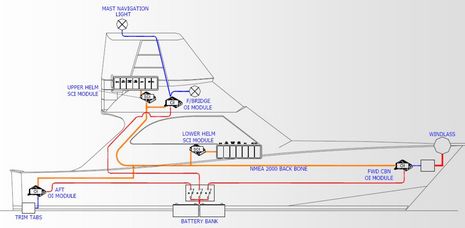 I've been looking through a lot of material on BEP's new CZone system, and finding it impressive. But its descriptive subtitle — "Networked Control and Monitoring System" — seems a tad vague to me. In fact, Simrad changed that to "digital switching" when they showed off their nifty CZone integration with the NSE series (covered briefly in a Miami Show entry). It does seem like the handful of manufacturers who dare to compete in this complex, and potentially hairy, niche can't agree about what to call it, but I like "distributed power". You can see why in the simplified CZone sample diagram above; like the competition, those OI modules efficiently distribute an electrical system's core power feed and circuit protection functions to where they're needed, while networking the switching and much more. There is no central breaker panel on this boat, and a lot less wire. The following diagrams tell more about the concept…

Below is BEP's simplified diagram of a traditional wiring system. Extend it to accommodate a vessel with as many power needs as my 37′ Gizmo — which is actually fairly moderate these days — and, man, there's a lot of cable runs, but not very much control of that power, let alone monitoring and integration…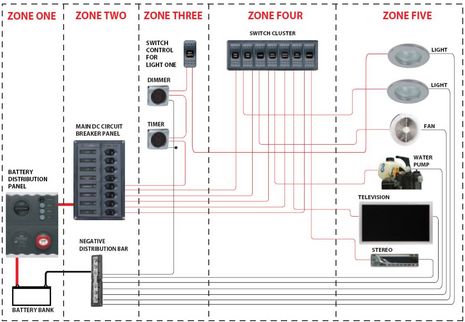 Now here's the same simple system done with CZone. Note how that Output Interface (OI) module, which contains electronic circuit breakers (aka MOSFETs), is the heart of the matter. Other distributed power systems like OctoPlex, DNA/DSS, Capi2, etc. also have elements like the CZone's Signal Interface — which can connect to all sorts of switches, tank senders, and other sensors — and the more focused Switch Interface, as well as the Meter and Motor Interface modules not shown here. Of course the sexiest part is CZone's color display. Unfortunately I don't have good images of that yet, but…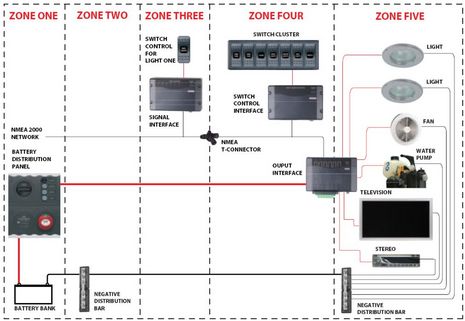 I did just get some screen shots of an NSE running CZone. And while I have a lot more to say about this and the other distributed power systems — including some late breaking news which suggests why anyone should be darn careful about getting into a system like this — for now let's just enjoy the possibilities. This first screen shows some of CZone's many monitoring abilities…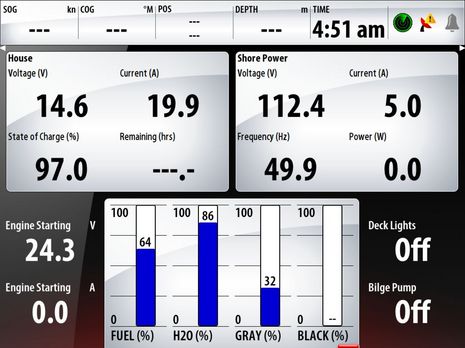 While this next one illustrates some very slick control functions. As I understand it those buttons — which can obviously switch all sorts of devices around a boat with one click — are programmed either with a PC or the CZone's dedicated display, and then populate the NSE automatically. At any rate, as you can see, BEP has a case for calling CZone networked monitoring and control, but I don't think it would work like this without the distributed power system behind the scenes. BEPmarine.com seems just part way to offering a lot of CZone information right now, but you can download the brochure PDF here. More to come.