C-MAP Launches Embark AIS Overlay Functionality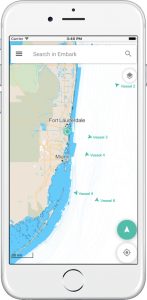 London, UK – C-MAP, a leader in digital marine cartography and cloud-based mapping, announced today the launch of new AIS functionality for the Embark navigation app. The new feature allows users to see boats around them in real time with AIS data overlaid directly on their charts. Enhancing the C-MAP Embark experience, the overlay is designed to help boaters plan and navigate with confidence and, most importantly, focus on having fun.
With the addition of AIS functionality, Embark users can now see boats within a 54 nm (100 km) radius, as well as each vessel's position, speed and course, at a glance. These valuable chart overlays enhance situational awareness and help guide users in low visibility, high traffic or other challenging situations.
"We are very pleased to announce the addition of AIS data to our already robust Embark app," said Jorge Sevillano, head of mobile at Navico. "This has been one of the most requested updates from our existing customers. We want to make them feel confident when they go boating, and AIS is just the beginning of a new set of solutions we have planned to enhance safety and enjoyment on the water."
C-MAP Embark provides free high-quality nautical maps along with navigation, traffic and weather information to help boaters plan their next trip on the water. User-friendly maps can be personalized based on boaters' needs, then downloaded with routes, waypoints and tracks – all accessible off-line for a stress-free time on the water. Embark users can also write reviews and attach pictures to capture their on-the-water experience of that special day or share their trips with friends and family.
The new AIS feature is available on iOS and Android and is part of Embark Premium – one plan for all boating needs. Embark Premium gives access to accurate offline maps, detailed marine weather forecasts along with tide, wave and water forecasts and, now, real time AIS starting at $25.99 a year. Boaters can also try Embark Premium for free with a 14-day free trial.
The C-MAP Embark app is available to download today from Google Play and the App Store. To learn more, visit lightmarine.c-map.com/mobile/c-map-embark-app.
This press release distributed by Rushton Gregory Communications