C-Map Max recall, zero tolerance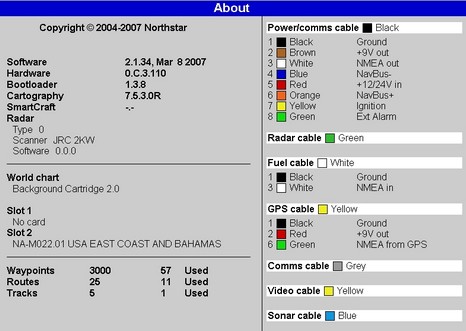 So today I got a 512 Meg SD card and thus can now take screenshots on the Northstar M121. One I wanted to show you is this nifty "About" screen which includes the color coding for most of the unit's possible input/output wiring, and which turned out to be particularly timely because C-Map just initiated a recall for certain Max chart cards if used with certain plotter software. If and when you go the C-Map Recall page, what you'll need to know is the "cartridge code" shown in "Slot 2" above and the plotter's software version, shown upper left. In fact, the recall only involves Max cards dated prior to October, 2006, and only certain plotters, mostly early versions of Si-Tex, Interphase, Standard Horizon, Cobra, Furuno, and European machines (that all run Max cartography).

The problem that will be solved with a free card replacement from C-Map mainly involves the display of "underwater objects with negative sounding values", which sounds a lot like the "Obstructions that cover" subject once visited here along with certain other early Max issues. Why a recall now? Jeppesen C-Map tells me that it's another example, like the Passport recall, of the new owner's zero tolerance for errors. "They're bringing aviation-style quality control to the recreational marine world." And, by the way, C-Map says that if your boat is shrink wrapped so you can't get at the plotter software version (which may not be as easy to find as the Northstar's anyway), just give them call; they want to get these cards right.
PS Note that the "About" screen above fails to show the User Card that I saved the screenshot to in Slot 1. Now check the User Card screen below—taken nearly simultaneously—which does show the card, only at twice its actual memory size, but does not show the chart card in slot 2. Doh!