Capt. Joe crew rescued, AIS helped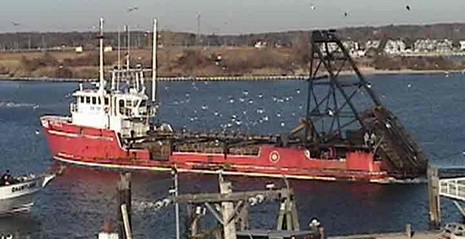 Last Wednesday night, the 97′ clam dredge Captain Joe sank suddenly 30 miles off Point Pleasant, New Jersey in 10′ seas. Air and sea temperatures were in the low 40's and the wind NW near 30 knots (according to a nearby C-Man buoy). You can hear some, maybe all, of the bone-chilling May Day call here. It's unclear whether the crew gave any position info before jumping into their liferaft, yet within hours rescue swimmers helped all four into the baskets of two USCG helicopters.

According to APP.com, "The fishermen had an 'automated identification system transponder' aboard their boat. While that transponder system sunk with the Captain Joe, the signals it gave out before the vessel went down helped the rescue crews find the boat's last position." We don't normally think of AIS being used that way, and I don't know the details, but I can easily imagine how the rescue center could use some sort of Internet based AIS tracking system, or maybe their own receivers, to get good position data before the fishermen even fired off their EPIRB.
For me, this news was ironic on several levels. Just last week I learned that Class B AIS isn't even on the FCC's March 19 agenda, meaning that this Capt. Joe type rescue aid remains unavailable for most boaters. (However, I also heard that at least one commissioner has already signed the ruling—a meeting isn't even necessary—so maybe this FCC travesty will actually end soon.) Second, before hearing about Capt. Joe (thanks, Jim!), I was already into an amazing book called Dead Men Tapping, and hardly slept last night plowing towards it inevitable conclusion. The book is not only an excellent profile of New England fishermen and salvors, but also a wrenching tale of what can happen out there, and hence why Class B AIS could be such a valuable collision avoidance tool. (One reason the USCG wants reasonable-cost Class B expedited is so that it can mandate them on commercial fishing boats.) But the book is also a stinging indictment of the Coast Guard's failure to perform well in this and several other somewhat unusual rescue situations. I'd like to think they learned something from author Kate Yeomans fine work. But whether that's true or not, you'll likely approach disasters at sea a little differently once you've read Dead Men Tapping.
PS. A USCG correspondant (thanks, Jorge!) pointed me to a blog entry about the Captain Joe rescue by one of the swimmers, Aviation Survival Technician First Class Karen Voorhees (thanks, Karen!), and also some dope on the Nationwide Automatic Identification System (NAIS). Don't know how I missed that system, but apparently the USCG is already monitoring AIS traffic along most of our coasts.