ChartTable21; coming together, thank you!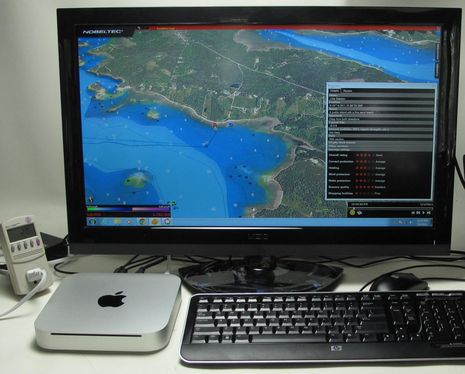 Yesterday we saw the helm side of Gizmo's pilot house, but you may recall that recently I asked for advice about the components that might turn the lovely port-side cherry chart table into a 21st century navigation & work station (and entertainment center) when its lid is up. Panbots responded with enthusiasm, I took the majority guidance, and, boy, am I pleased. That 26″ Vizio M261VP LED HD TV & monitor, purchased for $350 at Amazon
, has been on the test bench for about 10 days, and it was joined last Friday by that minimal Mac Mini, also bought at Amazon

along with a Crucial 8GB RAM upgrade

. The setup and testing I've done so far all suggest that this is going to be a terrific solution to the project I've dubbed ChartTable21…
Admittedly I should have read Apple's Bootcamp instructions a little more carefully, but I did muddle through the process of creating a partition on the Mini's 340GB drive, reformatting it for Windows, installing a copy of Win7 Ultimate (that my daughter scored at a tech conference, lucky me!), and then the Apple drivers that let Win7 use all the Mini's hardware. As certain Panbots promised, it works sensationally. I now have several PC navigation programs installed and have seen them run with an Actisense NGT-1 supplying NMEA 2000 position, depth, heading, wind, etc. data.

And the program seen in the top photo is Nobeltec's new TimeZero Trident, which is a very close sibling of MaxSea TimeZero Explorer (seen recently with Furuno UHD radar) and therefore quite demanding of the underlying PC hardware. It's one reason that I didn't settle for a low-power Atom processor, and my sense that I'd never seen MS TZ in its true glory even my big HP laptop's processor has been borne out. The TimeZero chart engine simply flys on the ChartTable21, and it didn't hurt that MapMedia recently updated the "free" photo maps to a very high res color set I hadn't known about.
Besides, if you look at that Kill A Watt meter in the top photo, you'll see that the Mac Mini is only drawing 20 Watts. It will shoot up into the 30's when you fast pan and zoom this massive graphic data set, but it will also settle into the teens when not much is going on. And those 26 inches of Vizio LED backlit LCD are only using another 25 Watts or so, and can be quite entertaining even with the Mac Mini completely shut down…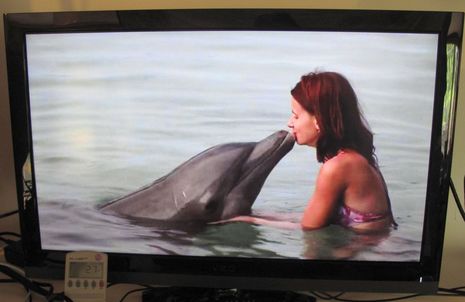 Yes, indeed, this particular Vizio has built-in WiFi along with all sorts of apps for watching online content. I've only spent real time with Netflix streaming, but can tell you that it works very well. And I say that with a little bitterness as the Sony Blu-ray DVD player I bought about a year ago has never streamed Netflix as reliably via Ethernet as this Vizio is doing with a middling WiFi connection to the same Internet source! I don't know if Gizmo will ever get near enough to a good enough hot spot that the Vizio can stream movies like The Cove (above) all by itself, but The Wirie or something similar might make that connection, and I guess there are even phones these days that can output 1080p HDMI video streamed over 3G or brought from home. These are great days in consumer electronics, and some of it can be very useful in the dry confines of a cruising boat.
Not that ChartTable21 is a reality yet, and there may be bumps along the way. I already know that the cheap VESA mount I bought doesn't cut the mustard and I'm working on a simple wooden one. I'm also not sure if I'll be able to achieve similarly low power draws when an inverter is introduced into the equation, and while setting the two main components up for 12v is possible, it's not trivial. Nor do I know yet how that screen will do in Gizmo's sometimes very bright pilot house, or in the deep of night underway. But I'm looking forward to finding out, and I'm grateful to all who encouraged me to go with the Mac Mini and TV/monitor. Now what's the perfect wireless keyboard and mouse for a guy with old gnarly hands and two high performance operating systems?
I'll close with a full 1920 x 1080 pixel Trident screen shot (click on it), this one set up with old school top-down north-up raster in one window and new school 3D in the other. Isn't this what you want to see when you swing open ChartTable21?