Class B AIS filtering, a "meme"?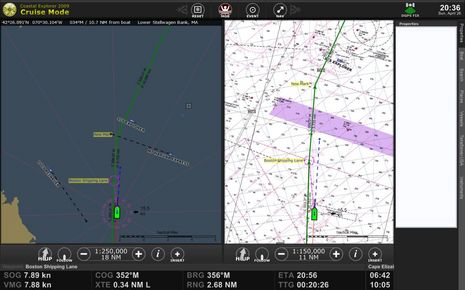 I wished I'd clicked on one of those AIS targets before I took this screen shot, so you could see how CE 2009 displays their properties, but our focus (after the reboot affair) was on crossing the Boston shipping lanes in pitch dark and with enough true wind on the beam (reported right at the boat icon from the PB 200) to bounce us around a bit and deposit salt on our windows. Thank goodness for AIS. The 277 meter S/S Explorer was lit up like a Walmart super store, and would have been intimidating if we weren't confident that she was anchored or moored. It was also nice to easily speak with the bridge of the Haruna Express and learn that they could see us fine on their AIS display. But the best AIS moment came a little later, when a passenger ship exiting Boston hailed us by name on channel 16 to discuss our passing situation. So what the hell are cruisers talking about when they presume that Class B AIS has little value around big ships?…

I'm feeling more vehement than ever on this subject not just because Class B really improved Gizmo's situational awareness during our brief coastal passage, but also because I stumbled on yet more misguided guidance regarding this subject just before I left. I won't name names because after some e-mail dialog the author changed his tune, but here's what he originally wrote:
Pilots in busy shipping lanes are more than likely to filter out
Class B signals as they will be shown too many targets on their
screens. They are also likely turn it back on when in open water. So my
take is that its not useful to transpond in busy areas, while in the
middle of the Atlantic it may be more useful.
Say what? Like it takes some effort to transpond? I did a temporary install of the Nauticast B last Saturday, checked that it was functioning properly a few times underway, and turned it off when we tied up in Camden Monday afternoon, and all that run time was a minor blip in terms of Gizmo's electrical diet. No, I didn't presume that every ship saw us on their screens (or even that they had much in the way of screens), but I know some did, and that's a good thing. So the advice above is quite bogus, I think, and that's why I lambasted the author with my now standard rant about how ships can't truly filter out Class B targets and probably wouldn't even if they could. But he insisted that he had read about this 'somewhere' and that he would check with his local pilot organization. This is the pilot's reply (he kindly shared):
I am not aware of any software to date that would intentionally filter out any
class B transponder. However there might be some older units out there that
need a software update to receive a class B signal. I doubt we would want
to filter out a class B even if it became available other then intermittently
perhaps to un clutter the screen. We don't want to run over the little
guys either.
The pilot is referring to the fact that some older ship AIS displays can't decode the Class B static data message (boat name, etc.), but they still see a target and get CPA/TCPA alarms on it. One of the ships I called during the delivery couldn't see our boat name, just our target with MMSI, but still our communications were way easier than when we all just had radar. And, besides, the pilot's overall comments persuaded the author to delete his "not useful to transpond" paragraph. But I'm sure we'll see similar misinformation repeated again and again. The idea that ships will ignore Class B has apparently become some sort of boating culture 'meme' — i.e. something many folks think they know even if there's no evidence that it's true. I just went looking on the SSCA forum for a thread about this I got involved in months ago, and damned if there isn't a new one. At least the more recent thread takes a skeptical approach to the filtering meme, and quotes Panbo, but this is getting weird!
In that first SSCA thread you can find a post where the meme is 'proven' by the fact that Coastal Explorer supports blanket Class B filtering, which is one reason I got agitated about that unique CE 'feature'. But otherwise CE 2009, which we ran the whole delivery, keeps on surprising in good ways. I like running with dual chart windows, one zoomed in for detail and one out for the big picture, with both "head up" and in 'follow' mode. The C120 and CE do that well, and CE is almost as good as the C at night, even on a laptop that doesn't dim down well, because you can set vector charts to a black background. But the screen shot below is all about an ENC chart oddity I noticed Monday morning off Portland. I saw a Racon buoy loud and clear on the boat's RL70 radar but it wasn't identified on the vector chart. I checked that CE was set up to display all ENC info and then I zoomed through the various raster and vector chart scales. The rasters all show the Racon boldly, but none of the vectors do (unless you dig deep into the buoy properties). Weird. GizWiz #2: It's good to have multiple chart types at hand.